Gmail
Connect to your favorite social network using Microsoft Outlook
Using Outlook to Check Gmail: Computer Software Tips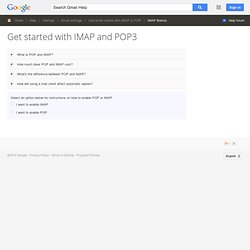 POP and IMAP is what allows you to download messages from Gmail's servers onto your computer so you can access your mail with a program like Microsoft Outlook or Thunderbird, even when you aren't connected to the Internet. POP and IMAP access are free for all Gmail users. If you're trying to decide between using POP and IMAP, we encourage you to use IMAP. Unlike POP, IMAP offers two-way communication between your web Gmail and your email client. This means when you log in to Gmail using a web browser, actions you perform on email clients and mobile devices (ex: putting mail in a 'work' folder) will instantly and automatically appear in Gmail (ex: it will already have a 'work' label on that email the next time you sign in). IMAP also provides a better method to access your mail from multiple devices.
Configuring other mail clients - Gmail Help
If you're not using one of the clients or devices above, we offer general instructions on configuring some clients below. If you encounter difficulties, we suggest contacting your mail client's customer support department -- we're unable to provide assistance for clients not listed above. Standard configuration instructions: Unless you're using recent mode to download mail to multiple clients, make sure you've opted not to leave messages on the server.