Digital Shoppes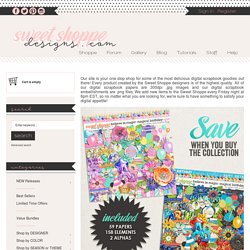 Welcome to Sweet Shoppe Designs Our site is your one stop shoppe for some of the MOST delicious digital goodies out there! Every product created by the Sweet Shoppe designers is of the highest quality.
Sweet Shoppe Designs
Scrappity-Doo-Dah
Welcome to Scrappity-Doo-Dah Are you having trouble checking out in the store? More than likely it is a corrupt cookie causing the issue.
Inspiration Lane
Dazzling Scraps
Sunflower Scraps Boutique
House of 3 - Your Digital Inspiration Station
Store
Your Home for DIGITAL Scrapbooking Supplies ScrapDish carries products for use in digital scrapbooking (papers, elements, alphas, etc.), primarily to use in creating digital scrapbook layouts. However, these same products can also be printed out and enjoyed in traditional paper or hybrid scrapping. by cupcakejenni Mar 20
Vera Lim Design
Sunflower Scraps Boutique
The Ettes and Company
Sunflower Scraps Boutique
DDE Digital Scrapbooking Supplies - Digital Design Essentials