Antispyware, Antimalware, Antivirus, Etc.
Windows Vista: Consumer security software providers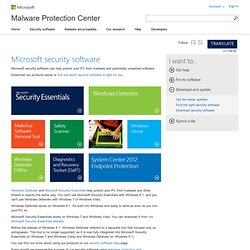 Windows Defender and Microsoft Security Essentials help protect your PC from malware and other threats in exactly the same way. You can't use Microsoft Security Essentials with Windows 8 and later, and you can't use Windows Defender with Windows 7 and earlier. Windows Defender works on Windows 8 and Windows 8.1. It's built into Windows and ready to work as soon as you turn your PC on. Microsoft Security Essentials works on Windows 7, Windows Vista, and Windows XP. You can download it from the Microsoft Security Essentials website.
Additional tools and resources - Learn more about malware - Micr
Download details: Windows Malicious Software Removal Tool
Download details: Windows Malicious Software Removal Tool x64
Encyclopedia entry: Program:Win32/Fakerednefed - Learn more abou
Win32/Antivirusxp is a rogue security program that displays misleading alerts regarding computer problems or falsely reports detections of malicious files on the affected machine in order to convince users to purchase rogue security software. Installation The program is installable from the developer's Web site or by social engineering from third party Web sites. During installation, Win32/Antivirusxp creates the following folders: %APPDATA%\<random folder name>, for example %APPDATA%\rhcjdvj0e163 %APPDATA%\rhcjdvj0e163\quarantine\browserobjects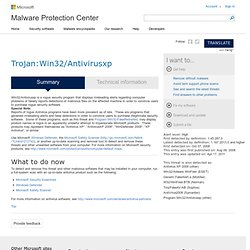 Encyclopedia entry: Trojan:Win32/Antivirusxp - Learn more about
Protect Your Computer: Firewall Security | Virus Protection | An
Home > Security > Microsoft products help protect your computer from malware Home > Security > Security products and services: Frequently asked questions Home > Security > Upgrade to Internet Explorer 8 to help protect your computer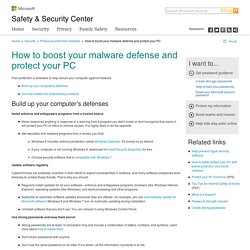 Spyware Removal | Remove Spyware | Antispyware software
How to remove and avoid viruses, spyware, and other malicious software Is your computer running more slowly than usual? Does it stop responding, freeze often, or display other odd behavior?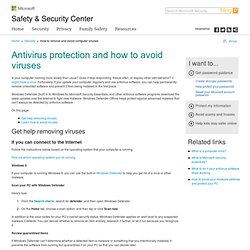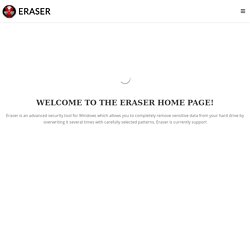 Welcome to the Eraser Home Page! Eraser is an advanced security tool for Windows which allows you to completely remove sensitive data from your hard drive by overwriting it several times with carefully selected patterns. Eraser is currently supported under Windows XP (with Service Pack 3), Windows Server 2003 (with Service Pack 2), Windows Vista, Windows Server 2008, Windows 7 and Windows Server 2008 R2. Eraser is Free software and its source code is released under GNU General Public License. Most people have some data that they would rather not share with others – passwords, personal information, classified documents from work, financial records, self-written poems, the list continues. Perhaps you have saved some of this information on your computer where it is conveniently at your reach, but when the time comes to remove the data from your hard disk, things get a bit more complicated and maintaining your privacy is not as simple as it may have seemed at first.