Inclusion
Accessible
Policy. School of Museum Studies - Museums and Social Inclusion: The GLLAM Report. The University of Leicester's School of Museum Studies has the highest proportion of world-leading rated research in any subject in any UK university (RAE 2008).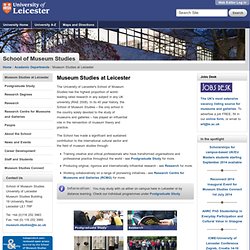 In its 40 year history, the School of Museum Studies – the only school in the country solely devoted to the study of museums and galleries – has played an influential role in the reinvention of museum theory and practice. The School has made a significant and sustained contribution to the international cultural sector and the field of museum studies through: Database : Refugee heritage project. Aims The Refugee Heritage Project, the first phase of which ran from 2004-2006, partnered local London museums with refugee communities with the aims of recording and representing refugee heritage, developing a set of best practice guidelines for museums working with refugee communities and developing ways of measuring how museums can benefit individuals, community organisations and wider society.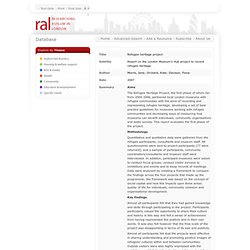 This report evaluates the first phase of the project. Development Trust Association | Glossary | What is community enterprise?
---