Hip Hop
Joell Ortiz
Yarah Bravo
G. Love
Outkast
Ugly Duckling
The Knux
N.A.S.A., and their worldwide debut The Spirit of Apollo , is an ongoing creative collaboration between two lifelong music aficionados, Squeak E. Clean and DJ Zegon, and their friends, friends of friends and musical heroes. While N.A.S.A. stands for North America/South America and contains a number of superstar artists from both coasts of the U.S., it is about as far from a tension-building geographical showdown as a record can get.
N.A.S.A.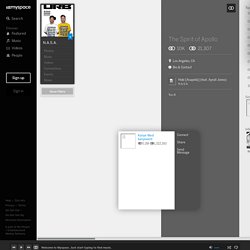 MF DOOM
Jedi Mind Tricks
New joint from our new Army of the Pharaohs "In Death Reborn" album out 4/22. This one features Vinnie Paz, Apathy, Celph Titled, Esoteric & Reef the Lost Cauze. Produced by Blastah Beatz. You can pre-order the album now on iTunes, Amazon, or directly through our online store at www.merchdirect.com/jedimindtricks. Catch Army of the Pharaohs live for 3 nights only. For more info and tix visit: www.jmthiphop.com/tour 5/1/14 – Silver Spring, MD – The Fillmore 5/2/14 – New York, NY – Irving Plaza 5/3/14 – Boston, MA – Paradise Rock Club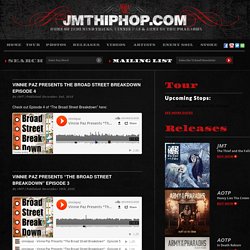 Immortal Technique
Snowgoons
Snowgoons bei MySpace
Everlast
Watch the re-airing of Matisyahu's performance LIVE on AXS.TV this Saturday, March 30th at 10PM EST. FOLLOW #axsMATISYAHU for LIVE tweets from Matisyahu during the broadcast! WE WERE SLAVES TO PHARAOH IN EGYPT! In our generation, PHARAOH lives inside of us. He is a part of us.
Matisyahu
Brother Ali
Fully recharged and inspired by his eye-opening first trip to Mecca, the 2011 uprisings in the Middle East, and the worldwide Occupy movements, Brother Ali is prepared to unveil Mourning In America and Dreaming In Color. Created during a prolific, self-imposed two-month exile in Seattle and helped by platinum-selling producer Jake One, the album represents a brave new phase in Brother Ali's remarkable career trajectory. Mourning In America and Dreaming In Color presents a scathing, yet honest, critique of America and its many flaws while simultaneously presenting a hopeful outlook of its possibilities.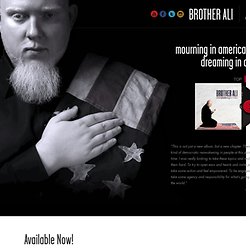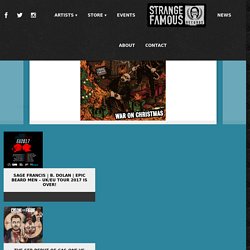 Sage Francis
Click HERE for pre-sale options. PRE-ORDER PACKAGES ARE NOW AVAILABLE HERE - www.tinyurl.com/CopperGoneSFR - including options with SIGNED CDs, 2xLP COLORED VINYL, Cassettes, T-Shirts, Hoodies, and more! SAGE FRANCIS…relocked and reloaded. After a 4-year hiatus, the indie rap icon is taking his signature style of hip-hop and performance art back on the road to support the June 2014 release of "COPPER GONE" on STRANGE FAMOUS RECORDS. It features beat production from long-time music affiliates BUCK 65, ALIAS, CECIL OTTER, REANIMATOR, and more.
ATMOSPHERE
Atmosphere , the preeminent independent hip-hop duo comprised MC Slug and producer Ant , reassert their status as legends of the genre with the release of their most realized, streamlined effort to date, The Family Sign , due April 12th on Rhymesayers Entertainment . Slug and Ant have distinguished themselves from their peers by composing albums encompassing the entire spectrum of human emotion while tethering each piece to a central aural aesthetic. The Family Sign takes this philosophy to new realms of solidarity with Slug metaphorically touching on themes of fatherhood, loss, love, disappointment and jubilation and tailoring them to the instrumental frame work provided by Ant as well as keyboardist Erick Anderson and guitarist Nate Collis .