Videojuegos
SimCity Enters MoMA's Permanent Collection! SimCity 2000. 1994.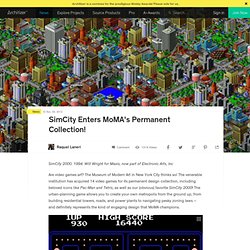 Will Wright for Maxis, now part of Electronic Arts, Inc Are video games art? The Museum of Modern Art in New York City thinks so! The venerable institution has acquired 14 video games for its permanent design collection, including beloved icons like Pac-Man and Tetris, as well as our (obvious) favorite SimCity 2000! The urban-planning game allows you to create your own metropolis from the ground up, from building residential towers, roads, and power plants to navigating pesky zoning laws -- and definitely represents the kind of engaging design that MoMA champions.
Ingress, el videojuego de Google en el mundo real. 26 de noviembre, 2012, 19:02 Ingress, el videojuego para ejecutarse en el mundo real, desarrollado por Google y utilizando una interfaz de realidad aumentada, acaba de ser anunciado hace unos días y aún no cabemos del asombro y el ansía por poder poner nuestras manos en él.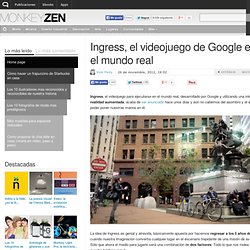 La idea de Ingress es genial y atrevida, básicamente apuesta por hacernos regresar a los 5 años de edad, cuando nuestra imaginación convertía cualquier lugar en el escenario trepidante de una misión de aventura. Sólo que ahora el medio para jugarlo será una combinación de dos factores: Todo lo que nos rodea y nuestro teléfono móvil. La presentación de la que les hablamos anunció el lanzamiento de la versión beta de este juego, exclusivo por el momento para usuarios de Android, obviamente. Gracias a esta app podrás ser el protagonista de un juego de estrategia en el que recogerás unidades de energía dispersas a lo largo de distintos puntos a lo largo de un sitio determinado de tu ciudad. Más tamaños | Video Games vs The Middle East : A Digital Battleground | Flickr: ¡Intercambio de fotos! Cinco estudios rarísimos sobre videojuegos. Estamos acostumbrados a ver cierto tipo de estudios sobre videojuegos en nuestra día a día.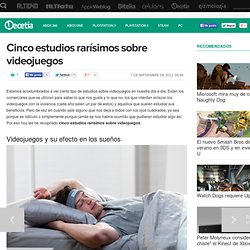 Están los comerciales que se utilizan para saber lo que nos gusta y lo que no, los que intentan enlazar los videojuegos con la violencia (cada año salen un par de estos) y aquellos que suelen estudiar sus beneficios. Pero de vez en cuando sale alguno que nos deja a todos con los ojos cuadrados, ya sea porque es ridículo o simplemente porque jamás se nos habría ocurrido que pudieran estudiar algo así. Por eso hoy les he recopilado cinco estudios rarísimos sobre videojuegos. ¿Puede un videojuego enseñar al Gobierno a salir de la crisis? Tags: Gestión de crisisSimcityVideojuegos Entiendo poco de economía.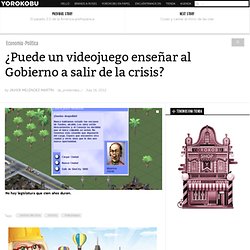 Sé cuántas bolsas de la compra puedo llenar por 40 euros en cada supermercado de Sevilla. También sé, que si aplicara las medidas del Gobierno de Mariano Rajoy al juego de simulación Simcity acabaría hundiendo la economía de una región durante décadas. The World Needs More Skyscraper Micromanagement Smart Phone Games. Screenshots from Nimblebit's Tiny Tower, images via Touch Arcade.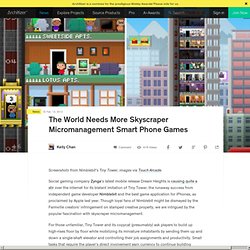 Social gaming company Zynga's latest mobile release Dream Heights is causing quite a stir over the internet for its blatant imitation of Tiny Tower, the runaway success from independent game developer Nimblebit and the best game application for iPhones, as proclaimed by Apple last year. Though loyal fans of Nimblebit might be dismayed by the Farmville creators' infringement on stamped creative property, we are intrigued by the popular fascination with skyscraper micromanagement. For those unfamiliar, Tiny Tower and its copycat (presumably) ask players to build up high-rises floor by floor while mobilizing its miniature inhabitants by sending them up and down a single-shaft elevator and controlling their job assignments and productivity. Small tasks that require the player's direct involvement earn currency to continue building upwards. A conversation on TED.com: Which video game has challenged your perspective on the way you live your life and how?
10 cosas sobre los videojuegos que le enseñaré a mi hijo. | Portal Game Blogger. Indie Game: The Movie Official Trailer. Space time play. Los videojuegos ya son forma de arte oficial en EEUU — ALT1040. Uno de los más antiguos debates sobre ocio electrónico es aquel que alude al videojuego como forma de arte.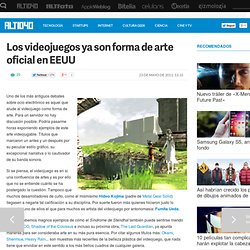 Para un servidor no hay discusión posible. Podría pasarme horas exponiendo ejemplos de este arte videojugable. Títulos que marcaron un antes y un después por su peculiar estilo gráfico, su excepcional narrativa o lo cautivador de su banda sonora. Fate of the World: The Video Game That Lets You Solve Global Warming -... Last fall I wrote about Fate of the World, a new video game in development at the time that asked players to figure out how to avoid the worst fates of climate change and secure a livable future for our planet's citizens.
The game is available today. (For PC only, alas.
---