Informative
In the history of Marxism, the reference to psychoanalysis played a precise strategic role: psychoanalysis was expected to "close the gap" by explaining why, despite the presence of "objective" conditions for the revolutionary transformation, individuals willingly persisted in their enslavement to the ruling ideology (i.e., why they desired their subordination and even found a perverse satisfaction in it). Why did the masses prefer the Fascist temptation to the Communist revolution in the 1930s? Why did they let themselves be lured into dull satisfaction by the Sirens of the late-capitalist "society of consumption" in the 1960s? In short, psychoanalysis functioned as an ambiguous (necessary but dangerous) pharmakon invoked in order to supplement the inherent insufficiency of the Marxist theoretic edifice.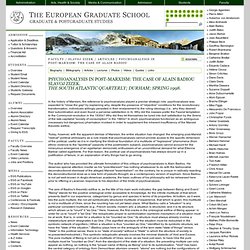 Slavoj Zizek - Psychoanalysis in post-marxism: The case of Alain Badiou
Books -- July 1996 When the inner child finds a guardian angel, publishers are in heaven by Wendy Kaminer F INALLY, after nearly ten years of getting in touch with their inner children and recovering from abuse, millions of consumers of personal-development ideas have found the perfect parents. Guardian angels watch over all of us, best-selling books about angels proclaim.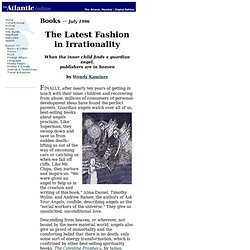 The Latest Fashion in Irrationality - 96.07
In 1991, Atlanta-based singer and songwriter Pam Reynolds felt extremely dizzy, lost her ability to speak, and had difficulty moving her body. A CAT scan showed that she had a giant artery aneurysm—a grossly swollen blood vessel in the wall of her basilar artery, close to the brain stem. If it burst, which could happen at any moment, it would kill her.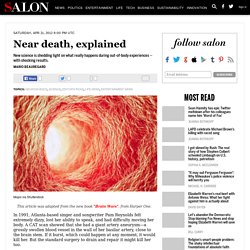 Near death, explained - Neuroscience
As her fears intensified, Sakuda learned of a study being conducted by Charles Grob, a psychiatrist and researcher at Harbor-U.C.L.A. Medical Center who was administering psilocybin — an active component of magic mushrooms — to end-stage patients to see if it could reduce their fear of death. Twenty-two months before she died, Sakuda became one of Grob's 12 subjects. When the research was completed in 2008 — (and published in the Archives of General Psychiatry last year) — the results showed that administering psilocybin to terminally ill subjects could be done safely while reducing the subjects' anxiety and depression about their impending deaths. Grob's interest in the power of psychedelics to mitigate mortality's sting is not just the obsession of one lone researcher. Dr.
How Psychedelic Drugs Can Help Patients Face Death