Fitness
Men's Health Magazine : Men's Guide to Fitness, Health, Weight Loss, Nutrition, Sex, Style and Guy Wisdom. Your Relatable Fitness, Health, and Happiness Guide | Greatist. Printer. A great tip is an awesome thing.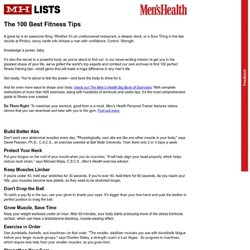 Whether it's an undiscovered restaurant, a sleeper stock, or a Sure Thing in the late double at Pimlico, savvy inside info imbues a man with confidence. Control. Strength. Knowledge is power, baby.
Diet. Jumpstart Your Day : MensHealth.com. The Best Breakfast Foods Bacon or sausage?
Pancakes or waffles? Make the right choice every time to build muscle and burn fat The Perfect Morning Workout. Health.
---