outdoor
Get flash to fully experience Pearltrees
The Tentsile Stingray is universally versatile. This is a three-season tent, offers occupants a spacious triple hammock interior, accessed via a hatch in the bottom or a large side door. It can be set up on the ground or suspended in the air. Tentsile Stingray specs: Size: 4.8 x 4.8 x 4.8m/ 13 x 13 x 13' Bag Size: 60 x 25 x 25cm/ 25 x 10 x 10"
Barometer Photo of Breva capsules, or movement with capsules marked A barometer is an instrument for measuring air pressure, first invented by Evangelista Toricelli, a pupil of Galileo, in 1643. There are two main types of barometer: a mercury barometer, in which the pressure of the air forces a small column of mercury up a tube (similar to a mercury thermometer); and the anaerobic barometer, in which one or more aneroid capsules (aneroid means 'without air') expand/contract with changing air pressure. More (opens rest of text) The barometer and altimeter (air pressure changes with both altitude and weather conditions) measure air pressure with two small aneroid capsules stacked one above the other – the top one being clearly visible on the dial side at 5 o'clock.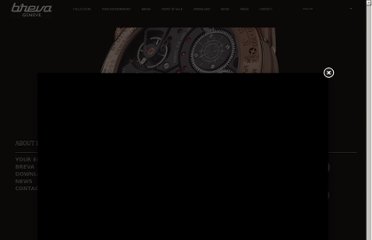 First-class femininity. A tribute to the spirit of travel to distant lands aboard luxurious longhaul airliners, the Breitling Transocean welcomes a brand-new chronograph for women endowed with a distinctive blend of character and elegance. With its understated design and refined dials, the Transocean offers a resolutely contemporary stylistic interpretation of the aesthetic of 1950s and 1960s chronographs. A model of fine workmanship and excellence, it has established itself as a new classic marrying prestige and distinction. Breitling is now enriching this exceptional collection with a 38 mm-diameter ladies' chronograph that lends a touch of character to any wrist, including the daintiest.
This page is updated frequently. Click here to see a timeline of revisions. Ultra-Ever Dry is a superhydrophobic (water) and oleophobic (hydrocarbons) coating that will completely repel almost any liquid.
The HYDROSTIK is not a one time use, disposable cartridge, and is thus more environmentally friendly. Unlike other fuel cartridges for fuel cells, it has the additional advantages of being refillable (from pressurized gas bottles, or from water-electrolysis based devices ), non-toxic, fully recyclable, and competitive on energy storage cost with existing battery devices.
The masterplan on the distribution of the 12.000 free WakaWaka Lights to Haiti is beginning to take shape. We have reached an agreement with a total of 22 small, medium sized and larger NGO's that will be helping us to distribute the lamps in such a way that maximum impact will be realized. In the successful crowdfunding campaign for the WakaWaka Power at the beginning of this year, the slogan was: "Buy one, give one".
Introducing Icom's New ID-31A UHF D-STAR Handheld: New ID-31A. A compact and submersible radio with GPS, Micro SD card, and more! UHF Only • Submersible Construction (IPX7) • Internal GPS - GPS "Last Heard" Log - GPS Waypoint Memory • Large Dot-Matrix Display • 1252 Alphanumeric Memory Channels - 500 Regular - 700 D-STAR Repeater Memories - 50 Scan Edges - 2 Call Channels • Cloning Software Included • Micro SD Card (Optional) - DVR Incoming/Outgoing Messages - GPS Log - Memory Backup Details: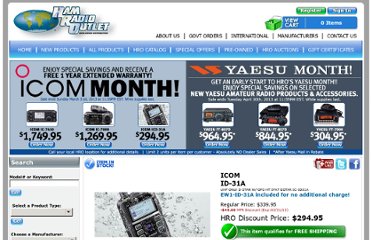 2 for 1, Dualwatch receive Until the IC-R20, the capability of monitoring two frequencies required two radios. Whether you need to monitor local public safety, air traffic control, or at the track listening to two drivers, even the play by play from both the local TV and radio station is possible! See specifications for actual frequency ranges for Dual-watch receive.
Reliable 2-way Satellite Communication in Remote or High-Risk Environments, Anywhere Why DeLorme? DeLorme is the innovation leader in high-quality maps and GPS units for everyone from recreational customers to businesses to government agencies. Proven in the most extreme conditions, from the bitter cold of the North Pole and Mt Everest to the heat and sand of Iraq and Afghanistan, DeLorme products are well known for rock-solid design, accuracy, and reliability. DeLorme is a service disabled veteran-owned small business (SDVOSB) and takes great pride in engineering outstanding maps, software, and GPS units right here in the United States.
Choosing wood cutting tools for your survival gear can be complicated because of weight. Axes, hatchets, and saws can be heavy and cumbersome.
The Krypton is a Class 4 laser that puts out up to 750 milliwatts of power and a beam that can cover an incredible 137,120 meters - that's 85.2 miles. If you're having some trouble imagining that, think of it this way: The beam of this laser would make a bright, steady, unbroken beam from the top of the One World Trade Center in New York City to Philadelphia. And if the astronauts in space right now happened to snap one of their photos of Earth while you were using the Krypton to point out individual stars in the constellations, they'd see a little green dot amongst the sea of white and yellow lights from cities. The Krypton's virtually indestructible chassis is crafted from aircraft-grade aluminum, and its sleek design is similar enough to every man's fondest laser memories that George Lucas once sued us over it. The Krypton is your chance to own the most powerful hand-held laser in the known universe.