Hobbies
Jung Career Indicator. Jung Career Indicator™ determines occupations and areas in which people of your type find themselves most fulfilled and content, are most successful, and therefore are most represented in.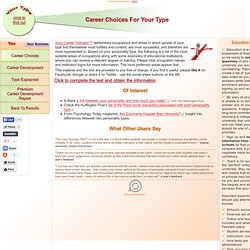 Based on your personality type, the following is a list of the most suitable areas of occupations along with some examples of educational institutions, where you can receive a relevant degree or training. Please click occupation names and institution logos for more information.
Interior Design Ideas. To Read. Dropping knowledge :: Table of Free Voices. Hiking. Fashion. Camping/Survivalist.
---