Felt/Embroidery
This is the most beautiful felt project we've seen. Strips of felt are wrapped around each other with hot glue to create this amazing swirled effect. What a great project for a snowed-in weekend and a movie marathon with the family. The kids could even help cut strips and decide on color combination while you operate the hot glue gun.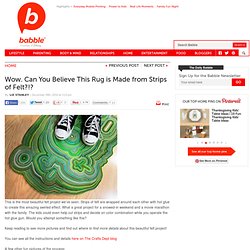 May 18th 2010 First of all, I have to give credit where credit is due. This amazing lady inspired me to try my hand at a different type of flower than usual, and I sort of switched it up a little to make it my own. Enjoy!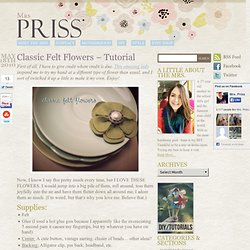 Swatch Portraits
Now that you've finished your portrait, hang it on the wall to admire it. Lovely! We think these hoops are a great and affordable way to decorate bare walls in any space, whether its a living room, a child's room, a dining room or your bedroom. They also make great quick gifts.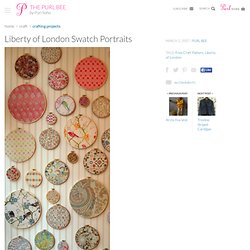 We've got bunnies! Super lux cashmere bunnies...mmm! I've acquired a lot of scraps from making recycled cashmere scarves last holiday. I've been trying to come up with a project that is scrap worthy.
cashmere bunny tutorial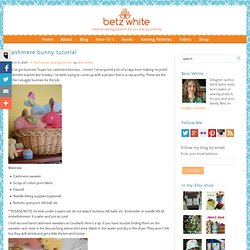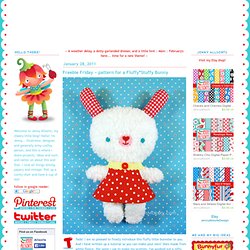 Tada! I am so pleased to finally introduce this fluffy little bunnster to you. And I have written up a tutorial so you can make your own! She's made from white fleece, the same I use to make my scotties. I've worked out a nifty way that makes it easy to work with.
Freebie Friday ~ pattern for a Fluffy*Stuffy Bunny - allsorts
misc/elephantplushie.pdf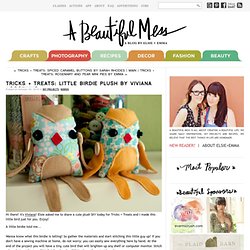 Hi there! It's Viviana ! Elsie asked me to share a cute plush DIY today for Tricks + Treats and I made this little bird just for you. Enjoy!
Free Softie Pattern: Calico Kitty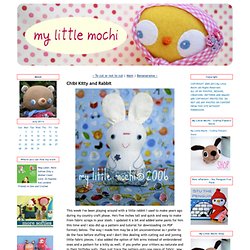 This week I've been playing around with a little rabbit I used to make years ago during my country craft phase. He's five inches tall and quick and easy to make from fabric scraps in your stash. I updated it a bit and added some pants for him this time and I also did up a pattern and tutorial for downloading (in PDF format) below. The way I made him may be a bit unconventional as I prefer to do the face before stuffing and I don't like dealing with cutting out and joining little fabric pieces. I also added the option of felt arms instead of embroidered ones and a pattern for a kitty as well. If you prefer your critters au naturale and in their birthday suits, then just trace the pattern onto one piece of fabric, sew, stuff and you're done.
my little mochi: Chibi Kitty and Rabbit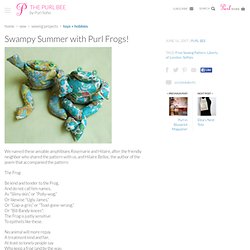 Purl Frog
We named these amiable amphibians Rosemarie and Hilaire, after the friendly neighbor who shared the pattern with us, and the author of the poem that accompanied the pattern. Rosemarie instructed us to use mung beans as the stuffing; the simple child's rhyme, composed by British author Hilaire Belloc , tells us how to treat our new friends: The Frog Be kind and tender to the Frog, And do not call him names, As "Slimy skin," or "Polly-wog," Or likewise "Ugly James," Or "Gap-a-grin," or "Toad-gone-wrong," Or "Bill Bandy-knees": The Frog is justly sensitive To epithets like these. No animal will more repay A treatment kind and fair, At least so lonely people say Who keep a frog (and by the way, they are extremely rare).
I have a problem with throwing away scraps of fabric. After I've cut up pieces for a project, the scraps always look so pretty together! I figure there must be something I can do with them, so I keep the "big enough" pieces in a box or bag until I think of something. Well, here's something! I made these "scrappy owls" completely out of felt scraps I had saved from other projects. You can make them too!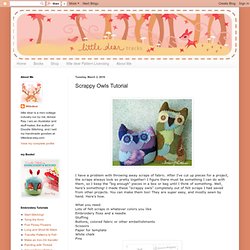 Scrappy Owls Tutorial
There was a time — and maybe we're still in it — when almost every stylish home contained a vase of craspedia, also known as "Billy Balls," "Billy Buttons," and a few other terms I'm not aware of. And why not? Craspedia are a very cool-looking flower, after all; definitely a great choice for mid-century modern fans, with those long, skinny stems and graphic yellow balls. I have a bunch of them in my home as well, and I do love them. However, I don't like that the dried ones lose their vivid color and the fresh ones don't keep long. Enter this super simple felt version by Tanya of Dans le Townhouse : an almost perfect substitute for the real flower.