QA
The power of TestCase-Design Part 1 - Quality Testing
WAI: Strategies, guidelines, resources to make the Web accessible to people with disabilities What WAI Does WAI develops... guidelines widely regarded as the international standard for Web accessibility support materials to help understand and implement Web accessibility resources, through international collaboration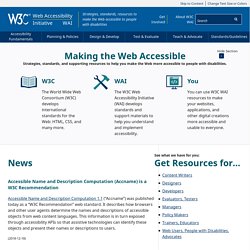 Web Accessibility Initiative (WAI) - home page
De qué se trata Consiste en una reunión informal, el primer jueves de cada mes a las 20:30, entre profesionales e interesados en arquitectura de información, usabilidad y diseño de interacción, para tomar algo y conocerse mejor. Ciudades donde se celebra Todas las ciudades convocan cada principio de mes a través de blogs, donde se especifica el lugar, la hora, etc. Generalmente la gente que va a ir se apunta en los comentarios de cada post.
Comunidad de Arquitectura de Información, Usabilidad y Diseño de Interacción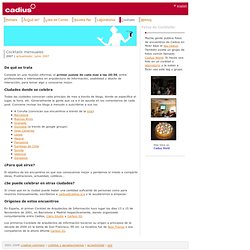 Problemas con los servidores del Foro
I first attempted to use HealthCare.gov to learn about options for covering my granddaughter, who is not covered by my employer-subsidized insurance. I encountered the same kinds of account creation issues others have reported, but I decided to turn on my web browser's built-in developer tools to see if I might see details as to why form submissions were failing. I quickly discovered that the main browser window would often display a status other than what was actually occurring. For example, the form submission would fail to get a response from the server but the user interface would report that the form was submitted. Once I saw this behavioral mismatch between what was displayed in the browser and what was actually happening, I kept developer tools on as I used the site.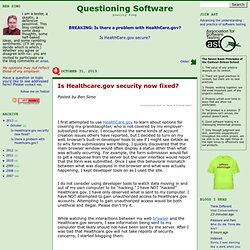 Questioning Software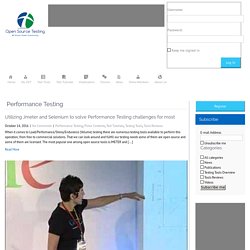 Please fill in our 10th anniversary survey! Opensourcetesting.org is 10 years old! We have changed a lot over that time, and no doubt you have too. We would love to get to know the 'new you' a little bit better, find out what you think of our website and what else we could do for you. Please follow this link and fill in this quick survey. Thankyou so much for visiting our site, and for your time on the survey.
Open source performance testing tools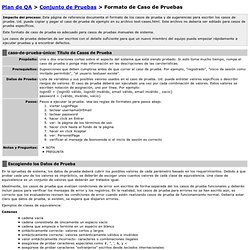 Formato de Casos de Prueba
Impacto del proceso: Esta página de referencia documenta el formato de los casos de prueba y da sugerencias para escribir los casos de prueba. Ud. puede copiar y pegar el caso de prueba de ejemplo en su archivo test-cases.html. Este archivo no debería ser editado para casos de prueba específicos. Este formato de caso de prueba es adecuado para casos de pruebas manuales de sistema.