QA
The power of TestCase-Design Part 1 - Quality Testing
W3C Workshop: Referencing and Applying WCAG 2.0 in Different Contexts The W3C Web Accessibility Initiative ( WAI ) today announced the Workshop on Referencing and Applying WCAG 2.0 in Different Contexts on 23 May 2013 in Brussels, Belgium. Participants will explore approaches for using Web Content Accessibility Guidelines (WCAG) 2.0 and its supporting resources in different policy settings and contexts. The Workshop is open to policy-makers, users, developers, accessibility experts, researchers, and others interested in adopting, referencing, and applying WCAG 2.0.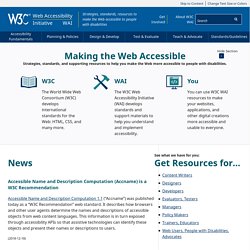 De qué se trata Consiste en una reunión informal, el primer jueves de cada mes a las 20:30 , entre profesionales e interesados en arquitectura de información, usabilidad y diseño de interacción, para tomar algo y conocerse mejor. Ciudades donde se celebra Todas las ciudades convocan cada principio de mes a través de blogs, donde se especifica el lugar, la hora, etc. Generalmente la gente que va a ir se apunta en los comentarios de cada post.
Comunidad de Arquitectura de Información, Usabilidad y Diseño de Interacción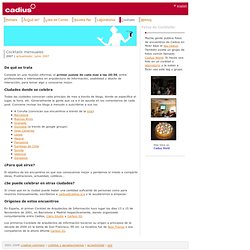 Problemas con los servidores del Foro
Questioning Software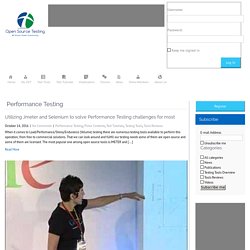 Performance test tools (53 found) Allmon Description: The main goal of the project is to create a distributed generic system collecting and storing various runtime metrics collections used for continuous system performance, health, quality and availability monitoring purposes. Allmon agents are designed to harvest a range of metrics values coming from many areas of monitored infrastructure (application instrumentation, JMX, HTTP health checks, SNMP). Collected data are base for quantitative and qualitative performance and availability analysis.
Open source performance testing tools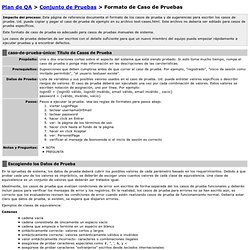 Formato de Casos de Prueba
Impacto del proceso: Esta página de referencia documenta el formato de los casos de prueba y da sugerencias para escribir los casos de prueba. Ud. puede copiar y pegar el caso de prueba de ejemplo en su archivo test-cases.html. Este archivo no debería ser editado para casos de prueba específicos. Este formato de caso de prueba es adecuado para casos de pruebas manuales de sistema.