Fahrrad
VeloMap.org -Roadbike – Bicycle – Maps based on Openstreetmap
Well finally after many years of empty overview maps, since a few weeks (as written in my last posts) mkgmap was able to write simple overviewmaps. So much faster zooming/panning when zoomed out fast in Mapsource, Basecamp, QLandkarteGT. From todays map update onwards, the overview map now has several layers. This makes the orientation when zoomed out far, still a lot better.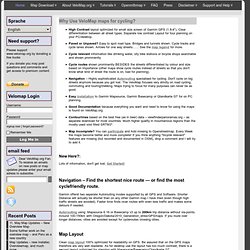 Hauptseite - Radreise-Wiki
Fahrrad-Routenplaner | Radtour planen und beste Radwege finden | Navigation | Wege verbinden
Es gibt also gute Gründe, das Fahrrad ernsthaft als Verkehrsmittel zu nutzen, auch für Entfernungen, die nur mit sportlicher Fahrweise zu schaffen sind. Die Anreise zu dienstlichen, familiären, geselligen Veranstaltungen lässt sich um so leichter zur Radtour machen, je weniger Zeit dank direkter Route dafür einzuplanen ist.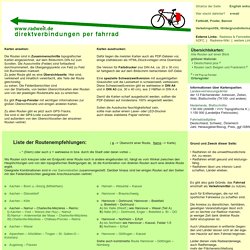 Direktverbindungen per Fahrrad
ADFC Allgemeiner Deutscher Fahrrad-Club e.V.