Wiki
Main Page - This Might Be A Wiki
Main Page - NovaRoma
Home - Start a free website in 3 easy steps - Wetpaint
PigPog | Creativity Anywhere
The Very Simple Wiki
MediaWiki
YATWA - (Yet Another TiddlyWiki Adaptation)
TiddlyTagWiki - Micro-content with the power of tags ...
TagglyWiki - a taggable, reusable, non-linear personal web noteb
Groups : GTD TiddlyWiki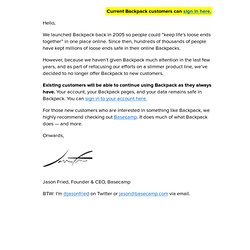 Hello, We launched Backpack back in 2005 so people could "keep life's loose ends together" in one place online. Since then, hundreds of thousands of people have kept millions of loose ends safe in their online Backpacks. However, because we haven't given Backpack much attention in the last few years, and as part of refocusing our efforts on a slimmer product line, we've decided to no longer offer Backpack to new customers.
Personal and small business information manager: Get organized,
GTD TiddlyWiki - all your tasks are belong to you
TiddlyWiki - a reusable non-linear personal web notebook
Microcontent: Headlines and Subject Lines (Alertbox)
Wiki Choicetree
Project Info - PhpWiki