Recipes 3
Herbs
Flatbread Company. Darwin's Ltd. Snacksby is a really neat recipe site| Snacksby. LTK Bar and Kitchen. Ming.com - The official website of Chef Ming Tsai. Kitchen Myths. Vicki Lee's New Cafe. Tavern On the Water. Chow Times. Quince Bistro. Gode Cookery. A compilation of medieval recipes from authentic sources adapted for the 21st century kitchen, along with diverse facts on food & feasting in the Middle Ages & Renaissance and other historical culinary items.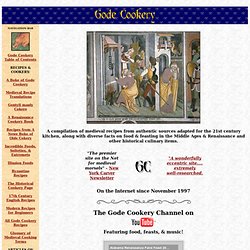 On the Internet since November 1997 The Gode Cookery Channel on Featuring food, feasts, & music! Best brunches in boston. Donnahay.com.au. Rendezvous Central Square :: Main Page. Basic pantry-inspired pasta By now you may have come to identify several of the usual suspects in my kitchen larder: garlic, olives, capers, anchovy, among others.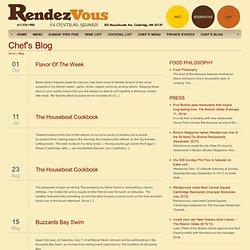 Keeping these items in your pantry means that you will always be able to pull together a delicious, simple little meal. My favorite stand-by pasta dinner includes all of [...] Toasted breadcrumbs One of the staples of my home pantry is actually just a simple by-product from making toast in the morning: the breadcrumbs leftover on the big wooden cutting board. The dark crusts on my daily bread — the big sourdough loaves from Iggy's Bread (Cambridge, MA) — are wonderfully flavorful, and I carefully [...] The City. CHEESE.COM - All about cheese!. Gourmet popcorn, seasoning, old fashioned popcorn poppers. Massachusetts Orchards. Life begins at thirty. My twitter feed exploded this week with links to Salon's article titled Hipsters on Food Stamps.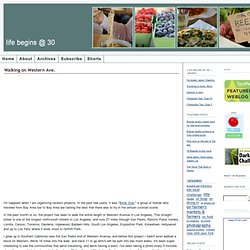 The article is just sexy enough to be the topic that we are all talking about: hip 30-somethings using their Electronic Benefit Transfer cards (ATM-like cards that serve as the currency for food assistance programs) to purchase rabbit, organic salmon, mint chutney and soy alternatives. The article quotes several individuals who purchase their food from Whole Foods and organic/healthful grocery chains like Rainbow Grocery. As is usual with such debates, we are inundated with slanted opinions and half-truths.
The outraged complain that these hipsters are "wasting taxpayer money" and subsidizing their lifestyle on the public dime by taking advantage of the Supplemental Nutrition Assistance Program, or SNAP. Making Liqueurs and Cordials. Liquors - limoncella - rose water - alchermes - liquore - italia. The first liquors were invented across Europe in convents and monasteries during the middle ages, but it was not until the 16th and 17th centuries that their fame and the actual products reached the palaces of the nobility.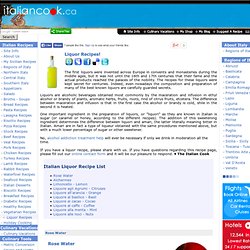 The recipes for these liquors were kept secret for centuries. Indeed, even nowadays the composition and preparation of many of the best known liquors are carefully guarded secrets. Liquors are alcoholic beverages obtained most commonly by the maceration and infusion in ethyl alcohol or brandy of plants, aromatic herbs, fruits, roots, rind of citrus fruits, etcetera. The difference between maceration and infusion is that in the first case the alcohol or brandy is cold, shile in the second it is heated. Authentic. Italian. Cuisine. Yelp - Welcome to Yelp. Slashfood. Outdoor dining directory - Boston.com - Restaurants - A&E.
Welcome to the James Beard Foundation. H2Otown | a site by and for people who live in and love Watertow. Seattle Bon Vivant. Home Page: Coffee and Wireless in Boston. Boston Restaurant Guide | Boston's Hidden Restaurants. New England ice cream stands. New England dining reviews >>> Ice cream in New England The Best New England Ice Cream Stands All ice cream is good.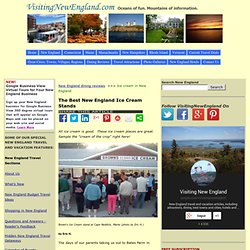 Wilson Farms Growing Since 1884. Is My Blog Burning? - recipes of the people, by the people and f. Delicious! Delicious! Orangette. Diary of The Food Whore. Feeding dexygus seconds. 101 Cookbooks. Movable Feast. Tortelli in brodo. An Italian recipe from the sixteenth century This is a real classic from the Italian kitchen: stuffed pasta in broth.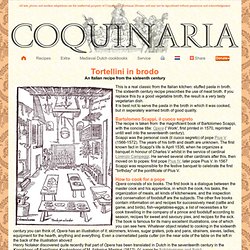 The sixteenth century recipe prescribes the use of meat broth. If you replace this by a good vegetable broth, the result is a very tasty vegetarian dish.It is best not to serve the pasta in the broth in which it was cooked, but in seperately warmed broth of good quality.
---