Recipes 2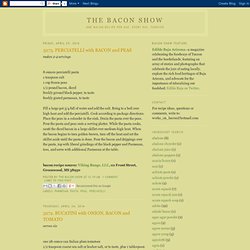 The Bacon Show
serves six 2 tablespoons unsalted butter, plus more for the baking dish 1/2 lb. challah (about 1/2 loaf), cut into 1-inch cubes 3 tablespoons pure maple syrup Kosher salt 1 bunch (about 10 oz.) Tuscan kale, ribs removed and leaves chopped into 1-inch pieces 5 strips bacon, halved to fit in the pan (if necessary) 1 bunch scallions (white and green parts), cut crosswise into thin slices (about 1 cup) 8 large eggs 2 cups whole milk 1 cup heavy cream 1/2 teaspoon sherry vinegar freshly ground pepper 1/2 cup coarsely grated parmigiano-reggiano Preheat the oven to 375 degrees F.
W hether you're into plain vanilla—the top-selling flavor in the U.S.—or want a more unusual flavor, such as fennel, you're not alone in thinking that ice cream and its Italian counterpart, gelato, are delicious. According to the International Dairy Foods Association, more than 90 percent of American households consume ice cream and other frozen treats, downing about 23 billion dollars' worth of the stuff per year. That's a lot of ice cream. And sure, it's convenient to buy a pint at the store or a cone at your favorite ice cream parlor, but there's nothing quite as satisfying and delicious as making homemade ice cream.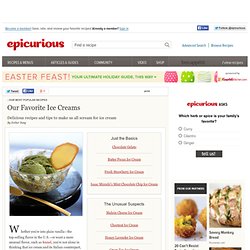 ice creams!
Our Favorite Homemade Ice Cream Recipes and Tricks - Ice Cream -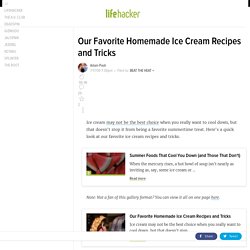 Ice cream may not be the best choice when you really want to cool down, but that doesn't stop it from being a favorite summertime treat. Here's a quick look at our favorite ice cream recipes and tricks. Note: Not a fan of this gallery format? You can view it all on one page here. Got a favorite ice cream tip, trick, or recipe of your own? Let's hear it in the comments.
50 of the world's best food blogs - Times Online
Kitchen on Common | Fresh, local, comforting food | Belmont MA
Here's the deal with these. Yes, this is a really good recipe for marshmallows. Yes, I've made it twice and I consider it pretty much foolproof (although the first time, I managed to melt a portion of my cheapo candy thermometer).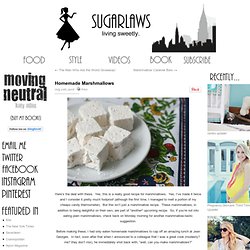 Homemade Marshmallows
Ice Cream Ireland » Ice Cream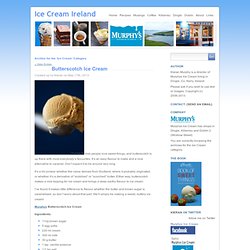 Some months ago, I was contacted by Geoffrey, a customer in our Dublin shop, who asked would I be interested in making Christmas pudding ice cream, made from puddings he cooked up using a recipe from his grandmother, Bridget (photo above, also supplied by Geoffrey). Needless to say, this was the kind of opportunity I love – it combined a good story with a customer and an Irish tradition. Geoffrey was kind enough to seek out a registered kitchen for his cooking so that we could be covered in terms of food safety, and soon I had some of the most tasty pudding in my hands. He's quickly gathering a reputation for excellence with his puddings, which he makes for friends and colleagues. Maybe this is the beginning of a great artisan business! We made the ice cream using his pudding and a hint of Baileys in the base.
Everyone in the Boston area who likes ice cream knows about ice cream stands and parlors such as Ben and Jerry's, Kimball Farm, Richardson's, and JP Licks. But you may not know about some of New England's best ice cream stands that are off the beaten track. While there are literally hundreds of great ice cream stands in New England, below you will find the cream of the crop, so to speak! (Note: This Boston and New England ice cream stands page is part of our restaurant features section.)
Boston and New England Ice Cream Stands You May Not Know About |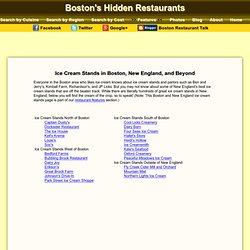 Ice Cream Stand Directory for Eastern Massachusetts
Cooking more with yonder crockpot.
I am craving slow-cooked goodness. Please share your favorite crock-pot recipes! I love to cook but sometimes get lazy, and there's really something wonderful about a house that smells delicious from being cooked in all day, especially now that it's winter.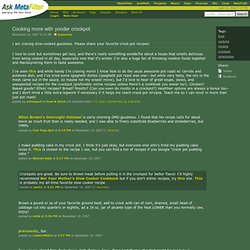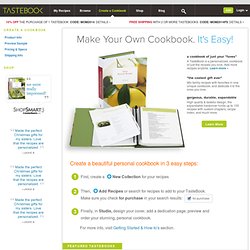 Create cookbooks, search recipes, share recipes
a cookbook of just your "faves" A TasteBook is a personalized, cookbook of just the recipes you love. Add more recipes anytime. Learn more » "the coolest gift ever" Mix family recipes with favorites in one unique cookbook, and dedicate it to the ones you love. gorgeous, durable, expandable High quality & tasteful design, the expandable hardcover holds up to 100 recipes with custom chapters, recipe index, and much more. Learn more
Summer Express: 101 Simple Meals Ready in 10 Minutes or Less - N
||||| Jesse Browner |||||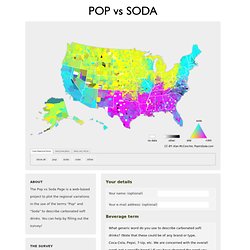 show all pop soda coke other The Pop vs Soda Page is a web-based project to plot the regional variations in the use of the terms "Pop" and "Soda" to describe carbonated soft drinks. You can help by filling out the survey! Name and email address are optional. Hometown and state/province are also optional, but strongly encouraged.
The Pop vs. Soda Page
Suicide Food
There once was a pig. There was a pond, too, but we're interested in the pig. The pig had a dream. Unless you're three weeks old, you already know what the pig's dream was.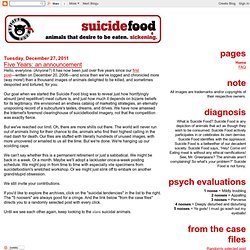 The chances are, if pressed, we could all bring forth some thoughts, opinions and facts about the Romans, which is not surprising considering the significant part they played in European history. Much has been recorded of the gods and goddesses the Romans worshipped, the powerful military figures and rulers that were so instrumental in building the Roman Empire, and of course of the impact the Romans made on said Empire. One thing the Romans liked to do was build, and the resulting structures were both immense and imposing. There was The Colosseum amphitheatre, the scene of many gladiator battles, The Vatican, residence for Popes since 1377 (an independent state), and the city of Pompeii, excavated from under the debris of a Mount Vesuvius eruption. There were also substantial villas, home to many wealthy Romans both in Rome and across the Empire.
Romans in Britain - Roman recipes of the upper classes
The Household Cyclopedia - Carving
Il Trinciante by Vincenzo Cervio
Medieval/Renaissance Food Clip-Art Collection
A search engine has been established on every website to help you find what you're looking for while you're here; additionally, the Gode Cookery Ring will navigate you through a random circuit of all Gode Cookery sites. Those who use Gode Cookery often are encouraged to support the site by purchasing medieval cookery books & other items through Amazon and our online bookstore; your support helps keep Gode Cookery on the Internet and free from pop-ads & commercials. Looking for something specific at the godecookery.com domain? Search Gode Cookery courtesy of Master.com
Welcome to Gode Cookery
We run courses in a wide range of historic cookery skills. Would you like to try roasting meat and fish in front of the fire using age-old techniques and original seventeenth and eighteenth century equipment? Or make beautiful confectionery with genuine period moulds?
Historic Food Welcome
Food History News - Home
Cindy Renfrow Author of books on ancient and medieval cooking an
Culinary Historians of New York | For the study of Food and Culi
medieval gastronomy in Europe, cooks, books, garden, cuisine
Causes possibles : * L'adresse de la page sur votre navigateur est peut-être incorrecte. * La page que vous recherchez a peut-être été supprimée, ou son nom a changé ou encore cette page est momentanément indisponible.
Gervase Markham, The English Housewife, 1615
Bakemetes and Mince Pies
About The Deipnosophists, or, Banquet of the Learned of Athenaeu
Food Quotes, Sayings about Eating
Historical recipes.
Apicius — De Re Coquinaria
Apicius
Apicius
Apicius
NOVA Online | Secrets of Lost Empires | Roman Bath | Real Roman
Ancient Greek and Roman recipes
Antique Roman Dishes - Collection
Lex Culinaria
Vegiforms®