Poetry
Sacred Texts Classics Ovid Buy this Book at Amazon.com Contents Start Reading
The Love Books of Ovid Index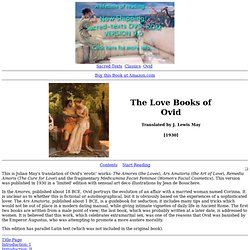 Winning Writers - Poetry Contests, Free Poetry Contests, Fiction
Writing Exercises: Poetry
Make a list of twenty phrases that use alliteration, such as the sun settled on the south hill with sudden color . Pick two or three of these phrases and try to build images around them. Use at least one of these images in a poem. Make a list of fifteen physical experiences that you've had, such as falling out of a tree, riding a roller coaster, or jumping on a trampoline. Choose one from your list and use images to create a lyric poem about the experience. (by Jay Klokker, from The Practice of Poetry , Robin Behn and Chase Twichell, eds.)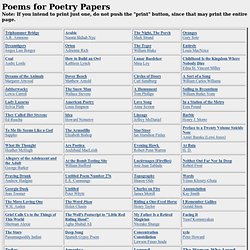 Poems for Poetry Papers
"Lady Lazarus" Sylvia Plath (1962) You do not do, you do not do I have done it again. One year in every ten I manage it----- A sort of walking miracle, my skin Bright as a Nazi lampshade, My right foot
Poetry Bootcamp - An Internet Workshop with Molly Fisk
geegaw.com : feen masquerie
Robert Bruce | American Poet » Blog Archive » 7 Reasons Why Nobo
Works in the William Blake Archive
Dates are the probable dates of composition. Copyright © 1996-2013 by Morris Eaves, Robert N. Essick, and Joseph Viscomi, all rights reserved. Items in the Archive may be shared in accordance with the fair-use provisions of U.S. copyright law. Redistribution or republication on other terms, in any medium, requires express written consent from the editors.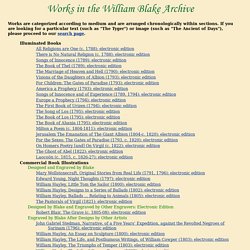 Darwinian Poetry: Home
Abalone Moon Abalone Moon is a poetry and arts journal which is both thematic and eclectic in its choice of poetry and art. It features work by both known and unknown contemporary poets and artists. Included in the journal are poetry and arts links, and a take action page with links to various environmental and political websites. Agnieszka's Dowry On 8 March 1996, the UNESCO International Day of the Woman, A Small Garlic Press (ASGP) extended their poetry publishing to include an on-line poetry and letters to Agnieszka magazine. Alsop Review Berkeley, California, based review posts this online poetry journal, complete with online poetry classes and a competition. Arbutus An online literary journal that publishes poetry, fiction and non-fiction, hypertext, art, and reviews.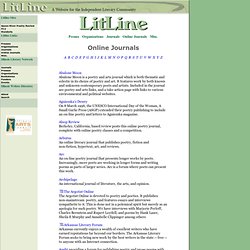 A Website for the Independent Literary Community
Brandywine Books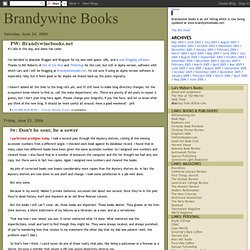 Brandywine Books PW: Brandywinebooks.netIt's late in the day, and dawn has come. I've decided to abandon Blogger and Blogspot for my own web space, URL, and a new blogging software. Thanks to Bill Roberts of Out of the Bloo and Thinklings for the cool, but still in alpha version, software with which Lars and I will be blogging at Brandywinebooks.net. I'm not sure if using an alpha version software is especially risky, but it feels good so far.
NarcissusWorks
The Sonneteer: home page
Sonnet Central
of authors or the java navigation page. All of the sonnets included here (as well as most of those that are linked) are modernized texts for the general reader and are not presented for purposes of scholarly work. Comments and corrections are welcome and may be e-mailed to me, Eric Blomquist. New: While I get round to updating the links page, please check out sonnets by Michael Juster and David Anthony.
Winning Writers - Online Database with 650 Poetry Contests, Reso
Exquisite Corpse - A Journal of Letters and Life
Grand Text Auto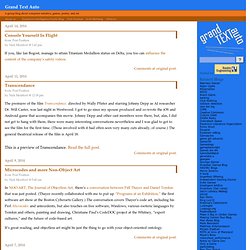 A remarkable hypertextual video essay, Parallelograms, has been posted by Jeffrey Scudder. It is composed of an intriguing collections of clips, and includes some fascinating video quotation of (e.g.) Marshall McLuhan, Douglas Rushkoff, Ted Nelson, Alan Kay, and Chris Crawford. Not to mention my colleague Hal Albelson in a wizard hat. Also, I couldn't help but notice that it shows the 10 PRINT program executing and features a shot of the book A Million Random Digits with 100,000 Normal Deviates. If these matters at all interest you, do read/watch this video meditation on digital media, society, materiality, matter, the body, and (as I read/watch it) how the computer, whatever its limits, may have still-untapped potential for empowerment and change.
BeeHive Hypertext/Hypermedia Literary Journal - [volume5:number2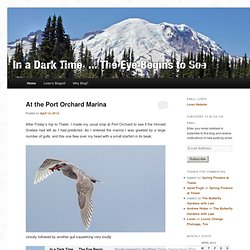 Things have been quite hectic around here since Thanksgiving, particularly leading up to Christmas. Perhaps that's because of our trip to Colorado for Thanksgiving and the less than usual number of days between Thanksgiving and Christmas. Perhaps it was because I decided that I'd lost enough weight that I could risk making cookies again this year, something I missed a lot last year. I forgot how much time it takes to bake and decorate cookies. Have I told you how much I love cookies and candies. Now that presents no longer hold the appeal they once did, delicious food is the only thing that helps me to recapture that Christmas spirit.
In a Dark Time
Jared Carter Poetry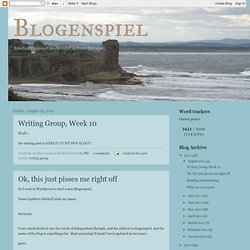 Blogenspiel
[There are small spoilers.] One of the things I've done since Leeds is catch up a little with friends I haven't seen for a month or more. So the other day, a few of us went to see Captain America. As a superhero film, I have to say, it was one of the better ones I've seen -- at least for a Marvel-based film. It was exciting, the script and acting were really good, the casting was great... and it was surprisingly not jingoistic. I think it escaped it by being mostly set during the Second World War, and by having a villain who was a breakaway from Hitler's special arcane & tech forces unit.
Rhyme & Reason
barbara fletcher / poet
Sometimes a message reaches you right at the time you need it. Like there is some kind of human-connection force that listens, hears you, and puts the missive in motion. It can take the form of an inbox note, an article posted to Twitter, an unexpected phone call, song lyrics that you never paid attention to before, a graffitied statement on a back alley wall, or even a misdirected text. There are infinite possibilities for these random (but somehow targeted) connections. In my case it was a TED video shared by a friend on Facebook.
resurgere.org
Name: Kelli Russell Agodon Kells I'm the author of Letters from the Emily Dickinson Room, Small Knots, and Geography as well as the editor of Crab Creek Review and the co-founder of Two Sylvias Press. I love museums and desserts (except for cheesecake).
Book of Kells
Edgar Allen Poe: The Complete Works
pocast.com - poetry for podcasters
"It is scarcely possible, according to our notions, to commit crimes upon any beings in the world except men. There are no beings in the universe, according to human beings, except themselves. All others are commodities.
Conchology
::: wood s lot ::: "the fitful tracing of a portal"
photo - mw Francisco Guevara:: Jus ad bellum, to awethe offending adam Erratacaught against what sowed in—what could be misread when I salivated in the meantime, against the now there was none of—in the collusion I am in with myown doing & disfigured faces undulated. There were many ways of appraising how tired we were of losing ourselves, to speak of sense out of tragic registers—strummed,and so the snow found longing found torrential/ and so Alice sang the strands of her hair, and her dress similarly fraying from their flutter and tickling Alice with.We were the dwelling we convexed, mirrors promised to pry crowns out of my smile/ to pry thought from a breadth and what light was un- accounted for was gift-wrapped & dated asa matter of toll—in order to be camouflaged, my body had to screen my rearview to be someoneelse's vanishing point/ whored there to hum a song of looking back at Alice and then in waking ...
Ploughshares, the literary journal
Mike Barker's Writers' Exercises
Kalliope Poetry Workshop Exercises
Poetry Exercises at Ariadne's Web
The Frost Place - Home