Organization 1
Stickies for Windows
Getting Things Done (GTD) ToDo List for Lotus Notes
The Snowflake Method for Writing a Novel
Find-A-Human -- IVR Phone S... - Approved*
Ah yes, 37signal's Backpack is an amazing, simple tool for even those who don't know html.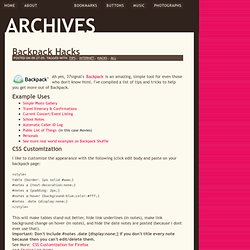 //gtmcKnight.com: Backpack Hacks
UNSTUCK - by Keith Yamashita and Sandra Spataro
My Tickler File
52 Projects
Desktop Plug-in: Todo
Serenity Tools
Notepaper Generator
How to Write More Clearly, Think More Clearly, and Learn Complex
The David Allen Company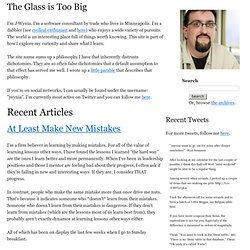 J Wynia
It's been a while.
EverNote with GTD
Next Action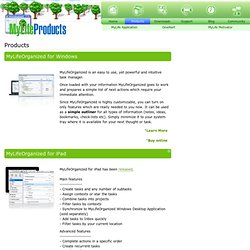 MyLifeOrganized for BlackBerry.
:: My Life Organized ::
Genius
norrishipster.pdf (application/pdf Object)
Blog Archive » Six Ways on Getting More Done each day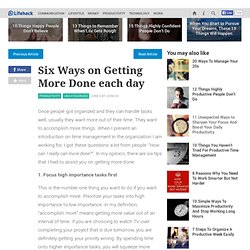 Once people got organized and they can handle tasks well, usually they want more out of their time.
There's an interesting cross-current between social media and the new connectivity and networks social media create, and innovation. It's fairly obvious when you stop to think about it - good ideas spring from the interaction of different perspectives or point of view, and the more interconnected we become via social media, the more opportunities exist for innovation.
Thinking Faster
To-Done
Best Tool For the Job
I just re-read The Irresistible Offer by Mark Joyner, this time taking notes. It's one of the most practical books on marketing I've come across. Highly recommended.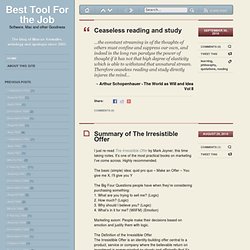 How to Create a Customized Tickler File System
Sylvia's Getting Things Done (GTD) Resource List
doiop.com
tasktoy
Free Online Graph Paper / Grid Paper PDFs Downloadable and very printable, I find these PDFs extremely useful. Tip number one!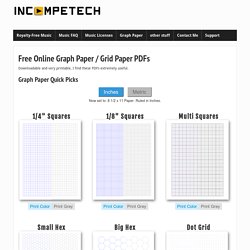 Getting Things Done Zone on OfficeZealot.com
By using our site, you consent to this privacy policy: This website allows third-party advertising companies for the purpose of reporting website traffic, statistics, advertisements, "click-throughs" and/or other activities to use Cookies and /or Web Beacons and other monitoring technologies to serve ads and to compile anonymous statistics about you when you visit this website.
A blog about life and working in the web design and development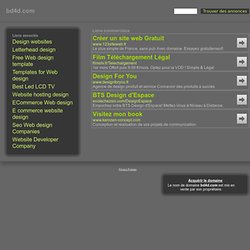 The Improvement Encyclopedia
Tools Index - Alphabetic order
Quality Tools > Tools of the Trade > Tools Index - by usage This is a list of the Tools of the Trade articles sorted by how they are used. Where tools can be put into multiple categories, they are copied into all such groupings.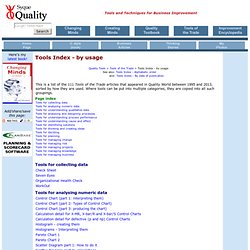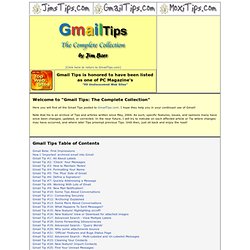 Gmail Beta: First Impressions
Getting Things Done Workflow Diagram
Notes from Getting Things Done (GTD) by David Allen (GTD® and Getting Things Done® are registered trademarks of the David Allen Company.
My Ta-da Lists
A single place for all your notes!
Brett's Work-Smart / GTD ToDo List
Open Loops
Wired Science presents an article on research by psychologists Daniele Marzoli and Luca Tommasi of the University G. d'Annunzio in Italy.
Online - Chip Scanlan Articles
50 Strategies for Making Yourself Work
Deborah Chester is the internationally published author of 38 novels, most recently THE CROWN from Ace, and a short story in Tor's 2009 TWILIGHT ZONE anthology.