ME
Can Blogs Help Drive Purchasing Decisions?
24 by Crystal King
Podvertising: Niche Not Reach
Looking out at the podcasting landscape is like doing so from the window of a high-speed bullet train. It's a blur. Once the realm of bloggers turned DJ and talk show hosts, the podcast format is quickly being adopted by media companies and enterprises alike. And where there is amassing interest, advertising tends to follow.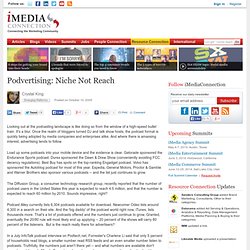 crystallyn14
Alumni Community
Cambridge Cubs - Boston MSBL Baseball Team
Ping-o-Matic!
Divinity, by Crystal King
"Crystal King"
small spiral notebook
Crystal King