Kindle
After searching the web for some time, I haven't found a good comprehensive list of science fiction websites with free online books. So, I decided to make my own: below is the list of some very good collections of science fiction novels, short stories, ezines, and other sf related stuff. All ebooks are available for online reading and/or free download in various formats.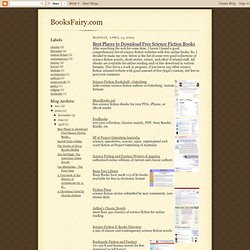 Best Places to Download Free Science Fiction Books
ERDA100 Lenmar Battery for Amazon Kindle Book Reader, 1530 mAh
Listing over 1 million free books on the Web - Updated Thursday, January 16, 2014 Search our Listings -- New Listings -- Authors -- Titles -- Subjects -- Serials A public domain metadata gift for our 20th birthday -- Blog (Everybody's Libraries) -- Latest Book Listings A Celebration of Women Writers -- Banned Books Online -- Prize Winners Online General -- Non-English Language -- Specialty About Us -- FAQ -- Get Involved!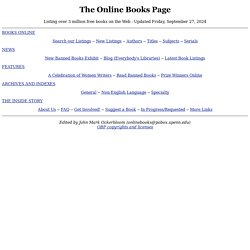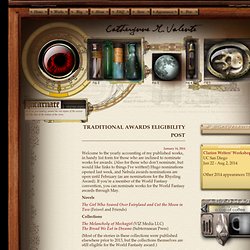 Clear your October calendars, ladies and gents, boys and girls! Catherynne M. Valente may be blowing into your town, courtesy of the dashing Green Wind, on her wayward and curious tour for The Girl Who Soared Over Fairyland and Cut the Moon in Two! We've got readings, we've got signings, and we've even got an S.J. Tucker performance and a tea party. (All events not redeemable at all locations, check your events accordingly, void where prohibited, avoid fairy food, and beware time-traveling moon-Yetis.)
A Novel In Pieces by Catherynne M. Valente
In our online library eBooksRead.com you can always download ebooks, dictionaries and manuals for FREE! The Text format is the simplest format and can be read in any word processor and on any device. PDF format is ideal for: PC's & Macs, IPhone and Printing We have two types of PDF: - pdf with recognized text (you can select and copy the text like in txt format) - pdf with pages presented as images (pages look like as in original book) For iPad, iPhone and Android we have epub format.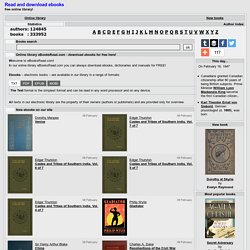 the best ebooks at the best price: free! Browse through the most popular titles, recommendations, or recent reviews from our visitors. Perhaps you'll find something interesting in the special collections. There are more than 29,000 eBooks available for Kindle, Nook, iPad and most other eReaders, and they're all free! If you still can't decide what to read you might want to browse through some covers to see what strikes your fancy.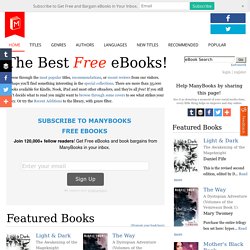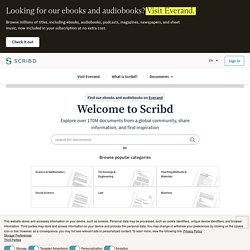 What do I get with my subscription? Your subscription enables you to read thousands of professionally published, popular books in a wide variety of genres on Scribd.com and on supported mobile devices. In addition, you will have full access to millions of user-contributed written works that have been published on Scribd like short stories and essays. How many books can I read each month?
Introducing the Baen Free Library by Eric Flint Baen Books is now making available — for free — a number of its titles in electronic format. We're calling it the Baen Free Library. Anyone who wishes can read these titles online — no conditions, no strings attached. (Later we may ask for an extremely simple, name & email only, registration. ) Or, if you prefer, you can download the books in one of several formats.