Goals
Zen
Tools To Life Guided Self Help And Development Program. Scott H Young » The Art of the Finish: How to Go From Busy to Ac. Today I have a treat for you.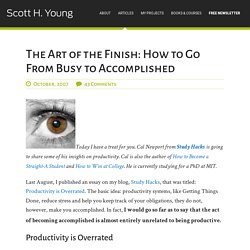 Cal Newport from Study Hacks is going to share some of his insights on productivity. Cal is also the author of How to Become a Straight-A Student and How to Win at College. He is currently studying for a PhD at MIT. Joe's Goals- Free Online Goal Tracking. Online MA in Creative Writing and New Media. Learn How To Make Your Goals SMART. Working Smart. Get Back To Work. Crystal on 43 Things. I went one step further and created a lifelong list of books to read…probably more than 4000 titles.
I read about 100 books last year, mostly off that list, so going to check this thing off! Here it is if anyone is interested. I'll be adding to it through the years.
---