Games 1
PTSB2K
monoface
Office Game Spot Free Online Games: Fun Flash Games to Play at W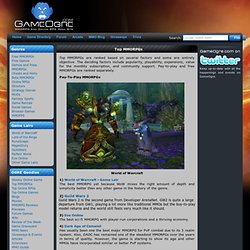 Ryzom is a full featured MMO centered around freedom. Role-Playing, PvE, PvP, Ryzom has something for everyone. Full crafting system, advanced creature AI and season & weather changes are a small sample of this unique MMO that's very open to it's Community. 9) Asherons Call Customize your alter ego with a unique appearance and balance of heroic skills, then enter a magical frontier of terrible monsters, breathtaking vistas, and fast alliances. 10) Final Fantasy XIV: A Realm Reborn Final Fantasy XIV is the latest Final Fantasy MMORPG.
Top MMORPG List
Coldfront Arcade - where gaming never sleeps
History - Death in Rome
EYEZMAZE --FLASH GAME--
Wogger: walkthrough, review, discussion, hints and tips at Jay i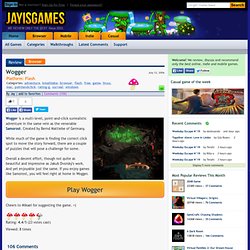 Wogger is a multi-level, point-and-click surrealistic adventure in the same vein as the venerable Samorost. Created by Bernd Mattiebe of Germany. While much of the game is finding the correct click spot to move the story forward, there are a couple of puzzles that will pose a challenge for some. Overall a decent effort, though not quite as beautiful and impressive as Jakub Dvorský's work.
Roman Board Games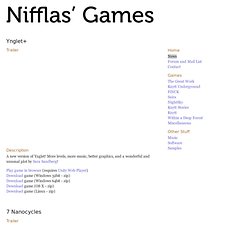 Trailer Description A new version of Ynglet! More levels, more music, better graphics, and a wonderful and unusual plot by Sara Sandberg! Play game in browser (requires Unity Web Player)Download game (Windows 32bit - zip)Download game (Windows 64bit - zip)Download game (OS X - zip)Download game (Linux - zip) 7 Nanocycles is a small little something I made.
Nifflas' Games
Wikispice--SpiceTrade Wiki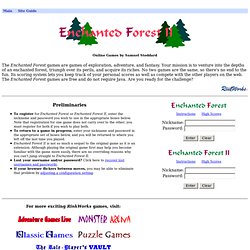 Enchanted Forest
Online Games by Samuel Stoddard The Enchanted Forest games are games of exploration, adventure, and fantasy. Your mission is to venture into the depths of an enchanted forest, triumph over its perils, and acquire its riches. No two games are the same, so there's no end to the fun. Its scoring system lets you keep track of your personal scores as well as compete with the other players on the web.
Wabble - A Multi-Player Ajax-Powered Scrabble® Game Clone
World of Dungeons browser-based game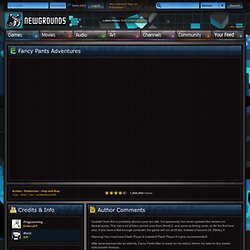 Update! Yeah this is probably about a year too late, but apparently I've never updated the version on Newgrounds. This has a lot of fixes carried over from World 2, and some re-timing code, so for the first time ever, if you have a fast enough computer, the game will run at 30 fps, instead of around 20. FINALLY. Warning!
Fancy Pants Adventures
Second Life: Your World. Your Imagination.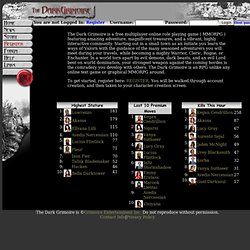 The Dark Grimoire: A free text based roleplaying online game. (
The Dark Grimoire is a free multiplayer online role playing game ( MMORPG ) featuring amazing adventure, magnificent treasures, and a vibrant, highly interactive community. Starting out in a small town as an initiate you learn the ways of Valorn with the guidance of the many seasoned adventurers you will meet during your travels, while becoming a mighty Warrior, Cleric, Rogue, or Enchanter. In a world torn apart by evil demons, dark beasts, and an evil Lord bent on world domination, your strongest weapon against the coming hordes is the comradery you develop with others. The Dark Grimoire is an RPG unlike any online text game or graphical MMORPG around. To get started, register here: REGISTER.
Falling Sand Game - hosted by Chirag Mehta @ chir.ag
Everyone is looking for a good strategy guide, how to maximize their gold and experience output. What is the best race/subclass, where proficiency points should be spent, etc. Of course everyone has their own style of play, and if your style works for you then go for it. You may not agree with me, you may think that this is an ineffective way to play.
Darkthrone strategy guide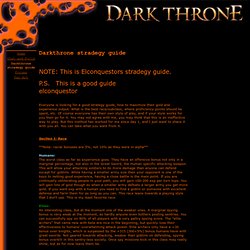 Dark Throne (beta) Members
Web-Based Turn RPGs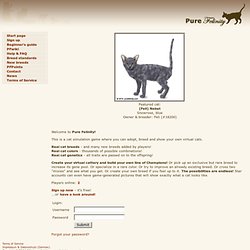 Pure Felinity - Start Page
Welcome to Pure Felinity! This is a cat simulation game where you can adopt, breed and show your own virtual cats. Real cat breeds - and many new breeds added by players!Real cat colors - thousands of possible combinations!
GODTOWER THE SKILL OF GOD.
Good Experience Games - good games, fun games
History. Economics. Geography. Political science. Ethics.
o.s. Earth - Global Simulation Workshop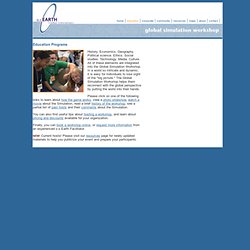 Tag You're It - TYI - Collaborative Writing Community
RPS - 15
Here is another Spirographically supra-dimensional web of hand gestures. And this time out, I skipped RPS-13 and went straight for FIFTEEN gestures. SO by now you may notice the puzzle layout isn't changing; I'm just inserting new symbols into the already established one (allowing the existing RPS-7, 9, and 11 games to still work within RPS-15). This is because I absolutely refuse to rethink a whole new system, one which currently could contain a Trump-humping number of 1,307,674,368,000 866,829,600 permutations (almost a billion), not including rotated and reflected (but otherwise identical) layouts. So what's new this time out?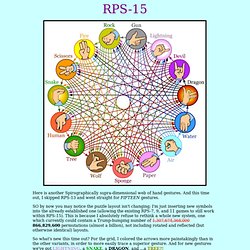 Liberated Games
The House Of Lords :: Download
If you haven't already, you can register an account. Username: Password: Log me on automatically each visit Spam. Old news: Search our archives
Terra Arcanum >> the World of Troika Games
The Crash In the opening cinema, the zeppelin you are flying in is attacked by flying machines and crashes. Among the wreckage you will find a dying gnome who will warn you about an evil that is coming. He will give you a ring and ask you to give it to "the boy".
Mike's RPG Center - Arcanum - Walkthrough
Arcanum: Of Steamworks & Magick Obscura @ GameBanshee
Dimensions of Arcanum
Arcanum
The Gaming Depot : Home
Posted by Tom Starkie We are proud to announce our latest endeavour. Slot Factory is a brand new casino game that can be accessed directly through Facebook. We have a great selection of graphical slot games with lots of different themes and bonus games. All new players will start out with $1,000 in free coins to play all of the games and everyone also gets hourly free credits and special jackpot wheel spins every 30 minutes. We also have a shop where you can spend your diamonds which you earn as you spin. These can be spent on more credit, upgrades and special bonus boost bars to intensify your play.
Puzzle Bobble 0.9 by NiLS - 2004-2005 - 640*480 version
Age of Mythology is getting a revival with the extended edition coming to steam in May. But that is not the only thing getting a revival around here.Hark, from the phoenix egg of old a seraph is reborn.I'm back in orange, and this time I am the AoMH Seraph. Personally I'm absolutely thrilled to be back and hope to play my part in restoring AoMH to its former glory.
Age of Mythology Heaven
Online Drama
ZeldaClassic.com - The Offical Home Of Zelda Classic
Orisinal : Morning Sunshine
20Q.net
Guess-the-google
LOA Forums - powered by vBulletin