Games 1
PTSB2K
monoface
Office Game Spot Free Online Games: Fun Flash Games to Play at W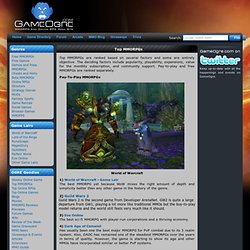 Top MMORPGs are ranked based on several factors and some are entirely objective.
Top MMORPG List
Coldfront Arcade - where gaming never sleeps
History - Death in Rome
EYEZMAZE --FLASH GAME--
Wogger: walkthrough, review, discussion, hints and tips at Jay i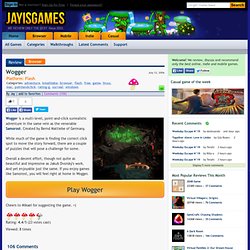 Wogger is a multi-level, point-and-click surrealistic adventure in the same vein as the venerable Samorost .
Roman Board Games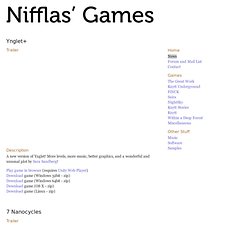 You can now get Knytt Underground on the OS X appstore . NightSky is now available for iPhone and iPad .
Nifflas' Games
Wikispice--SpiceTrade Wiki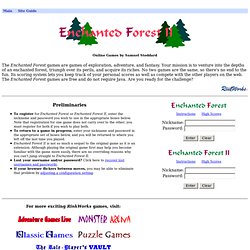 Enchanted Forest
Online Games by Samuel Stoddard
Vanguard Diplomacy
Wabble - A Multi-Player Ajax-Powered Scrabble® Game Clone
World of Dungeons browser-based game
Fancy Pants Adventures
Second Life: Your World. Your Imagination.
The Dark Grimoire: A free text based roleplaying online game. (
Falling Sand Game - hosted by Chirag Mehta @ chir.ag
lib.rario.us
Everyone is looking for a good strategy guide, how to maximize their gold and experience output.
Darkthrone strategy guide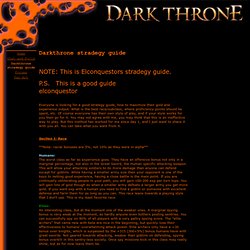 Dark Throne (beta) Members
Web-Based Turn RPGs
Pure Felinity - Start Page
GODTOWER THE SKILL OF GOD.
Good Experience Games - good games, fun games
History.
o.s. Earth - Global Simulation Workshop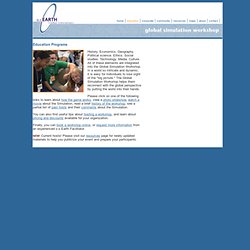 Tag You're It - TYI - Collaborative Writing Community
RPS - 15
Here is another Spirographically supra-dimensional web of hand gestures.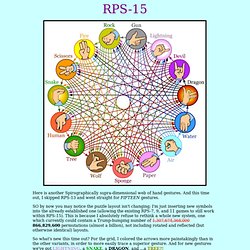 Liberated Games
Arcanum Walkthrough by Quandary
The House Of Lords :: Download
If you haven't already, you can register an account. Username: Password:
Terra Arcanum >> the World of Troika Games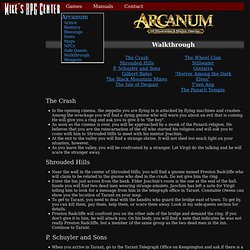 The Crash
Mike's RPG Center - Arcanum - Walkthrough
Arcanum: Of Steamworks & Magick Obscura @ GameBanshee
Dimensions of Arcanum
Arcanum
The Gaming Depot : Home
Puzzle Bobble 0.9 by NiLS - 2004-2005 - 640*480 version
Age of Mythology Heaven
Online Drama
ZeldaClassic.com - The Offical Home Of Zelda Classic
Orisinal : Morning Sunshine
20Q.net
Word Puzzles
Guess-the-google
LOA Forums - powered by vBulletin