Fonts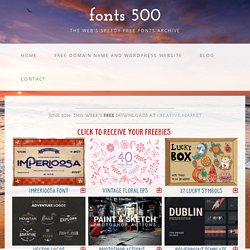 Top 500 is calculated based on download counts from some of the web's biggest free font archives. The fonts presented on this page are their authors' property, and are, to the best of our knowledge, either freeware, shareware, demo versions or public domain. If anyone knows otherwise please notify us. All fonts have been collected from around the web, and are maintained with all files intact. Privacy | Contact | Fonts500
Write Your Name in Elvish in Ten Minutes You want to write your name in Elvish, but every place you go seems to make it harder than it ought to be. Elvish writing looks beautiful and mysterious, but does it really have to be impossible to understand? Why doesn't somebody just spell out the alphabet so you can simply substitute the letters and get straight to the result? That's exactly what I've done here.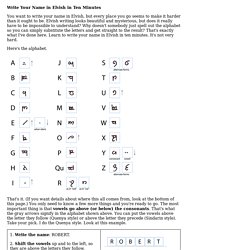 March 6, 2014 - I missed Tuesday of this week, so it's not quite this year's first "Tuesday Two'fer!" First is "Iapetus," my newest sci-fi font. An elongated typeface with smooth letters and a distinctive "H," Iapetus is the latest in a long line of Iconian futuristic fonts.
Iconian Fonts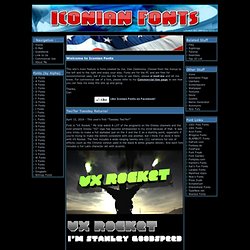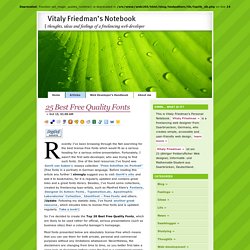 25 Best Free Quality Fonts » Oct 15, 01:00 AM Recently I've been browsing through the Net searching for the best license-free fonts which would fit as a serious heading for a serious online-presentation. Fortunately, I wasn't the first web-developer, who was trying to find such fonts. One of the best resources I've found was Gerrit van Aaken's essays collection "Freie Schriften im Portrait" (free fonts in a portrait) in German language.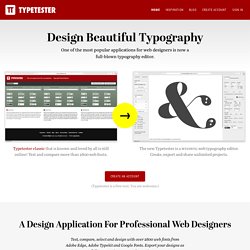 Browsers supported* JavaScript In order to use the application, please turn JavaScript on.
Latest Searches Latest Comments ? Some Info about Lacoste Watches Need luxury watches like TAG Heuer Watches, Breitling Watches, or just want to buy fashion watch brand like Michael Kors Watches? Today I will introduce you something about Lacoste Watches.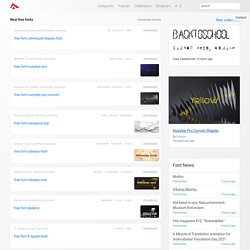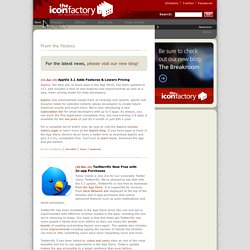 From the Factory (11.Apr.14) AppViz 3.1 Adds Features & Lowers Pricing AppViz, the best way to track apps in the App Store, has been updated to v3.1 and includes a host of new features and improvements as well as a new, lower pricing model for indie developers.
Beautiful Fonts For Free