Bookstore
Delocator. Top 100 Favorite Books of Harvard Book Store. In early 2010 Harvard Book Store employees worked together to come up with a list of our favorite books.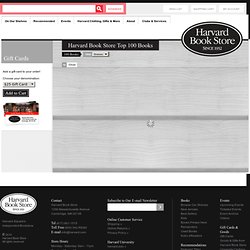 Each staff member submitted a list of their favorite books of all time, in (rough) order of preference. Their selections were then weighted according to the order and the results were tabulated. It was by no means a perfect system, but it was the best way we could think of to quantify opinions that are in no way quantifiable. Download ebook at Diesel eBooks. Ancient World Books - Rare, used, and out-of-print scholarly boo.
BETA- Books We Like. Grolier Poetry Book Shop, Cambridge, MA.
---