DeviantArt
laresistance Dimitri Artist Belgium Current Residence: Antwerp, Belgium ( The Land of Chocolate)Favourite genre of music: everything that gives me images and good feelingsFavourite photographer: stephen shoreFavourite style of art: handmade, drawn, cut or paintedMP3 player of choice: iPodFavourite cartoon character: Ren & StimpyPersonal Quote: Enjoy the Magnificent Life Experience Interests Favorite visual artist Max Fleischer, Chris Ware, Theo Ellsworth, Brecht Evens,Jim Henson Favorite movies A LOT !
laresistance on deviantART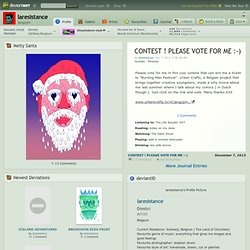 mariochavez on deviantART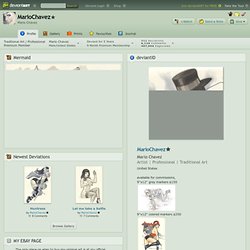 available for commissions, 9"x12" grey markers $125 9"x12" colored markers $225 11"x14" grey markers $325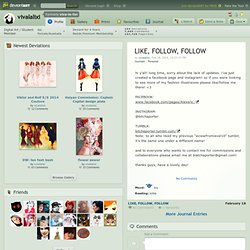 viva-la-lixi on deviantART
*edit 30/11/13* To everyone who help spread word and commissioned, thank you so much, it really really means a lot to us! I've donated them to UNICEF for the Haiyan victims.I will not be taking any more for the time being. Happy holidays everyone!
Creature13 on deviantART
YayScene on deviantART