Pearltree3
The Internet Strategist 3.6 Beta 4
Welcome to Outlook Exchange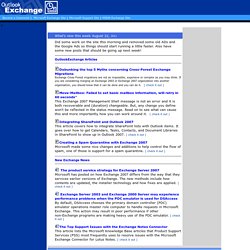 Did some work on the site this morning and removed some old ADs and the Google Ads so things should start running a little faster. Also have some new posts that should be going up next week! OutlookExchange Articles Debunking the top 5 Myths concerning Cross-Forest Exchange Migrations Exchange Cross-Forest migrations are not as impossible, expensive or complex as you may think. If you are considering merging an Exchange 2003 or Exchange 2007 organization into another organization, you should know that it can be done and you can do it. [ check it out ]
For the twelfth year in a row, we've correctly projected the winner of the Heisman Trophy. Congratulations to Jameis Winston and the Florida State Seminoles! The final order of finish was Jameis Winston, AJ McCarron, Jordan Lynch, Andre Williams, Johnny Manziel, and Tre Mason. We projected Winston with 2503 points - 89.9% of those possible. We expected his actual vote total be somewhat less than that, but it was even more so, at 2205 points and 79.2% of the maximum possible.
StiffArmTrophy.com: projecting the winner of the most outstandin
Option Explicit Const CdoE_ACCESSDENIED = 80070005 Public Const CdoPR_EMAIL = &H39FE001E Sub SaveEmailsToExcel()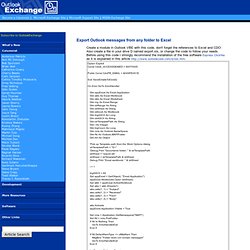 Welcome to Outlook Exchange
Roboexotica 3.6 Beta 4 January 17 What shoes work well for overpronators who need cushioning and stability? [more inside]posted by ladoo to sports, hobbies, & recreation at 5:58 PM - 1 answer I'm a chorister and I need to become a soloist. Please help me develop a richer quality in my singing voice.
Improving IT planning in 2010 - A hint for CIO's and IT Leaders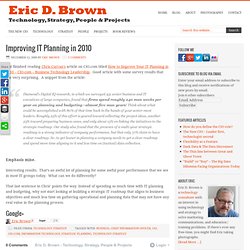 Just finished reading Chris Curran's article on CIO.com titled How to Improve Your IT Planning in 2010 – CIO.com – Business Technology Leadership. Good article with some survey results that are very surprising. A snippet from the article: Diamond's Digital IQ research, in which we surveyed 451 senior business and IT executives of large companies, found that firms spend roughly 240 man weeks per year on planning and budgeting—almost five man years! Think about what could be accomplished with 80% of that time back in the hands of your senior-most leaders.
Perspective 2.0: *This* is a design revolution
"Our personal window on the Universe is terribly small within a stunnng range of wavelengths. With our eyes we see wavelengths between 0.00004 and 0.00008 of a centimeter (where, not so oddly, the Sun and stars emit most of their energy). The human visual spectrum from violet to red is but one octave on an imaginary electromagnetic piano with a keyboard hundreds of kilometers long." James Kaler, astronomer and author of "Heavens Gate: From Killer Stars to the Seeds of Life, How We are Connected to the Universe." The image below is an infrared photo of M82 is a remarkable galaxy of peculiar type in constellation Ursa Major.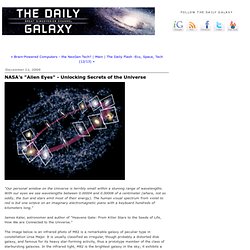 NASA's "Alien Eyes" - Unlocking Secrets of the Universe 3.6 Beta
How do I export email messages from Outlook into Excel (or CSV) while retaining the date/time stamp on each message? I'm troubleshooting an issue which involves me tracking the receipt of various emails. Unfortunately the only copy of the emails is in Outlook 2003.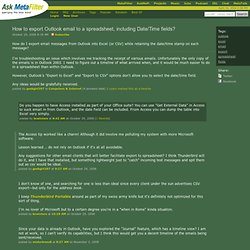 How to export Outlook email to a spreadsheet, including Date/Tim
reddit gold gives you extra features and helps keep our servers running. We believe the more reddit can be user-supported, the freer we will be to make reddit the best it can be. Buy gold for yourself to gain access to extra features and special benefits. A month of gold pays for 276.46 minutes of reddit server time! Give gold to thank exemplary people and encourage them to post more.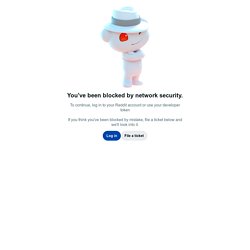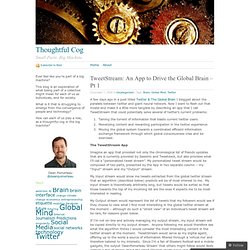 TweetStream: An App to Drive the Global Brain – Pt 1 « Thoughtfu
A few days ago in a post titled Twitter & The Global Brain I blogged about the parallels between twitter and giant neural network. Now I want to flesh out that model and make it a little more tangible by describing an app that I call TweetStream that could potentially solve several of twitter's current problems: Taming the torrent of information that blasts current twitter users.Monetizing content and rewarding participation in the twitter experience.Moving the global system towards a coordinated efficient information exchange framework through which global consciousness crise and be exercised. The TweetStream App
GoogSysTray: An app to help manage Google addiction 3.6 Beta 4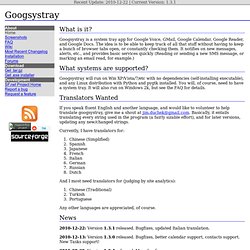 Googsystray is a system tray app for Google Voice, GMail, Google Calendar, Google Reader, and Google Docs. The idea is to be able to keep track of all that stuff without having to keep a bunch of browser tabs open, or constantly checking them. It notifies on new messages, alerts, etc., and provides basic services quickly (Reading or sending a new SMS message, or marking an email read, for example.) Googsystray will run on Win XP/Vista/7/etc with no dependencies (self-installing executable), and any Linux distribution with Python and pygtk installed.
30 Predictions Of The Future For Twitter « Jeffbullas's Blog 3.6
The direction Twitter will go will be determined not just by "Twitter" the company but by the market forces and its users and especially the trends in Social Media, Search and Social Search. The emergence of Twitter Lists in the last few days is producing some interesting dynamics regarding influence real or perceived on Twitter. Some obvious trends Its growing importance as a real time search engine and feed from its API to startups such as Sency, Topsy and OneRiot and of course Google and Bing.The growing use of Twitter to drive traffic to blogs and websites ..
Twitter App Review #18 | THE CHRIS VOSS SHOW 3.6 Beta 4
Report: Nine Scientifically Proven Ways to Get Retweeted on Twit
If I wanted to make sure this post did not go viral--according to the standards put forth by Hubspot viral marketing scientist Dan Zarrella in "The Science of Retweeting"--I could promote it on Twitter by posting something like this: was bored watchin the game on tv and saw this thing about RTs...made me lol after i had really bad stomach cramps Note the lack of punctuation, the use of of slang and abbreviations, the limited vocabulary, and the awkward overshare--all traits that Zarrella can now definitively say would turn Twitter users off.
7 Reasons Why Companies Should Blog « Jeffbullas's Blog 3.6 Beta
I have this discussion with clients all the time.. " Why should we have a blog? ". It's a good question and most customers eyes glaze over.
Looking for alien Earths? Here they come - Space- msnbc.com 3.6
Scientists are on their way to discovering thousands of new planets, potentially including hundreds of worlds the size of Earth, in Earth-like orbits around sunlike stars. They expect to achieve that goal within three years or so. But they'll start with the weirdest worlds. The most advanced planet-hunting probes — the European Space Agency's COROT satellite and NASA's Kepler spacecraft — are designed to spot close-in planets most easily.
Perspective 2.0
51 New Year resolutions for graphic and web designers | Graphic