Cruzarzabal
Roberto Cruz Arzabal
Leyendo y escribiendo.
Mark of the Ninja
8 de las mejores tipografías de la historia « deSIGNALS
Eclipse
Sia - Breathe Me (Six Feet Under Finale)
Compartir archivos de hasta 2GB ~ Casual Lab
Atlas Walter Benjamin
Excelente herramienta para rastrear el pensamiento benjaminiano. by cruzarzabal Oct 13
Formas de la materialidad
Deutsch - warum nicht? | Deutsche Welle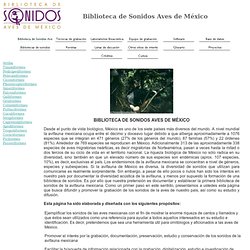 Desde el punto de vista biológico, México es uno de los siete países más diversos del mundo.
Biblioteca de Sonidos Aves de México
Leer, releer, escribir: pensar.