Cruzarzabal
Roberto Cruz Arzabal
Leyendo y escribiendo.
Identify fonts by appearance, find fonts by name.
Textos en línea (en construcción) | Textos en línea. Herramientas docentes. Mark of the Ninja. 8 de las mejores tipografías de la historia « deSIGNALS. Eclipse. Apps Resources. Sia - Breathe Me (Six Feet Under Finale) Cuerpos y corporalidad. Imágenes. Compartir archivos de hasta 2GB. Retórica. Atlas Walter Benjamin.
Barroco y neobarroco. Formas de la materialidad. Deutsch - warum nicht? | Deutsche Welle. Biblioteca de Sonidos Aves de México. Desde el punto de vista biológico, México es uno de los siete países más diversos del mundo.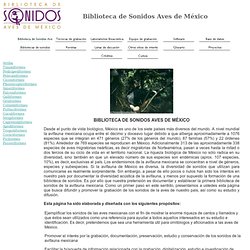 A nivel mundial la avifauna mexicana ocupa entre el décimo y doceavo lugar debido a que alberga aproximadamente a 1076 especies que se integran en 471 géneros (27% de los géneros del mundo), 87 familias (57%) y 22 órdenes (81%). Alrededor de 769 especies se reproducen en México. Adicionalmente 313 de las aproximadamente 338 especies de aves migratorias neárticas, es decir migratorias de Norteamérica, pasan a veces hasta la mitad o dos tercios de su ciclo de vida en el territorio nacional.
Leer, releer, escribir: pensar. Congresos y coloquios. Online converter - convert video, images, audio and documents for free. Blogs. Literatura e internet. Revistas. Visualidad. Help.
---
amsika Feb 2 2011

You're welcome :) Thanks for your comment !

cruzarzabal Feb 2 2011

Thank you so much for this great tool for research and share. I will enjoy it.
---