Photoshop tut
21 Photoshop Tutorials And Resources. Photoshop is a program by Adobe loved and used by photographers around the world.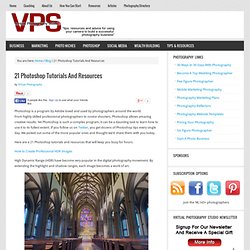 From highly skilled professional photographers to novice shooters, Photoshop allows amazing creative results. Yet Photoshop is such a complex program, it can be a daunting task to learn how to use it to its fullest extent. If you follow us on Twitter, you get dozens of Photoshop tips every single day. We picked out some of the more popular ones and thought we'd share them with you today.
Here are a 21 Photoshop tutorials and resources that will keep you busy for hours. Black & White Cheatsheet For Photoshop. When it comes to black and white conversion, there is no definitive method that will get the best results every time.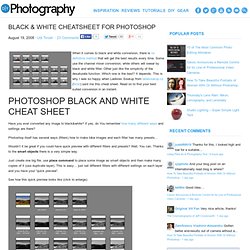 Some use the channel mixer conversion, while others will swear by black and white filter. Other just like the simplicity of the desaturate function. Which one is the best? It depends. Free Photoshop Tools Tutorials. Adobe Photoshop - Every Tool Explained. How to Earn Cash Online With Adobe Photoshop. Web Design. Why does some visual information stick with us for years, while other information is gone in an instant?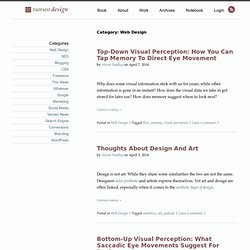 How does the visual data we take in get stored for later use? How does memory suggest where to look next? Continue reading Design is not art. 70 Tutorials For Learning And Mastering Light Effects In Photoshop. A collection of a range of different tutorials for learning how to master various types of lighting effects using Photoshop.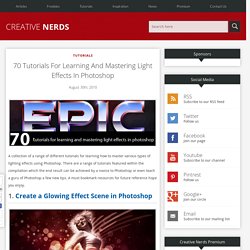 There are a range of tutorials featured within the compilation which the end result can be achieved by a novice to Photoshop or even teach a guru of Photoshop a few new tips. A must bookmark resources for future reference hope you enjoy. This tutorial will teach you how to come up a cool glowing effects on your artworks. Here's a great effect that will bring some energy to your subject. We'll be wrapping this singer's arm with a glowing beam of light, adding sparkles, and adjusting the colors to make it all seem magical. Quick and Effective Facial Photo Retouching. Whether it's for a friend, family member, or client, retouching images is very common these days.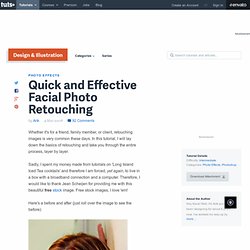 In this tutorial, I will lay down the basics of retouching and take you through the entire process, layer by layer. Sadly, I spent my money made from tutorials on 'Long Island Iced Tea cocktails' and therefore I am forced, yet again, to live in a box with a broadband connection and a computer. 40 Superb Photoshop Tutorials For Attractive Photo Effects - Noupe Design Blog. Jun 22 2010 Photoshop is the basic requirement of a designer and that's why designers all around the world regularly look for the tutorials that can help them in polishing their Photoshop skills.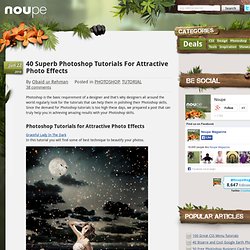 Since the demand for Photoshop tutorials is too high these days, we prepared a post that can truly help you in achieving amazing results with your Photoshop skills. Logo Maker Set 9 Photoshop Gradients | Brushes Download | Free Photoshop Brushes | Gradients | Layer Styles | Tutorials | Icons. Design a Clean & Colorful Ecommerce Layout in Photoshop | Bloom Design Blog. Learn how to create a clean and colorful E-Commerce Layout in Photoshop!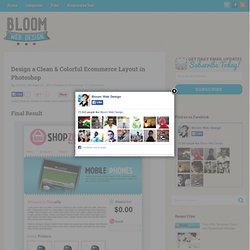 Final Result 1. Create a new document that's 900×1050, double click on the background layer to unlock it. Fill the background the colour below. Photoshop Tutorials & Adobe Photoshop Plugins. Logo Design | Effects Text Tutorials Videos. Corey recreates a video game logo by building a grid background and circular target using the define pattern and polar coordinate distort commands.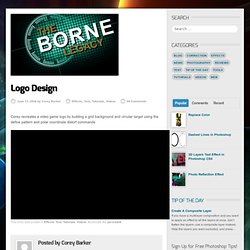 Corey is a education and curriculum developer for KelbyOne. He is a graduate of the Ringling School of Art & Design in Sarasota, Fl, with a degree in Illustration. Over the years, Corey has worked as a graphic artist in a variety of disciplines such as illustration, commercial design, large format printing, motion graphics, web design and photography. His expertise in Photoshop and Illustrator have earned him numerous awards in illustration, graphic design and photography. Using Photoshop since Version 2, his expertise and creativity have evolved exponentially with every new version, which makes Corey an invaluable addition to the KelbyOne team. 60 Beautiful Logo Design Tutorials And Resources - Smashing Magazine. Advertisement When we talk about a famous brand, the first thing that comes to mind is its logo.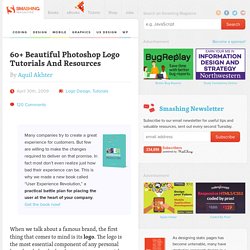 The logo is the most essential component of any personal brand and also the hardest part to execute. A logo must be appropriate, aesthetically pleasing and a reflection of the company's credibility. Furthermore, a logotype should be synonymous with the company or product it represents and should penetrate people's minds as a selling agent. An amateurish logo design can more likely make your business fail for a number of reasons.
---