Company
Get flash to fully experience Pearltrees
The returns on investment for social technologies is often what stumps people.
As 2010 draws to a close we're taking a look at a few enterprise startups that show promise and that we haven't covered on ReadWriteEnterprise. Erply is a Web-based ERP application with support for accounting, inventory, invoicing, CRM, e-commerce, POS and more. Erply is trying to compete with established ERP vendors by offering a dead-simple and affordable ERP solution targeted at retailers.
CIO — It's no surprise that enterprise use of social technologies continues to grow rapidly. In fact, Recent Forrester data confirms what many business professionals already suspect: 32 percent of organization are now supporting social networking sites, and 28 percent of enterprise IT decision-makers use collaboration platforms for Web 2.0 functionality. But even as social in the enterprise grows, far too many sourcing professionals seem content to sit on the sidelines—letting individual social technology adoption grow organically within the company, showing minimal regard for long-term sourcing considerations.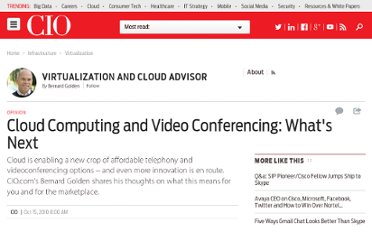 CIO — One of the most interesting areas in technology these days is telephony, with all its flavors: voice, video, and video conferencing. And, as far as we've come, we're about to see another wave of innovation in the space. Not only is cloud computing the mode by which these services are delivered, but also, the way they're morphing gives us clues about what it going to happen to cloud computing itself.
Acquisition bolsters Polycom RealPresence™ software strategy and accelerates its goal to make video collaboration ubiquitous with innovative software that can easily be embedded into web-based apps
By STEVEN JOHNSON In the year following the 2004 tsunami, the Indonesian city of Meulaboh received eight neonatal incubators from international relief organizations. Several years later, when an MIT fellow named Timothy Prestero visited the local hospital, all eight were out of order, the victim of power surges and tropical humidity, along with the hospital staff's inability to read the English repair manual.
You've invested good money in your web design, but do you know what your customers actually remember about your site? Clue , a new tool from Bay Area interaction design and design strategy firm ZURB , lets you create a 5-second interactive memory test that you can use to test what people remember about your product.