Thematic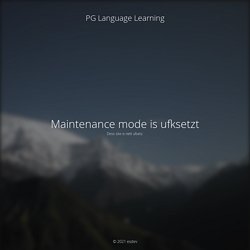 Photo Credit: Vladitto via Shutterstock Lately, I've been using Thematic–a framework for building WordPress themes faster. Thematic gives you a solid, bare-bones theme with reset CSS styles, a very basic layout, no color and limited typography.
Build WordPress Sites Fast With the Thematic Theme Framework | Es Developed - Fresh Website and Graphic Design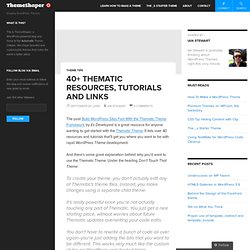 40+ Thematic Resources, Tutorials and Links
The post Build WordPress Sites Fast With the Thematic Theme Framework by is a great resource for anyone wanting to get started with the Thematic Theme . It lists over 40 resources and tutorials that'll get you where you want to be with rapid WordPress Theme development. And there's some great explanation behind why you'd want to use the Thematic Theme. Under the heading :
Wordpress user registration template and custom user profile fields
This tutorial, while providing a good introduction to the concept, hasn't been updated since it was written. To this end we've written a free plugin that let's you add all these front-end forms through the easy use of shortcodes: Profile Builder I've been playing a lot lately with the user registration template (I've used it as a great starting point) from Justin Tadlock's ThemeHybrid and extended it to support custom user profiles. Unfortunately, user management in WordPress isn't the sharpest tool in the shed. You have a lot of functionality for the users in the backend, but if you want to do extend that functionality to the front-end you're in for a rough time.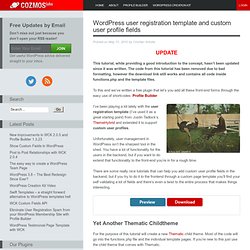 Oh, yuck. This is the old, busted guide. Make sure you check out the new Thematic Guide. Default Thematic CSS Styles The following typographic classes are styled by default and can be used in your post content.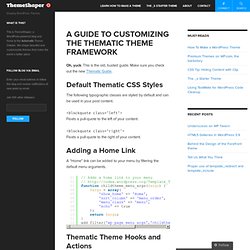 A Guide To Customizing The Thematic Theme Framework