Career Dev
GUIDE: How To Make A Lot More Money Online Doing Web Design. Web designers make an average of $40,000 per year.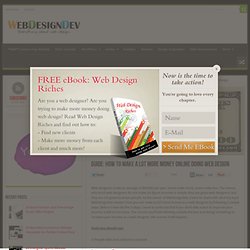 Some make more, some make less. The reason why most web designers do not make six figure incomes is simple: they are great web designers, but they are not great business people. As the owner of WebDesignDev, I want to share with all of my loyal WebDesignDev readers how you can make a LOT more money as a web designer by following 5 simple steps. Web Design Process | Michigan Website Design. We offer complete WordPress website design and development.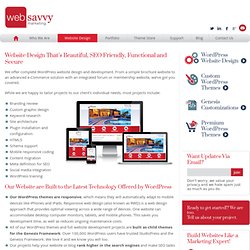 From a simple brochure website to an advanced e-Commerce solution with an integrated forum or membership website, we've got you covered. While we are happy to tailor projects to our client's individual needs, most projects include: Branding reviewCustom graphic designKeyword researchSite architecturePlugin installation and configurationHTML5Schema supportMobile responsive codingContent migrationMeta definition for SEOSocial media integrationWordPress training Our Website are Built to the Latest Technology Offered by WordPress. 8 Tips for Working With Web Designers - designing a business website - Entrepreneur.com. Get exactly what you want for your business's website--on time and on budget.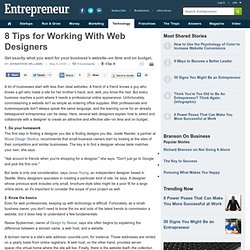 A lot of businesses start with less than ideal websites. A friend of a friend knows a guy who knows a girl who made a site for her brother's band, and, well, you know the rest. But every business reaches a point where it needs a professional online appearance. Unfortunately, commissioning a website isn't as simple as ordering office supplies.
---