Nails
Tutorials. Nailside: Tutorial: Double lightning bolt tape mani. Hi everyone, welcome to my fourth tutorial!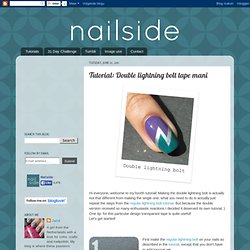 Making the double lightning bolt is actually not that different from making the single one; what you need to do is actually just repeat the steps from the regular lightning bolt tutorial. But because the double version received so many enthusiastic reactions I decided it deserved its own tutorial :) One tip: for this particular design transparant tape is quite useful! While you're cutting all the tape strips for the first lightning bolt, cut one extra for each piece because you'll do the whole taping process twice. So in total you'll need two strips and two triangles for each nail. Daily Nail Art: Octopus Tentacles | Blog | FlauntMe. Today's Daily Nail Art is this creepy octopus design by fezbaker.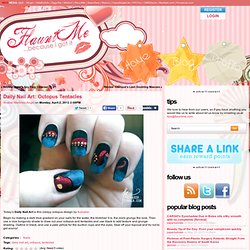 Begin by making a dark blue gradient on your nails for the water, the blotchier it is, the more grungy the look. Then use a nice burgundy shade to draw out your octopus and tentacles and use black to add texture and grunge shading. Outline in black, and use a pale yellow for the suction cups and the eyes. Nail Junkie. Yaaaay!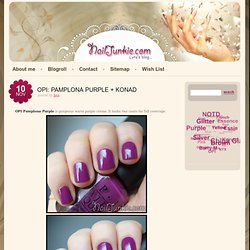 I got the polishes from the Essence Metallics collection! OMG, OMG!! Catch A Falling Star &Put It In Your Pocket | Ciao Bella. How To: Polka dot nails | Beaut.ie. If you're not already convinced that nail art can be easy peasy, hopefully this little tutorial will help to change your mind.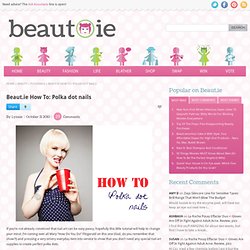 I'm coming over all Mary "How Do You Do" Fitzgerald on this one (God, do you remember that show?!) And pressing a very ornery everyday item into service to show that you don't need any special nail art supplies to create perfect polka dots. You will need: basecoat topcoat nail varnish for your main, base colour nail varnish in at least one contrasting nail varnish for the dots a ballpoint pen Prep nails as usual – remove all traces of old nail varnish, file into desired shape, massage in cuticle oil, push back cuticles if required, and wipe down one final time with nail varnish remover to degrease the nail plate – and apply one thin coat of basecoat. Weekly Mani: Splatter NailMotorCity Moxie. This week's no chip mani is a creation called splatter nail.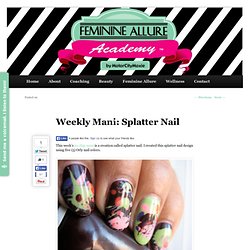 I created this splatter nail design using five (5) Orly nail colors. I've been eyeing this splatter nail art for a few weeks, and I decided to give it a whirl. What I like about this look is that there is no correct way to do it. Manic[ure] monday: "something borrowed" « A Pretty Penny. Last night I suffered through watched Something Borrowed on DVD.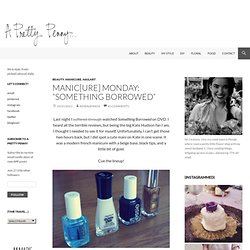 I heard all the terrible reviews, but being the big Kate Hudson fan I am, I thought I needed to see it for myself. Unfortunately, I can't get those two hours back, but I did spot a cute mani on Kate in one scene. It was a modern french manicure with a beige base, black tips, and a little bit of gold. Cue the lineup! Start with clean nails and a thin coat of base. Nail Art Tricks, Slideshow 3fpage 3d2 - 2011 Fashion Trends and More at Refinery29.com. Feb 21, 2014 Five exquisite manicures designed by nail art devotee Sally Singer are captured as fanciful still lifes by regular Vogue and T Magazine photographer Raymond Meier.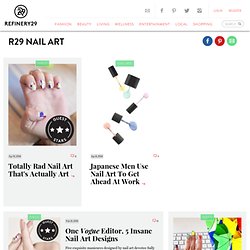 Conceived for NOWNESS in collaboration…read. Nails - Polyvore - StumbleUpon. Makeup Savvy: Monday Moustache Manicure! Don't worry I know it's Tuesday!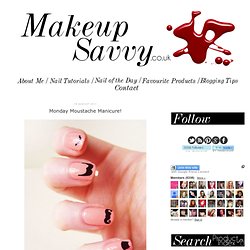 But I thought I would show you my nails from yesterday, which I did to cheer up the start of the week! Yes, kind of crazy but it works! Every time I look down at my nails with little different moustaches on them it makes me smile. Its because I think too much: Galactic Manicure - StumbleUpon. I loved how my glittery gradient mani turned out so much that I decided to do a variation on it, using the night sky as my inspiration!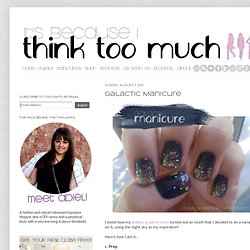 Here's how I did it: 1. Prep I grabbed deep navy, silver glitter, and gold glitter polish along with my favorite top coat. I also grabbed an orange stick and some nail art rhinestones. Thing.17809135.l.jpg from polyvoreimg.com.
---