Archive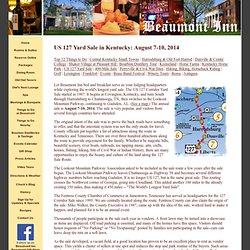 US 127 Yard Sale Kentucky
Let Beaumont Inn bed and breakfast serve as your lodging headquarters while exploring the world's longest yard sale. The US 127 Corridor Yard Sale started in 1987. It begins at Covington, Kentucky, and runs South through Harrodsburg to Chattanooga, TN, then switches to the Lookout Mountain Parkway, continuing to Gadsden, AL. ( See a map. ) The annual sale is August 1-4, 2013 .
Kentucky Bourbon Trail - Kentucky - Reviews of Kentucky Bourbon Trail
Cumberland Gap National Historical Park - Cumberland Gap National Historical Park
Urgent Dispatch From an Editor On the Road | Louisville, Kentucky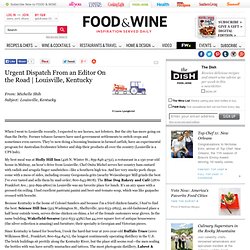 When I went to Louisville recently, I expected to see horses, not lobsters. But the city has more going on than the Derby. Former tobacco farmers have used government settlements to switch crops and sometimes even careers. They're now doing a booming business in farmed catfish, have an experimental program for Australian freshwater lobster and ship their products all over the country (Louisville is a UPS hub).
Black-n-Bluegrass Rollergirls - Highland Heights, KY - Sports Festivals & Events, Kentucky
Louisville, Kentucky, may be horse-racing and bourbon country, but now it's also food and art central. Many of the best new restaurants, in fact, are near important galleries and museums. Power couple and local collectors Laura Lee Brown and Steve Wilson are a force in both the city's culinary and art worlds.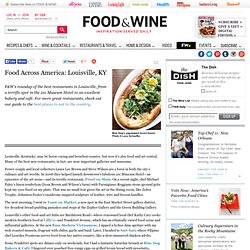 Food Across America: Louisville, KY
Florence Freedom Baseball - Florence, KY - Sports Festivals & Events, Kentucky
BB Riverboats - Local Band, Brew & BBQ - Newport, KY - Music Festivals & Events, Kentucky
Rocking Horse Manor Bed and Breakfast (Louisville, KY) - B&B Reviews
Battlefield Walks - Carlisle, KY - State Parks: Program Festivals & Events, Kentucky
Antsy McClain and the Trailer Park Troubadours - Elizabethtown, KY - Music Festivals & Events, Kentucky
Reservations URL Cash Check Visa MC AmEx Discover Traveler's Cheques Gift Certificates Peak Season Yes No Rural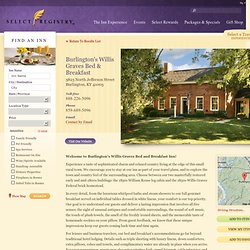 Burlington's Willis Graves B&B | Burlington, KY | Select Registry
Southern Grace Bed and Breakfast (Brandenburg, KY) - B&B Reviews
Kentucky Derby Museum - Louisville - Reviews of Kentucky Derby Museum
1851 Historic Maple Hill Manor Bed & Breakfast, Alpaca & Llama Farm, and Fiber Farm Store (Springfield, KY) - B&B Reviews.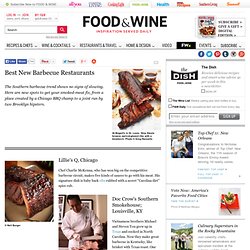 © Neil Burger Lillie's Q , Chicago Chef Charlie McKenna, who has won big on the competitive barbecue circuit, makes five kinds of sauces to go with his meat. His signature dish is baby back ribs rubbed with a secret "Carolina dirt" spice rub. © Jesse Hendrix
Best New Barbecue Restaurants
On the Appalachian Trail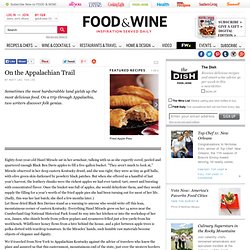 Eighty-four-year-old Hazel Miracle sat in her armchair, talking with us as she expertly cored, peeled and quartered enough Black Ben Davis apples to fill a five-gallon bucket. "They aren't much to look at," Miracle observed in her deep eastern Kentucky drawl, and she was right; they were as tiny as golf balls, with olive green skin darkened by powdery black patches. But when she offered us a handful of last year's harvest, the leathery chunks were the richest apples we had ever tasted: tart, sweet and bursting with concentrated flavor. Once the bucket was full of apples, she would dehydrate them, and they would supply the filling for a year's worth of the fried apple pies she had been turning out for most of her life.
Captain Bacon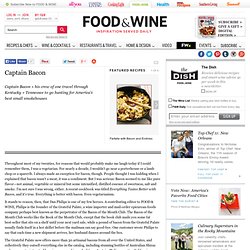 Throughout most of my twenties, for reasons that would probably make me laugh today if I could remember them, I was a vegetarian. For nearly a decade, I wouldn't go near a porterhouse or a lamb chop or a sparerib. I always made an exception for bacon, though. People thought I was kidding when I explained that bacon wasn't a meat, it was a condiment.