Beuty
Hipster Hair Hairstyles at My New Hair – Free Hairstyle Gallery. Natural Hippie Hair Beautiful blonde and brunette colored hair worn out and natural.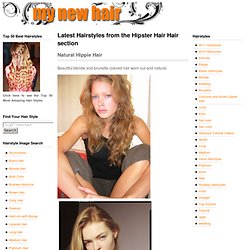 Waterfall Braid With Curls Hair inspiration, gorgeous waterfall braids with curls. A Splendid Assemblage: Favorite Up-Do Hairstyle Tutorials for Summer. Hair has always been my "thing" but I do develop certain "shave it all off" tendencies at least once a year.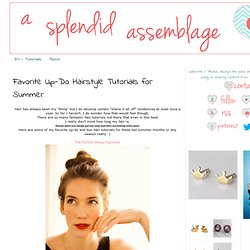 So far I haven't..I do wonder how that would feel though. There are so many fantastic hair tutorials out there that even in this heat I really don't mind how long my hair is.Except when my bangs get too long and then everything turns dark. Here are some of my favorite up-do and bun hair tutorials for these hot summer months or any season really :) Messy chunky beach waves... Easy tutorial! I'm one of those people who was cursed with stick straight thin hair that hates to curl.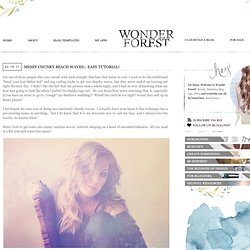 I used to do the traditional "braid your hair before bed" and rag curling tricks to get nice beachy waves, but they never ended up turning out right the next day. I didn't like the fact that the process took a whole night, and I had no way of knowing what my hair was going to look like when I pulled the braids/rags out. Do you know how nerve-wracking that is, especially if you have an event to go to (*cough* my brother's wedding)? Would the curls be too tight? Pinspire. Messy bun tutorial. (Coat by French Connection) After this post, I got a few requests for a "messy bun" hair tutorial!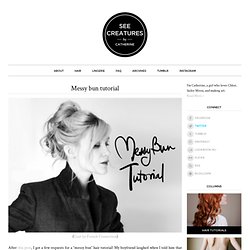 My boyfriend laughed when I told him that I needed help photographing it. Beauty Tips, Hairstyles, Makeup Tutorials and Reviews. The Beauty Department: Your Daily Dose of Pretty.
---