Tech and Geek
Kiip, a new model. Real rewards for virtual achievements.
Web / Agencia
Jing, screenshot and screencast software from TechSmith. Plataformas Online. Social Media. Splitcast - Efficiently and Synchronized Data Delivery. Your Life in Pictures on DailyBooth. Web conferencing | Adobe Connect. The Adobe USA site has been optimized for users within the United States.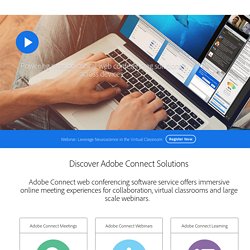 If you live outside the U.S., we recommend that you visit your local site for the most relevant information, including pricing, promotions, and local events. United States Canada - English Your country selection will be remembered for future visits. Presentation Software | Online Presentation Tools | Web Presentations | SlideRocket. Bundle and share web content easily. Sign up.
Gowalla. TokBox. Scalable platform From start-up to established enterprise, our platform scales to meet your needs.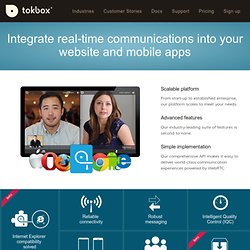 Advanced features Our industry-leading suite of features is second to none. Simple implementation. Create an account. Meebo.com. Make custom mobile apps, web widgets, and rich media ads. Rewire the web. Create stories using social media - storify.com. Dipity - Find, Create, and Embed Interactive Timelines. Gallery- cloud tags. Online tools and applications - Go2web20. Scrumblr.
Crear banner,hacer banner,banner gratis,banners gratis. TeamDoer- Free Project Management Software. Panmind | Sign up. Evoca | Easily create, organize, share and search voice recordings. Logiciels CRM, Gestion de la Relation Client - salesforce.com France. Chatter | Collaboration Software Solutions - Collaboration Cloud - salesforce. ScreenToaster - Online screen recorder. Capture screencasts instantly. Upload & Share PPT and documents. Log in | Prezi.
Socrata |Productivity | Making Data Social. The Socrata Open Data API (SODA) allows software developers to access data hosted in Socrata data sites programmatically.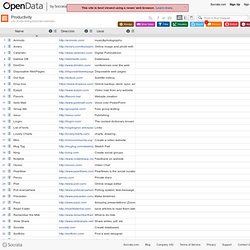 Developers can create applications that use the SODA APIs to visualize and "mash-up" Socrata datasets in new and exciting ways. Create an iPhone application that visualizes government spending in your area, a web application that allows citizens to look up potential government benefits they'd overlooked, or a service that automatically emails you when new earmarks are added to bills that you wish to track.
---