Cities/Sustainability
Urban-Think Tank - Join. Click here to donate to U-TT.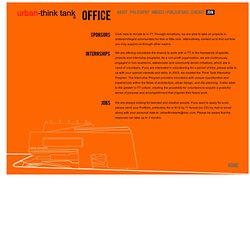 Through donations, we are able to take on projects in underprivileged communities for free or little cost. Alternatively, contact us to find out how you may support us through other means. We are offering volunteers the chance to work with U-TT, in the framework of specific projects and internship programs. As a non-profit organization, we are continuously engaged in non-academic, stakeholder and community driven initiatives, which are in need of volunteers. What Are Small Streets? - Small Streets. Jessup Street, Philadelphia.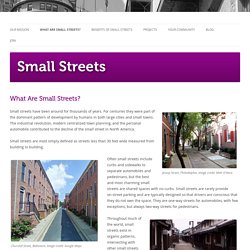 Image credit: Matt O'Hara Small streets have been around for thousands of years. For centuries they were part of the dominant pattern of development by humans in both large cities and small towns. The industrial revolution, modern centralized town planning, and the personal automobile contributed to the decline of the small street in North America. 2011: The Year in Sustainability. Without a doubt, the year 2011 has been a remarkable year in the journey to a sustainable future.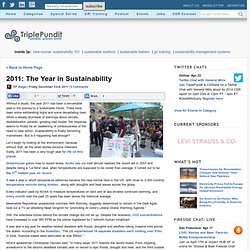 There have been some exhilarating highs and some devastating lows. While a steady drumbeat of warnings about climate destabilization persists, growing ever louder, the response seems to finally be an awakening of consciousness of the need to take action. Sustainability is finally becoming mainstream. Resumen del 2011: 1er trimestre. Como estamos próximos al fin de año, hemos realizado una selección de los post que marcaron pauta durante el año 2011.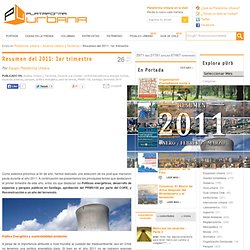 A continuación les presentamos los principales temas que destacaron el primer trimestre de este año, entre los que destacan las Políticas energéticas, desarrollo de espacios y parques públicos en Santiago, aprobación del PRMS100 por parte del CORE, y Reconstrucción a un año del terremoto. Política Energética y sustentabilidad ambiental A pesar de la importancia atribuída a nivel mundial al cuidado del medioambiente, aún en Chile no tenemos una política energética clara. Si bien en el año 2011 no se lograron avances respecto al futuro del desarrollo energético a nivel país, se produjeron hitos noticiosos importantes que determinaron la necesidad urgente de un diálogo abierto, participación y avances en términos de obtención de una energía más sustentable.
Siteresources.worldbank.org/EXTGOVACC/Resources/MediaandICTs. Ideas in development | Just another WordPress.com site. ECPA Urban Planning Initiative » Blog Archive » The World Bank Eco2 Cities Initiative: Ecological Cities as Economic Cities. Launched in 2009 by the World Bank, the Eco2 Cities Initiative seeks to establish a new paradigm of economic development for cities in developing countries.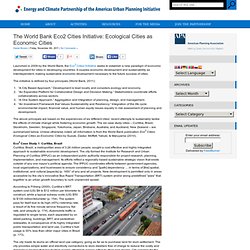 It couples economic development and sustainability as interdependent; making sustainable economic development necessary to the future success of cities. The initiative is defined by four principals (World Bank, 2011): ECPA Urban Planning Initiative » Blog Archive » The World Bank Eco2 Cities Initiative: Ecological Cities as Economic Cities.
Center for Sustainable Destinations, Geotourism, Places, Tips, Articles. The Enabling City | The Power of the Everyday. Climate Change Knowledge Portal 2.0. Explore and use a collection of development, vulnerability, and impact-related indicators and datasets.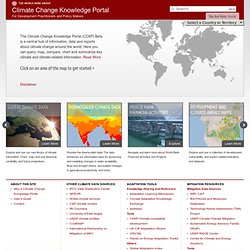 Climate Adaptation Country Profiles provide a quick reference source for development practitioners to better integrate climate resilience into development planning and operations. Learn from several examples of emerging economies actively seeking to move toward a low carbon growth path. Tour the portal highlights in these development and climate change storylines. And take them with you! Use your creativity to integrate, visualize, and synthesize climate and development data. Home | Urban Strategy. An urban sustainability, green building, and alternative transportation community. Ciudad Emergente | Laboratorio para el Urbanismo Ciudadano. Poderopedia. MobileActive.org | A global network of people using mobile technology for social impact. Creative Class Group.
DoTank:Brooklyn. Manual de Accesibilidad Universal. BIT CITY 2011 | Transportation, Data, and Technology in Cities. Project for Public Spaces - Placemaking for Communities.
---