Cities/Sustainability
Click here to donate to U-TT. Through donations, we are able to take on projects in underprivileged communities for free or little cost. Alternatively, contact us to find out how you may support us through other means. We are offering volunteers the chance to work with U-TT, in the framework of specific projects and internship programs. As a non-profit organization, we are continuously engaged in non-academic, stakeholder and community driven initiatives, which are in need of volunteers.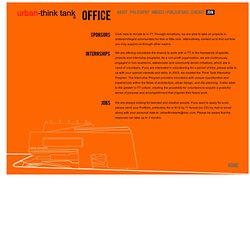 Urban-Think Tank - Join
What Are Small Streets? - Small Streets
Jessup Street, Philadelphia. Image credit: Matt O'Hara Small streets have been around for thousands of years. For centuries they were part of the dominant pattern of development by humans in both large cities and small towns. The industrial revolution, modern centralized town planning, and the personal automobile contributed to the decline of the small street in North America.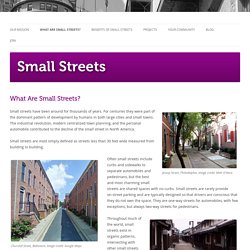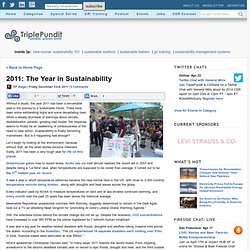 Without a doubt, the year 2011 has been a remarkable year in the journey to a sustainable future. There have been some exhilarating highs and some devastating lows. While a steady drumbeat of warnings about climate destabilization persists, growing ever louder, the response seems to finally be an awakening of consciousness of the need to take action. Sustainability is finally becoming mainstream.
2011: The Year in Sustainability
Como estamos próximos al fin de año, hemos realizado una selección de los post que marcaron pauta durante el año 2011. A continuación les presentamos los principales temas que destacaron el primer trimestre de este año, entre los que destacan las Políticas energéticas, desarrollo de espacios y parques públicos en Santiago, aprobación del PRMS100 por parte del CORE, y Reconstrucción a un año del terremoto. Política Energética y sustentabilidad ambiental A pesar de la importancia atribuída a nivel mundial al cuidado del medioambiente, aún en Chile no tenemos una política energética clara. Si bien en el año 2011 no se lograron avances respecto al futuro del desarrollo energético a nivel país, se produjeron hitos noticiosos importantes que determinaron la necesidad urgente de un diálogo abierto, participación y avances en términos de obtención de una energía más sustentable.
Resumen del 2011: 1er trimestre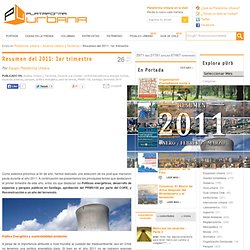 siteresources.worldbank.org/EXTGOVACC/Resources/MediaandICTs
Ideas in development | Just another WordPress.com site
Article: Urban Agenda Since the last post in my blog, many things have happened. I moved out from London, then Santiago de Chile, and now I'm currently living in Valdivia. A beautiful but troubled city in the south of the country were I grew up. I'm sharing a short article I wrote for a local newspaper of this town. Although the article is focused on Valdivia, it draws on a general topic that accrues to most chilean cities: the absence of an Urban Agenda and a plan to reinvigorate local urban economies.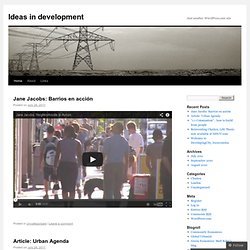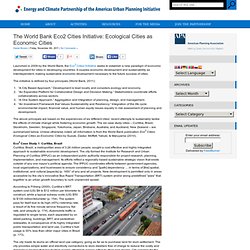 Launched in 2009 by the World Bank, the Eco2 Cities Initiative seeks to establish a new paradigm of economic development for cities in developing countries. It couples economic development and sustainability as interdependent; making sustainable economic development necessary to the future success of cities. The initiative is defined by four principals (World Bank, 2011):
ECPA Urban Planning Initiative » Blog Archive » The World Bank Eco2 Cities Initiative: Ecological Cities as Economic Cities
ECPA Urban Planning Initiative » Blog Archive » The World Bank Eco2 Cities Initiative: Ecological Cities as Economic Cities
http://www.nextbillion.net/blog
Center for Sustainable Destinations, Geotourism, Places, Tips, Articles
recently In June 2013, Chiara was a presenter at ICLEI's Resilient Cities, the 4th Global Forum on Urban Resilience and Adaptation in Bonn, Germany. She spoke at the InContext Final Conference & Informed Cities Forum in Berlin, and joined a dynamic group of participants at The City Resilient, a summit organized by Pop Tech in partnership with the Rockefeller Foundation and the Brooklyn Academy of Music. Chiara was a guest lecturer at Carleton University (January 2013), a panelist at FCM's Sustainable Communities Conference in Windsor, Ontario and a guest lecturer at Parsons The New School in NYC (February 2013).
The Enabling City | The Power of the Everyday
Climate Change Knowledge Portal 2.0
Explore and use a collection of development, vulnerability, and impact-related indicators and datasets. Climate Adaptation Country Profiles provide a quick reference source for development practitioners to better integrate climate resilience into development planning and operations. Learn from several examples of emerging economies actively seeking to move toward a low carbon growth path. Tour the portal highlights in these development and climate change storylines. And take them with you! Use your creativity to integrate, visualize, and synthesize climate and development data.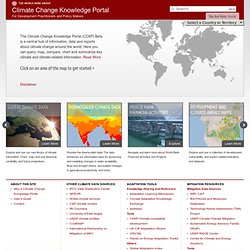 This website is intended as a space devoted to documenting the urban transformation that is now underway. The exchange of ideas, information, and good practices presented through this website is hoped to inform the implementation of the World Bank's urban and local government strategy over the next decade. We invite you to participate in the dialogue by accessing the materials posted, sharing views and good practical experience, and contributing your thoughts to the Discussion Board .
Home | Urban Strategy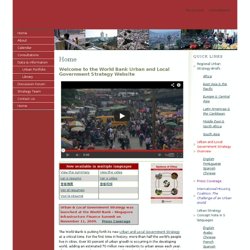 An urban sustainability, green building, and alternative transportation community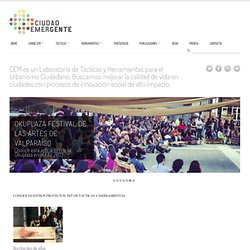 Ciudad Emergente | Laboratorio para el Urbanismo Ciudadano
Patrimonio Retratado – La Cantera Somos Todos Como parte del proyecto Antofagasta Limpia y Conectada del Plan Creo Antofagasta, nos encontramos desarrollando una serie de tácticas urbanas tanto en el centro alto y centro norte de la ciudad. Estas tácticas o activaciones de barrios de corto plazo, vienen a acompañar el proceso de erradicación de microbasurales presentes en la ciudad de largo plazo, el cual se coronará con el co-diseño de los espacios públicos y construcción participativa de equipamientos e infraestructura permanente de plazas y puntos limpios en los territorios, junto a Fundación Mi Parque y la Empresa B Triciclos, donde hasta hace solo un par de semanas existían vertederos ilegales, los cuales fueron limpiados participativamente con más de 300 voluntarios de colegios y vecinos de Antofagasta junto al Mago de la Basura y nuestro equipo de Ciudad Emergente.
Poderopedia puede ayudar a los medios y el público a entender las conexiones entre políticos, sus intereses y las decisiones que toman. Su audiencia puede incluir... Más > Proyecto chileno "Poderopedia" está entre los más innovadores del observatorio Netexplo. Cada año, el observatorio de innovaciones digitales Netexplo identifica a los últimos ...
Poderopedia
Editor's Note: This guest post is by Janet Gunter , a anthropologist and blogger , an ex-"aid worker" interested in communication, technology, and new economies. She is currently working as an adviser at @Verdade newspaper in Maputo, Mozambique. Mobile money arrived in Mozambique earlier this year, after the larger of the two mobile operators, the state-owned mcel , rolled out a service called mKesh (close in pronunciation to mCash). mKesh "soft launched" the service in 2009, but has intensified its efforts this year, with an official launch in September.
MobileActive.org | A global network of people using mobile technology for social impact.
Creative Class Group
DoTank:Brooklyn
Manual de Accesibilidad Universal
BIT CITY 2011 | Transportation, Data, and Technology in Cities
The Sigurd Grava Symposium on Infrastructure CONFERENCE DETAILS Friday, November 4th, 2011, 9AM – 5PMWood Auditorium, Avery Hall, Columbia University Register*: http://bitcityconference.eventbrite.com/*Registration is not required but adds you to our email list and helps us plan. CONFERENCE DESCRIPTION There is more data in the world than ever before, and there will soon be far more. According to the International Data Corporation (IDC) , "In 2011 alone, 1.8 zettabytes (or 1.8 trillion gigabytes) of data will be created, the equivalent to every U.S. citizen writing 3 tweets per minute for 26,976 years." New data collected from embedded devices in common items such as clothing, cell phones, vehicles, roads, buildings and anything else you can think of will fundamentally change the way we plan, finance and move about our cities.
Project for Public Spaces - Placemaking for Communities