Testing e Valutazione
View a complete list of components and prices Description Inevitably, it is in the most commonly used languages that the vocabulary of language testing and assessment is most highly developed, and for which most of the literature has been produced. A multilingual glossary has a significant role to play in encouraging the development of language testing in less widely taught languages. The idea of producing a multilingual glossary of assessment and language testing terms has grown out of the needs experienced by members of the Association of Language Testers in Europe (ALTE) while engaged in work on language testing projects. It is anticipated that this glossary will be of use, not only to members of ALTE, but to many others working in the context of European languages, who are involved in language testing and assessment.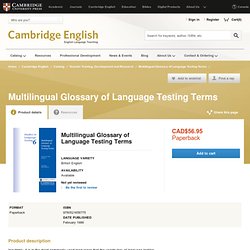 Multilingual Glossary of Language Testing Terms | Cambridge University Press | ESL
language test
An English language placement test: issues in reliability and validity
www.ealta.eu.org/documents/resources/enlta-bibliography.pdf
Journals
Description Assessing Writing is a refereed international journal providing a forum for ideas, research and practice on the assessment of written language.
Oxford Online Placement Test | Exam Practice Tests for KET, PET, FCE, CAE, IELTS, TOEIC, TOEFL
The ALTE Code of Practice defines the standards that current and future members agree to meet when producing their examinations and facilitates comparison of members' tests in terms of quality as well as level.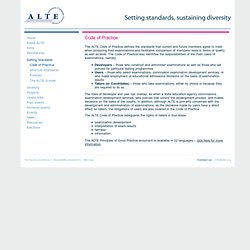 Home Page
Home Page
images/pdfs/phds_2011.pdf
International Language Testing Association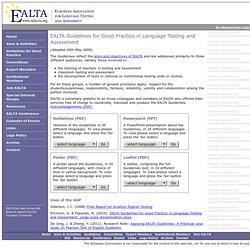 ropean Association for Language Testing and Assessment
(Adopted 20th May 2006)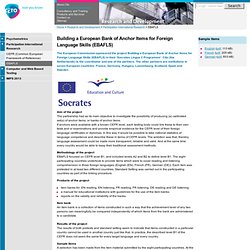 The European Commission sponsored the project Building a European Bank of Anchor Items for Foreign Language Skills (EBAFLS) in their 'Socrates Lingua 2 Programme'.
EBAFLS
CEFcult
Welcome to WebCEF | WebCEF
GULT Home