Testing e Valutazione
View a complete list of components and prices Description Inevitably, it is in the most commonly used languages that the vocabulary of language testing and assessment is most highly developed, and for which most of the literature has been produced. A multilingual glossary has a significant role to play in encouraging the development of language testing in less widely taught languages. The idea of producing a multilingual glossary of assessment and language testing terms has grown out of the needs experienced by members of the Association of Language Testers in Europe (ALTE) while engaged in work on language testing projects. It is anticipated that this glossary will be of use, not only to members of ALTE, but to many others working in the context of European languages, who are involved in language testing and assessment.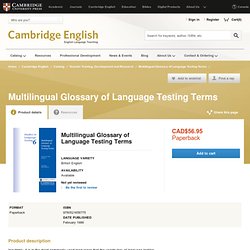 Multilingual Glossary of Language Testing Terms | Cambridge University Press | ESL
language test
An English language placement test: issues in reliability and validity
www.ealta.eu.org/documents/resources/enlta-bibliography.pdf
Journals
Description Assessing Writing is a refereed international journal providing a forum for ideas, research and practice on the assessment of written language. Assessing Writing publishes articles, book reviews, conference reports, and academic exchanges concerning writing assessments of all kinds, including traditional ('direct' and standardised forms of) testing of writing, alternative performance assessments (such as portfolios), workplace sampling and classroom assessment. The journal focuses on all stages of the writing assessment process, including needs evaluation, assessment creation, implementation, and validation, and test development; it aims to value all perspectives on writing assessment as process, product and politics (test takers and raters; test developers and agencies; educational administrations; and political motivations). The journal is interested in review essays of key issues in the theory and practice of writing assessment. Recent Content
Oxford Online Placement Test | Exam Practice Tests for KET, PET, FCE, CAE, IELTS, TOEIC, TOEFL
The ALTE Code of Practice defines the standards that current and future members agree to meet when producing their examinations and facilitates comparison of members' tests in terms of quality as well as level. The Code of Practice also identifies the responsibilities of the main users of examinations, namely: Developers – those who construct and administer examinations as well as those who set policies for particular testing programmes Users – those who select examinations, commission examination development services, or who make employment or educational admissions decisions on the basis of examination results Takers (or Candidates) – those who take examinations, either by choice or because they are required to do so. The roles of developer and user can overlap, as when a state education agency commissions examination development services, sets policies that control the development process, and makes decisions on the basis of the results.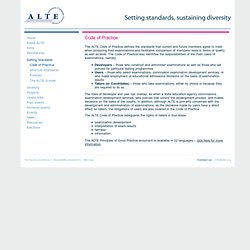 Home Page
Home Page
images/pdfs/phds_2011.pdf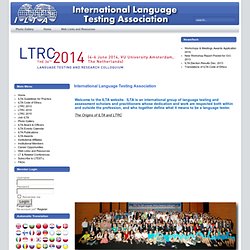 International Language Testing Association
Welcome to the ILTA website. ILTA is an international group of language testing and assessment scholars and practitioners whose dedication and work are respected both within and outside the profession, and who together define what it means to be a language tester. ILTA's purpose is to promote the improvement of language testing throughout the world.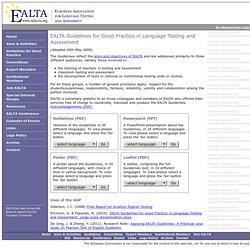 ropean Association for Language Testing and Assessment
(Adopted 20th May 2006) The Guidelines reflect the aims and objectives of EALTA and are addressed primarily to three different audiences, namely those involved in: the training of teachers in testing and assessment classroom testing and assessment the development of tests in national or institutional testing units or centres. For all these groups, a number of general principles apply: respect for the students/examinees, responsibility, fairness, reliability, validity and collaboration among the parties involved.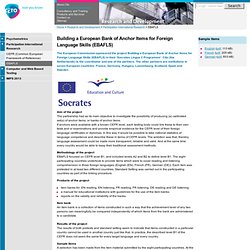 The European Commission sponsored the project Building a European Bank of Anchor Items for Foreign Language Skills (EBAFLS) in their 'Socrates Lingua 2 Programme'. Cito (the Netherlands) is the coordinator and one of the partners. The other partners are institutions in seven European countries: France, Germany, Hungary, Luxembourg, Scotland, Spain and Sweden. Aim of the project The partnership had as its main objective to investigate the possibility of producing (a) calibrated set(s) of anchor items, or banks of anchor items.
EBAFLS
CEFcult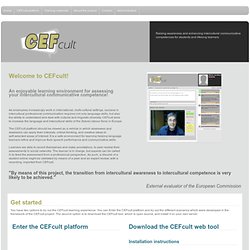 As employees increasingly work in international, multi-cultural settings, success in intercultural professional communication requires not only language skills, but also the ability to understand and deal with cultural and linguistic diversity. CEFcult aims to increase the language and intercultural skills of the (future) labour force in Europe. The CEFcult platform should be viewed as a vehicle in which assessees and assessors can apply their interests, critical thinking, and creative ideas to self-selected areas of interest. It is a safe environment for learning helping language learners refine and improve their speech performance and communicative skills. Learners are able to record themselves and make annotations, to peer review their assessments in social networks.
Welcome to WebCEF | WebCEF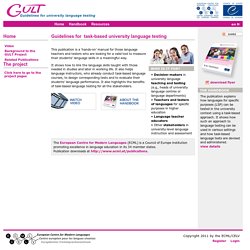 GULT Home
This publication is a 'hands-on' manual for those language teachers and testers who are looking for a valid tool to measure their students' language skills in a meaningful way. It shows how to link the language skills taught with those needed in studies and later in working life. It also helps language instructors, who already conduct task-based language courses, to design corresponding tests and to evaluate their students' language performance. It also highlights the benefits of task-based language testing for all the stakeholders.