ART
Ignacio Torres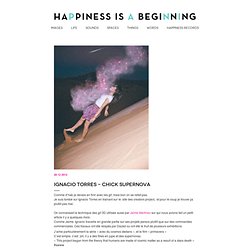 Comme d'hab je devais en finir avec les gif, mais bon on se refait pas. Je suis tombé sur Ignacio Torres en trainant sur le site des creators project, et pour le coup je trouve ça plutôt pas mal. On connaissait la technique des gif 3D utilisée aussi par Jaime Martinez sur qui nous avions fait un petit article il y a quelques mois. Comme Jaime, Ignacio travaille en grande partie sur ses projets persos plutôt que sur des commandes commerciales. Ces travaux ont été relayés par Dazed ou ont été le fruit de plusieurs exhibitions. J'aime particulièrement la série « avec du cosmos dedans », et le film « primavera » C'est simple, c'est joli, il y a des filles en jupe et des supernovas. « This project began from the theory that humans are made of cosmic matter as a result of a stars death » #awww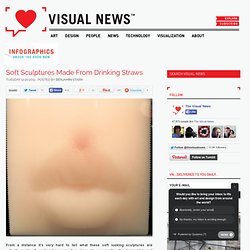 From a distance it's very hard to tell what these soft looking sculptures are actually made of… only when you step close do you realize the large pink and white walls are actually made of thousands of drinking straws . Created by Korean artist Sang Sik Hong, each piece uses thousands of the commonly disposed items to create huge hands, lips and eyes emerging from flat walls. His works, represented by Patrajdas Contemporary Art in Philadelphia, contrast the delicate nature of his strange medium with his choice to represent subjects of sex and power with them. He says: "Although every one desires power, only a few of people can have it. Power is the symbol of strength and the object for one's wish since it accompanies many interests.
Soft Sculptures Made From Drinking Straws
(click images for detail) Thirty five years ago I had yet to be born, but artist Scott Weaver had already begun work on this insanely complex kinetic sculpture, Rolling through the Bay , that he continues to modify and expand even today. The elaborate sculpture is comprised of multiple "tours" that move pingpong balls through neighborhoods, historical locations, and iconic symbols of San Francisco, all recreated with a little glue, some toothpicks, and an incredible amount of ingenuity. He admits in the video that there are several toothpick sculptures even larger than his, but none has the unique kinetic components he's constructed.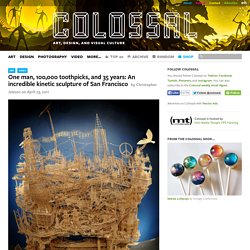 Most of us will agree with the age-old saying that "patience is a virtue." How many of you, however, would actually hang on for two years and a half to bring a piece of art into existence? Dalton Ghetti, 49, a Bridgeport artist, has spent 25 good years working with a razor blade, a sewing needle and a sculpting knife for carving his unique art on the graphite of pencil. The artist says : I don't make money from it but I would love a gallery owner in England to fly me over and put on a show.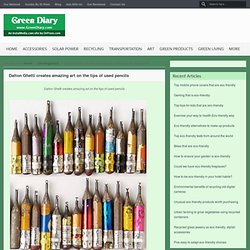 first image 'american kills' installation 'american kills' by chilean-born new york based artist sebastian errazuriz is a public installation showcasing the suicide rates of US soldiers. after searching on official war sites on the internet, he accidentally found out that 2 times more american soldiers had died in 2009 by committing suicide than those killed during that same year in the war in iraq; an alarming comparison that errazuriz had personally never read or heard about before. according to the artist, a first google search showed only reports of media alarm about suicide rates, but the information was always comfortably presented divided into months and generally separated by statistics from the army, navy or air-force. 'when I first found the overall statistics summed the 304 suicides by US soldiers during 2009, I was shocked.
DDiArte has been featured twice , their photography is massive in scope, a cacophonous explosion of human form. With their photography they tell gripping and in depth stories of the human persona, odes to nature, love , lust and more. Here is their interview: Tell us about DDiArte, how did it start? How long have you been working together?
Jorge Rodríguez-Gerada | EMPTY KINGDOM You are Here, We are Everywhere