Aromáticas
Stevia Flowers If you've ever tasted stevia, you know it's extremely sweet. In fact, this remarkable noncaloric herb, native to Paraguay, has been used as a sweetener and flavor enhancer for centuries. But this innocuous-looking plant has also been a focal point of intrigue in the United States in recent years because of actions by the U.S.
Stevia Sugar Substitute | Body Ecology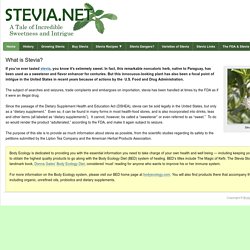 HowStuffWorks - Guia de ervas aromáticas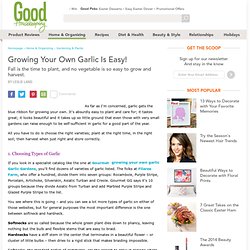 As far as I'm concerned, garlic gets the blue ribbon for growing your own. It's absurdly easy to plant and care for; it tastes great; it looks beautiful and it takes up so little ground that even those with very small gardens can raise enough to be self-sufficient in garlic for a good part of the year. All you have to do is choose the right varieties; plant at the right time, in the right soil; then harvest when just right and store correctly. 1. Choosing Types of Garlic If you look in a specialist catalog like the one at Gourmet Garlic Gardens, you'll find dozens of varieties of garlic listed.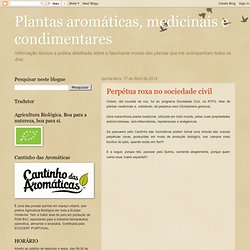 Plantas aromáticas, medicinais e condimentares
Ontem, dia mundial da voz, fui ao programa Sociedade Civil, na RTP2, falar de plantas medicinais e, sobretudo, da perpétua roxa (Gomphrena globosa). Uma maravilhosa planta medicinal, utilizada em todo mundo, pelas suas propriedades antimicrobianas, anti-inflamatórias, hipotensoras e analgésicas. Se passarem pelo Cantinho das Aromáticas podem tomar uma infusão das nossas perpétuas roxas, produzidas em modo de produção biológico, nos campos mais bonitos do país, quando estão em flor!!! E a seguir, porque não, passear pela Quinta, cantando alegremente, porque quem canta seus males espanta!!!
Geography & Distribution Rosmarinus officinalis is native to the Mediterranean region and Caucasus. Also native to this area are the other two species of rosemary (R. tomentosus and R. eriocalyx).
Plants & Fungi: Rosmarinus officinalis (rosemary) - Species profile from Kew