Aromáticas
Stevia Flowers If you've ever tasted stevia, you know it's extremely sweet. In fact, this remarkable noncaloric herb, native to Paraguay, has been used as a sweetener and flavor enhancer for centuries. But this innocuous-looking plant has also been a focal point of intrigue in the United States in recent years because of actions by the U.S.
Stevia Sugar Substitute | Body Ecology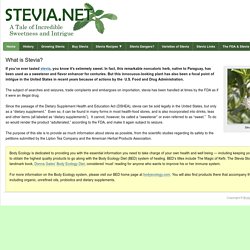 HowStuffWorks - Guia de ervas aromáticas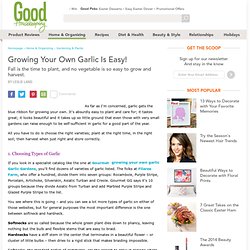 As far as I'm concerned, garlic gets the blue ribbon for growing your own. It's absurdly easy to plant and care for; it tastes great; it looks beautiful and it takes up so little ground that even those with very small gardens can raise enough to be self-sufficient in garlic for a good part of the year. All you have to do is choose the right varieties; plant at the right time, in the right soil; then harvest when just right and store correctly. 1. Choosing Types of Garlic If you look in a specialist catalog like the one at Gourmet Garlic Gardens, you'll find dozens of varieties of garlic listed.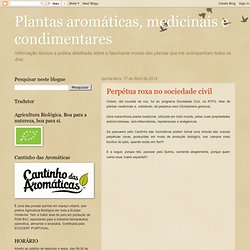 Plantas aromáticas, medicinais e condimentares
Seis anos passaram desde o início da famigerada aventura de publicar neste blogue, de forma regular, "Informação técnica e prática detalhada sobre o fascinante mundo das plantas que me acompanham todos os dias"... Até agora o blogue recebeu mais de 550000 visitas e 974000 páginas vistas, com um crescimento exponencial revelado pelas matérias aqui expostas. Também o nosso canal no Youtube para isto tem contribuído, já que o número de exibições de vídeos passou para 1.147.000, contando com 246 vídeos. E passamos a contar com uma indispensável página no Facebook, uma forma mais interactiva de comunicar com aqueles que nos seguem. Nasci e cresci no Porto, cidade que amo profundamente, no seio de uma família grande, sem ligações à agricultura. O Aniki Bóbó do Oliveira fez-me sonhar com a miúda bonita e o Sousa Veloso mostrou-me a Vida Rural.
Geography & Distribution Rosmarinus officinalis is native to the Mediterranean region and Caucasus. Also native to this area are the other two species of rosemary (R. tomentosus and R. eriocalyx).
Plants & Fungi: Rosmarinus officinalis (rosemary) - Species profile from Kew