Canette, conserve, bouteille plastique
Get flash to fully experience Pearltrees
I had a pair of old Creative (match my Zen!) computer speakers lying around gathering dust. I decided to use these to give the sound to my vision. Using a screwdriver, I took the casing to bits.
~ Note for Thai fans ~ เป็นโพสเก่าที่มีแฟนบล๊อกจากต่างประเทศขอมาให้เขียนเป็นภาษาอังกฤษนะคะ ส่วนแฟนบล็อกที่ ยังไม่เคยอ่านเรื่อ งนี้เลย ฉบับภาษาไทย ดูที่นี่ค่ะ The other day, while I was thinking to get something to put in the water bottle for Bhoom to shake for fun. I saw a plastic grocery bag next to me and then this idea popped up. I think.. well, give it a try. With some trials and errors, my little jellyfish comes alive just like I thought it would be. : ) When daddy and son first saw it, they're surprised with their jaws wide open.
And the fun just keeps on comin'… When I came up with the idea of using plastic cold drink bottles for tea, coffee and sugar cannisters, so many other ideas popped into my head that I just had to give them all a try. This one repurposes plastic bottles into piggy or cow saving banks. There are two different designs shown. On the left is the cow bottle and for this one the lid fits over the top of the bottom section and can easily be removed. The piggy bank on the right has a lid that also sits on top of the bottom section, but it is a much tighter fit and is not as easy to remove. Both designs were painted with Rust-Oleum 2X satin spray paint and then the details added with acrylic craft paint.
Disk arrangement is critical to ensure that only one hole per disk must be drilled, one nail per disk used and to make sure no water gets through. It may look complicated at first but once you grasp how to arrange them, it's pretty easy! The animated gif below should help.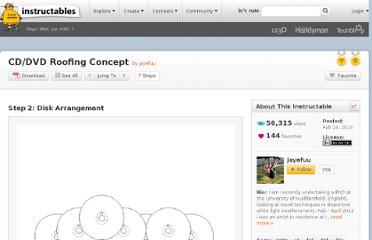 " Une boîte à bijoux dans une canette " Récupérer les journaux pour faire du papier mâché, le carton pour créer des meubles, des cagettes pour faire des étagères... Vous pensiez tout savoir sur le recyclage intelligent de vos déchets ?
A while ago, I came up with the idea of making a model train out of old cans. I thought it would be really cool, as it would be made of metal and be almost completely recycled. But it was not until a few years later that I actually started to develop the idea. I started to make plans, and spent hours thinking about it and improving it.
Ce réchaud est une évolution du PRS . Après avoir réalisé divers réchaud d'inspiration américaines, c'est vers le pepsi can stove que je me suis tourné pour des raisons de performances et de facilité d'emploi. Cependant, après en avoir fabriqué quelques un, je me rendis vite compte que le bât blessait au niveau de son emboîtage, qui était plus que délicat. Sa conception consistant à recouvrir une partie importante de l'une sur l'autre avec qui plus est des entailles pour faciliter l'emboîtage, ne permettait pas d'utiliser le réchaud sans un support spécifique. De plus , ces entailles fissuraient parfois, rendant le fonctionnement du réchaud incertain.
This Instructable describes a simple way to make candle powered carousel out of a tin can. The last "Crea" workshop at Leefschool Klavertje Vier had a Christmas theme. It was a workshop with a series of smaller projects. I was to do something with tin cans and candles.