Woofing en Europe
WWOOF-Deutschland wurde im Herbst 1987 nach britischem Vorbild gegründet und ist als gemeinnütziger Verein "Freiwillige Helfer/innen auf ökologischen Höfen e.V. " eingetragen. Und ermöglicht… die ökologische Bewegung zu unterstützen eine Brücke zwischen Produzent/innen und Konsument/innen zu schaffen Erfahrungen im ökologischen Land- und Gartenbau zu sammeln mal raus auf´s Land zu kommen neue Kontakte zu knüpfen… Wir würden uns freuen, wenn Du bei WWOOF-Deutschland bzw. beim WWOOFen mitmachst.
WWOF en Allemagne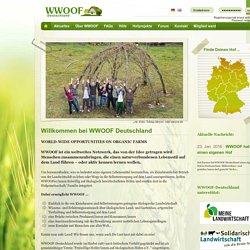 WWOOF au Danemark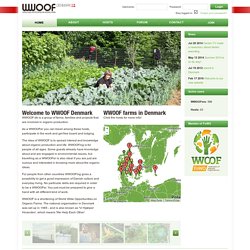 WWOOF-dk is a group of farms, families and projects that are involved in organic production. As a WWOOFer you can travel among these hosts, participate in the work and get free board and lodging. The idea of WWOOF is to spread interest and knowledge about organic production and life. WWOOFing is for people of all ages. Some guests already have knovledge about and are engaged in environmental issues, but travelling as a WWOOFer is also ideal if you are just are curious and interested in knowing more about the organic ideas. For people from other countries WWOOFing gives a possibility to get a good impression of Danish culture and everyday living.
WWOOF en Espagne
WWOOF is a unique experience! WWOOF (World Wide Opportunities on Organic Farms) gives an opportunity to volunteer in organic farms. Learning process, food and accomodation is offered by farm as a return for the work of volunteer. The hosts may be on large and small farms, have small holdings, houses with large gardens and woods (and all variations in between).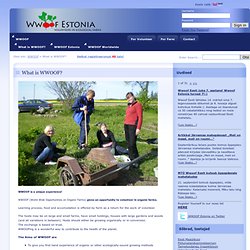 WWOOF en Estonie
WWOOF en Grande-Bretagne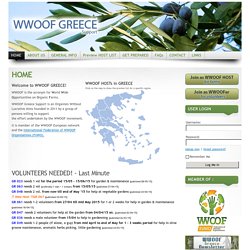 WWOF en Grèce
Welcome to WWOOF GREECE! WWOOF is the acronym for World Wide Opportunities on Organic Farms. WWOOF Greece Support is an Organism Without Lucrative Aims founded in 2011 by a group of persons willing to support the effort undertaken by the WWOOF movement. It is member of the WWOOF European network and the International Federation of WWOOF Organisations. WWOOF HOSTs in GREECEClick on the map to show the preview list for a specific region.
WWOOF en Hongrie
WWOOF en Irlande
What is a WWOOF Host? WWOOF hosts provide accommodation, food and education in organic faming and living. In return WWOOFers give help to the hosts, mainly as a hands on way of learning from them. The exchange is based on trust. The help you get from your WWOOFers will be wide and variable, and can include: gardening: sowing; making compost; planting; weeding; cutting wood; harvesting; fencing; building; packing; milking; feeding ... the list is endless and obviously varies from Host to Host! The nature of the help WWOOFers give is an arrangement made between you, the host, and each WWOOFer who stays with you.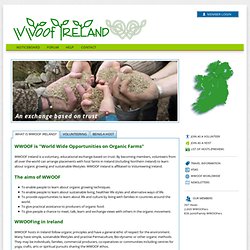 WWOOF en Italie
WWOOF is an exchange program. In return for volunteer help, WWOOF hosts offer food, accommodation and opportunities to learn about organic lifestyles. Volunteers will have the opportunity of getting first hand experiences in diverse philosophies of organic farming, permaculture, ecological building and other environment friendly techniques.
WWOOF au Portugal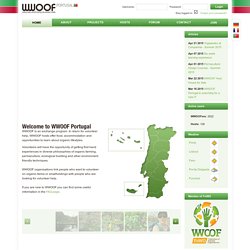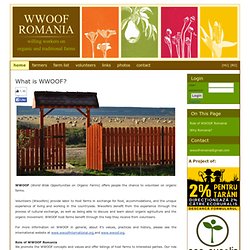 WWOOF (World Wide Opportunities on Organic Farms) offers people the chance to volunteer on organic farms. Volunteers (Wwoofers) provide labor to Host farms in exchange for food, accommodations, and the unique experience of living and working in the countryside. Wwoofers benefit from the experience through the process of cultural exchange, as well as being able to discuss and learn about organic agriculture and the organic movement. WWOOF host farms benefit through the help they receive from volunteers. For more information on WWOOF in general, about it's values, practices and history, please see the international website at www.wwoofinternational.org and www.wwoof.org. Role of WWOOF Romania
WWOOF en Roumanie
WWOOF en Suisse