Wed Development
This suite is primarily a set of APIs and tools to improve the developer experience. It also contains a module called the Page Manager whose job is to manage pages. In particular it manages panel pages, but as it grows it will be able to manage far more than just Panels. For the moment, it includes the following tools: Plugins -- tools to make it easy for modules to let other modules implement plugins from .inc files. Exportables -- tools to make it easier for modules to have objects that live in database or live in code, such as 'default views'.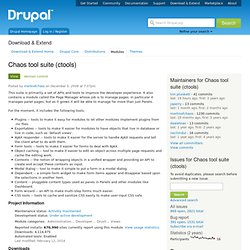 Eclipse JFace Table - Tutorial Lars Vogel, Clemens Muessener Copyright © 2008, 2009, 2010, 2011, 2012, 2013, 2014 Lars Vogel Eclipse JFace Table This tutorial explains the usage of Eclipse JFace TableViewer including label and content provider. This tutorial is based on Eclipse 4.3.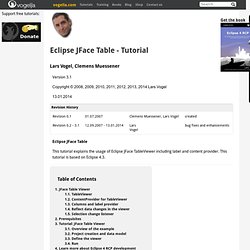 Eclipse JFace Table
Amazon CloudFront
CloudFront Steaming | CloudBerry S3 Explorer
Note: this post applies to CloudBerry Explorer 1.9.1 and later. CloudFront team recently introduced a set of features that would to allow you to secure content streamed through Amazon CloudFront. Private content features for streaming distributions give customers more control over who can and who cannot view content streamed with the service. New release of CloudBerry Explorer fully supports configuring private content for streaming distributions and this article will demonstrate how. To enable Private Content select a bucket and click Streaming button on the toolbar on in the context menu.
Amazon S3 | Bucket Explorer
Amazon S3 provides a secure, reliable, scalable and inexpensive, "pay only for what you use" storage service on the internet. You can store 10,000 documents for only 15 cents per month*, and use S3 for offsite backups, web hosting of media files, and much more. Your data is stored at multiple data centersmaking Amazon S3 the most reliable and affordable online storage service available on the offsite storage market today. No minimum fee and no over usage fee.It costs just 15 cents per gig per month to store the data and only 10 to 18 cents per gig for data transfer.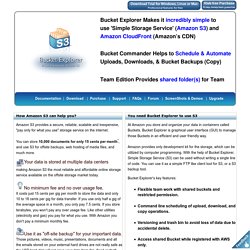 Cloud Front Configuring CloudFront Distribution and Private content support of your bucket using CloudBuddy Personal The latest version of CloudBuddy Personal supports private content feature offered by Amazon S3 (link) which facilitates the user to enable private share of a bucket and create a private URL. Enabling CloudFront Distribution for a bucket Access the 'CloudFront Console' which is provided as a plug-in and present in the right extreme of tool bar.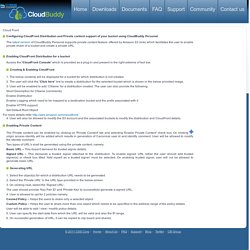 CloudBuddy - Amazon S3
Red5 Media Server 1.0 delivers a powerful video streaming and multi-user solution to the ©Adobe ©Flash Player and other exciting client technologies. Based on Java and some of the most powerful open source frameworks, Red5 stands as a solid solution for business of all sizes including the enterprise. Red5 includes support for the latest multi-user API's including NetConnection, NetStream and SharedObject's while providing a powerful RTMP / Servlet implementation.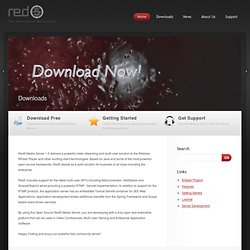 About CentOS: (CentOS) is an Enterprise-class Linux Distribution derived from sources freely provided to the public by a prominent North American Enterprise Linux vendor. CentOS conforms fully with the upstream vendors redistribution policy and aims to be 100% binary compatible. (CentOS mainly changes packages to remove upstream vendor branding and artwork.) The CentOS Project is the organization that builds CentOS.
Red5
CreatingRed5Projects
TracInstall
IDE Plugin » Red5 Media Server
Red5Plugin Installation Instructions Prerequisite Software: You must use the JEE distribution of Eclipse. The standard Java distribution will not work. See the following GUIDE in order to setup the plugin Latest Version Name: Red5Plugin 1.0.x (Eclipse 3.7+) URL: http://www.red5.org/downloads/projects/red5plugin/update_1.0.x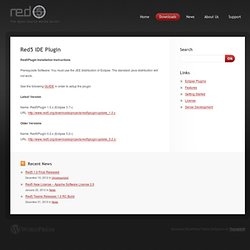 Server » Red5 Media Server
Getting Started » Red5 Media Server
RED5 Installation
Welcome to YouTube! The location filter shows you popular videos from the selected country or region on lists like Most Viewed and in search results.To change your location filter, please use the links in the footer at the bottom of the page. Click "OK" to accept this setting, or click "Cancel" to set your location filter to "Worldwide".
Red5 Developers Site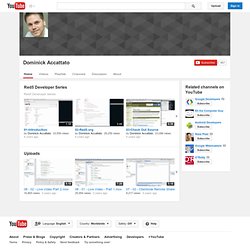 01-Introduction
02-Red5.org
08 - 02 - Live Video Part 2.mov
08 - 01 - Live Video - Part 1.mov
06-Red5Plugin Overview
sshXguiBy - Benoit Lefebvre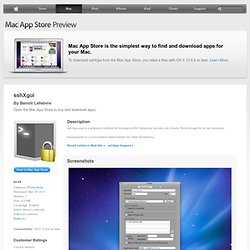 Lacking by Jimmyleg5 I don't really see a point for this app. Maintaining a list of remote hosts (and the protocols used to access them) can be easily done in the Termina application included with OS X. This really adds no more functionality, and is a less elegant solution than Terminal in my opinion.In case you are interested, to manage remote hosts, in Terminal>Shell> "New Remote Connection".
JellyfiSSH v5.0 for Mac OS X
Welcome to the site. Our most popular posts are a series of video tutorials on How To Use Your Mac As A Server. We also answer your Mac questions. Just Ask FMB Feel free subscribe to our RSS feed. Thanks for visiting!
Mac Server Series: How to create an SSH tunnel for a secure VNC connection » Free Mac Blog
[MWorks]
All members of the Dartmouth community who use a Mac OS X computer to connect to a central server in terminal emulation mode should install and use JellyfiSSH. This program allows you to access administrative systems such as FAS'T'Look, FAS Online Reports, the Capital Equipment System, SQL*Plus, and a number of VMS-based reports. Since the new General Ledger system was put in place, only data prior to July 1, 2007 is available in the VMS-based systems. JellyfiSSH, or another telnet application, can be used to enter data into VMS-based systems. NOTE: JellyfiSSH works in conjunction with the Terminal utility.
JellyfiSSH
MacOSX SSHMenu :: Python, Ajax, Web2.0, oportunidades e criação ágil de sites e sistemas Marinho Brandão
The big view MacOSX SSHMenu is seemed to Gnome SSHMenu , a great tool for who uses Gnome and uses lots of SSH connections. Once you have SSHMenu running, you can add your SSH title/params clicking on "Add Host".
Transmit%204.1.7
Coda%201.7.5
Tumult HyperEdit: The live HTML and PHP editor for Mac OS X
Code Snippets
HTML Validation
JavaScript
PHP
HyperEdit Overview
Tips & Tricks
HyperEdit Help
Tutorials
Documentation
Overview
Animations
Scenes
Timelines
Javascript
Elements
What is Eclipse?
Eclipse PHP Resources
File System
Rich Client Platform
IDE Pocket Guide
PHPEclipse: A User Guide
Platform Technical Overview
Google's New Cloud Storage Service Takes on Amazon S3
Activate Google Cloud Storage - Google Cloud Storage - Google Code
Cloud SQL - Google Code
cloud