M.C. Escher
M.C. Escher woodprint. Place bid Review and confirm your bid Bid confirmation d h.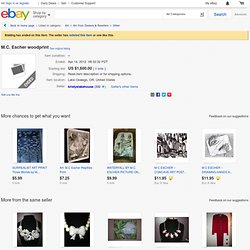 Escherization. Over his life, the Dutch graphic artist M.C.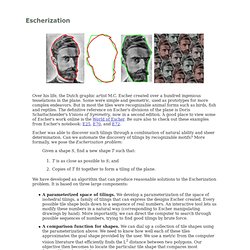 Escher created over a hundred ingenious tesselations in the plane. Some were simple and geometric, used as prototypes for more complex endeavors. M.C. Escher: Life and Work. The Oldest Escher Collection on the Web. Math and the Art of M. C. Escher - EscherMath. About This Book Part One Euclidean and Non-Euclidean Geometry Part Two Topics in Geometry and Mathematics Other K-12 Geometry Note to instructors: If you would like access to the instructor pages (with solutions to exercises for instance), please contact one of authors.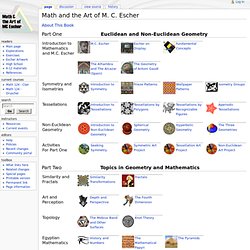 Similarly, if you would like to add materials to the Wiki, please let us know. M.C. ESCHER, MESSAGE FROM M. C. Escher No. 3 / 1941-1969, The Official M.C. Escher Website. Index. With an introduction by J.L.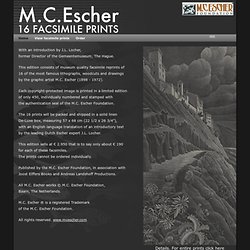 Locher, former Director of the Gemeentemuseum, The Hague. This edition consists of museum quality facsimile reprints of 16 of the most famous lithographs, woodcuts and drawings by the graphic artist M.C. Escher (1898 - 1972). The Official M.C. Escher Website. Frequently Asked Questions Can I reproduce the work of M.C.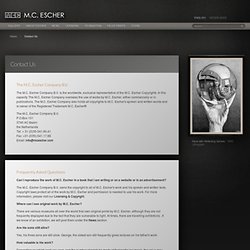 Escher in a book that I am writing or on a website or in an advertisement? The M.C. The Official M.C. Escher Website. The M.C.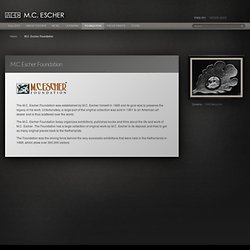 Escher Foundation was established by M.C. Escher himself in 1968 and its goal was to preserve the legacy of his work. Unfortunately, a large part of the original collection was sold in 1981 to an American art dealer and is thus scattered over the world. The M.C. Escher Foundation today organizes exhibitions, publishes books and films about the life and work of M.C. Fea-escher. Escher for Real.
(C) Copyright 2002-2012 Gershon Elber, Computer Science Department, Technion The work of M.C.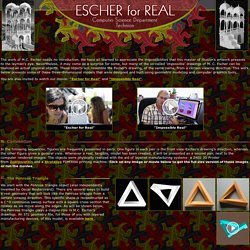 Escher needs no introduction. We have all learned to appreciate the impossibilities that this master of illusion's artwork presents to the layman's eye.
---