Kaltura
Kaltura Video Platform. Kaltura Video Player. Video players are your first point of contact with your audience, so delivering the best possible experience is key.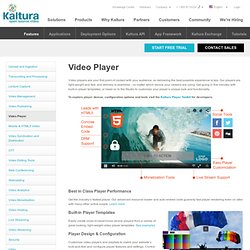 Our players are light-weight and fast, and delivery is seamless - no matter which device your viewers are using. Get going in five minutes with built-in player templates, or head on to the Studio to customize your player's unique look and functionality. To explore player demos, configuration options and tools visit the Kaltura Player Toolkit for developers. HTML5 Video | html5video.org. Ubuntus Quixotic Mobile War: HTML5 – Not Linux – Is The Key "Making the Web a first-class citizen on mobile devices?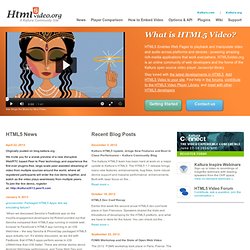 That would be a Very Big Deal, and it's one that Canonical has already started to deliver on, as Shuttleworth rightly notes. Video Platform | Video Solutions for Media and Entertainment. MediaSpace Video Portal. Kaltura MediaSpace™ is a market leading social video and rich media portal that enables you to create your own Campus or Corporate YouTube™.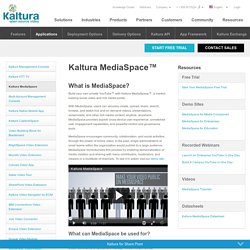 What is MediaSpace? Users can create, upload, share, search, browse, and watch live and on demand videos, video presentations, screencasts, and other rich media content. MediaSpace provides superb cross device user experience, unmatched user engagement capabilities, and powerful control and governance tools. MediaSpace enables community, collaboration and social activities by leveraging the power of online video. In the past, single administrators or small teams within the organization would publish to a large audience; MediaSpace revolutionizes this process by enabling democratization of media creation with many contributors, moderators and viewers in a multitude of channels.
Video Management Service. Managing a media library, even a large one, should be simple and straightforward.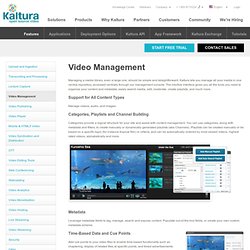 Kaltura lets you manage all your media in one central repository, accessed centrally through our management console. The intuitive interface gives you all the tools you need to organize your content and metadata, easily search media, edit, moderate, create playlists, and much more. Video Syndication and Distribution. Think more traffic, and a lot more viewers.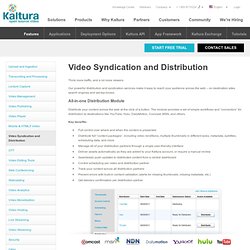 Our powerful distribution and syndication services make it easy to reach your audience across the web – on destination sites, search engines and set-top-boxes. All-in-one Distribution Module. Video Editing Tools. With our editing tools, your videos are just a starting point.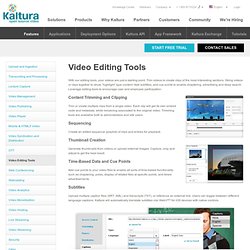 Trim videos to create clips of the most interesting sections. String videos or clips together to show "highlight" type content. Add subtitles, and cue points to enable chaptering, advertising and deep search. Leverage editing tools to encourage user and employee participation. Content Trimming and Clipping. Ad Network & Ad Servers | Video Monetization. If growing your revenue is high on your list, our monetization features will get you there fast.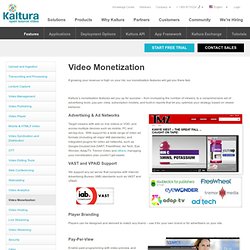 Kaltura's monetization features set you up for success – from increasing the number of viewers, to a comprehensive set of advertising tools, pay-per–view, subscription models, and built-in reports that let you optimize your strategy based on viewer behavior. Advertising & Ad Networks Target viewers with ads on live videos or VOD, and across multiple devices such as mobile, PC and set-top-box. With support for a wide range of video ad formats (including all major IAB standards), and integrated plugins for video ad networks, such as Google DoubleClick DART, FreeWheel, Ad Tech, Eye Wonder, AdapTV, Tremor Video and others, managing your monetization plan couldn't get easier. Kaltura API. Kaltura's open source platform includes hundreds of REST-based application programming interfaces (APIs) providing programmable access to every core service of the platform.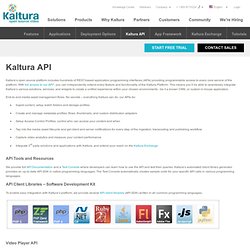 With full access to our API*, you can independently extend every feature and functionality of the Kaltura Platform. This means you'll be able to seamlessly integrate Kaltura's various solutions, services, and widgets to create a unified experience within your chosen environments - be it a known CMS, or custom in-house application. Kaltura - Open Source Video Platform. Dynamic Player and Playlist Widget. KDP basic usage - embedding on HTML pages and Playback. Introduction This guide will show you how to embed the Kaltura Player and how to play a demo video hosted on Kaltura's servers.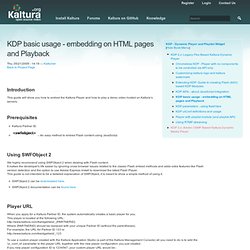 Prerequisites Kaltura Partner ID. – An easy method to embed Flash content using JavaScript. Using SWFObject 2 We highly recommend using SWFObject 2 when dealing with Flash content. Kdp-flash-plugin-kit. Advanced Video Editor (Timeline Based Editing) Full featured video editor to create remixes from images, audio and video files based on timeline-based editing.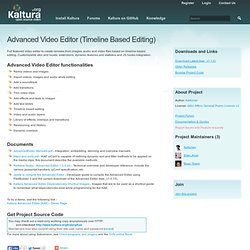 Customizable skin and locale, extensions, dynamic features and statistics and JS hooks integration. Advanced Video Editor functionalities Remix videos and images Import videos, images and audio while editing Add a soundtrack Add transitions Trim video clips Add effects and texts to images Add text slides Timeline based editing Video and audio layers Library of effects, overlays and transitions Revisioning and History Dynamic overlays Documents.
Release Notes [PDF] AdvancedEditor Manuals.pdf. Guide to compile the Kaltura Advanced Editor. This is a guide to compile the Kaltura Advanced Editor using the FlexBuilder 3 IDE. The guide assumes the developer has a version of FlexBuilder 3, is running a webserver (we used Wamp), has correctly installed KalturaCE, and has downloaded the Kaltura Advanced Editor (kae_v1.0.15). Since this wiki doesn't support zip/php/cs/js extensions we have hosted some the required project code on our company website Cattura Video . Steps to Compile the Kaltura Advanced Editor from Kaltura.org Download. Advanced Editor Dependencies Shortcut Images. Standard Video Editor (Story Board Editing) This video editor that allows users to create remixes from images, audio and video files.
Easy to use UI and customizable skin and locale. Can be directly invoked from the video player or appear as a stand alone component. Standard Video Editor functionality: Kaltura Media Console. KSE - Standard Editor. Note: This guide is using an older client library. Developers are advised to always update their client libraries from: This guide will show you how to pre-populate your editor clip library. [Script Download] | Pre-Populated-Mix.
---