Innovation
Design for Social Change Group News
As an industrial designer and the CEO of a design agency with experience across many fields, I am struck by how difficult it has been for the Consumer Packaged Goods (CPG) industry to successfully innovate to meet the needs of the ever-changing marketplace.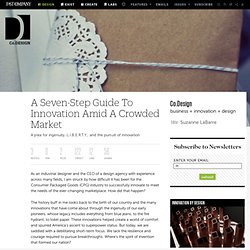 A Seven-Step Guide To Innovation Amid A Crowded Market | Co. Design
Innovation in turbulent times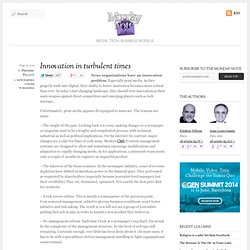 News organizations have an innovation problem. Especially print media.
The Most Innovative Companies Today--And Tomorrow
Top 40 Innovation Bloggers of 2010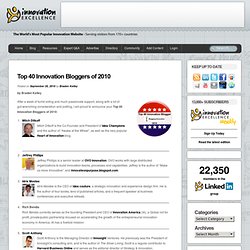 by Braden Kelley After a week of torrid voting and much passionate support, along with a lot of gut-wrenching consideration and jostling, I am proud to announce your Top 40 Innovation Bloggers of 2010: Mitch DitkoffMitch Ditkoff is the Co-Founder and President of Idea Champions and the author of "Awake at the Wheel", as well as the very popular Heart of Innovation blog. .Jeffrey PhillipsJeffrey Phillips is a senior leader at OVO Innovation.
How Mature is Your Company? Social Business Maturity quiz
Innovate on Purpose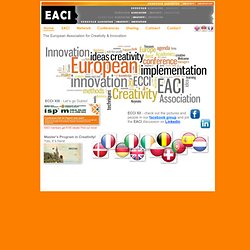 The European Association for Creativity & Innovation
Creativity and Innovation
Centre for Innovation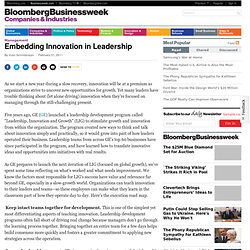 As we start a new year during a slow recovery, innovation will be at a premium as organizations strive to uncover new opportunities for growth. Yet many leaders have trouble thinking about (let alone driving) innovation when they're focused on managing through the still-challenging present.
Leadership Innovation
IDEO: Big Innovation Lives Right on the Edge of Ridiculous Ideas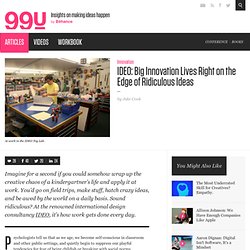 Imagine for a second if you could somehow wrap up the creative chaos of a kindergartner's life and apply it at work. You'd go on field trips, make stuff, hatch crazy ideas, and be awed by the world on a daily basis. Sound ridiculous? At the renowned international design consultancy IDEO, it's how work gets done every day. Psychologists tell us that as we age, we become self-conscious in classroom and other public settings, and quietly begin to suppress our playful tendencies for fear of being childish or breaking with social norms. Creativity requires that we fight against this trajectory.At IDEO, being playful is almost an obsession.
Most Innovative Companies
The 99 Percent
frog design | Global Innovation
The Connected Company « Dachis Group Collaboratory
Many thanks to Thomas Vanderwal for the many conversations that inspired this post. The average life expectancy of a human being in the 21st century is about 67 years. Do you know what the average life expectancy for a company is? Surprisingly short, it turns out. In a recent talk, John Hagel pointed out that the average life expectancy of a company in the S&P 500 has dropped precipitously, from 75 years (in 1937) to 15 years in a more recent study.