Innovation
Design for Social Change Group News. Are you a creative professional with an interest in sustainability and social responsibility?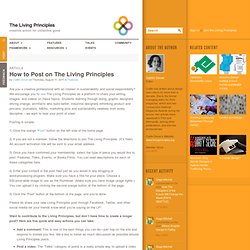 We encourage you to use The Living Principles as a platform to share your writing, images, and videos on these topics. Students learning through doing, graphic designers driving change, architects who build better, industrial designers rethinking product and process, journalists, MBAs, marketing pros and sustainability newbies from every discipline – we want to hear your point of view! Posting is simple: 1) Click the orange "Post" button on the left side of the home page. 2) If you are not a member, follow the directions to join The Living Principles. A Seven-Step Guide To Innovation Amid A Crowded Market | Co. Design. As an industrial designer and the CEO of a design agency with experience across many fields, I am struck by how difficult it has been for the Consumer Packaged Goods (CPG) industry to successfully innovate to meet the needs of the ever-changing marketplace.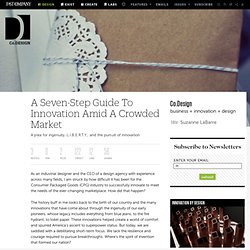 How did that happen? The history buff in me looks back to the birth of our country and the many innovations that have come about through the ingenuity of our early pioneers, whose legacy includes everything from blue jeans, to the fire hydrant, to toilet paper. These innovations helped create a world of comfort and spurred America's ascent to superpower status. Innovation in turbulent times. News organizations have an innovation problem.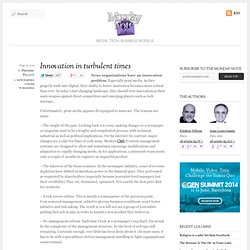 Especially print media. As they gingerly wade into digital, their ability to foster innovation becomes more critical than ever. In today's fast-changing landscape, they should view innovation as their main weapon against direct competitors and emerging players such as tech startups,. Unfortunately, print media appears ill-equipped to innovate. The reasons are many. The Most Innovative Companies Today--And Tomorrow. Top 40 Innovation Bloggers of 2010. By Braden Kelley After a week of torrid voting and much passionate support, along with a lot of gut-wrenching consideration and jostling, I am proud to announce your Top 40 Innovation Bloggers of 2010: Mitch DitkoffMitch Ditkoff is the Co-Founder and President of Idea Champions and the author of "Awake at the Wheel", as well as the very popular Heart of Innovation blog. .Jeffrey PhillipsJeffrey Phillips is a senior leader at OVO Innovation.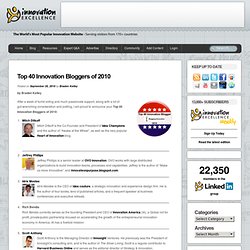 How Mature is Your Company? Social Business Maturity quiz. Innovate on Purpose. Innovation. Creativity and Innovation. The European Association for Creativity & Innovation The EACI a not-for-profit European association, which focuses on spreading (knowledge about) creativity & innovation throughout Europe.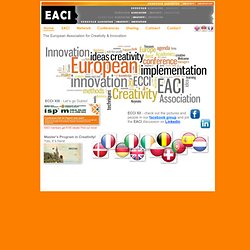 The main activities are: the bi-yearly conference, the website, the mailing list and the network of connected associations. The EACI is open to all European (not-for-profit) associations/organisations. Centre for Innovation. Leadership Innovation. As we start a new year during a slow recovery, innovation will be at a premium as organizations strive to uncover new opportunities for growth.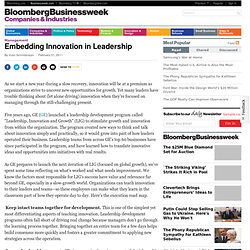 Yet many leaders have trouble thinking about (let alone driving) innovation when they're focused on managing through the still-challenging present. Five years ago, GE (GE) launched a leadership development program called "Leadership, Innovation and Growth" (LIG) to stimulate growth and innovation from within the organization. The program created new ways to think and talk about innovation simply and practically, so it would grow into part of how leaders operated their business. Leadership teams from across GE's top 60 businesses have since participated in the program, and have learned how to translate innovative ideas and opportunities into initiatives with real results. As GE prepares to launch the next iteration of LIG (focused on global growth), we've spent some time reflecting on what's worked and what needs improvement.
IDEO: Big Innovation Lives Right on the Edge of Ridiculous Ideas. Imagine for a second if you could somehow wrap up the creative chaos of a kindergartner's life and apply it at work.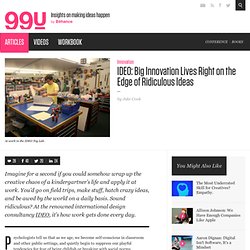 You'd go on field trips, make stuff, hatch crazy ideas, and be awed by the world on a daily basis. Sound ridiculous? At the renowned international design consultancy IDEO, it's how work gets done every day. Biz-Innovation. INNOVATION. Innovation. Most Innovative Companies. Innovation. Working on Innovation. The 99 Percent. Frog design | Global Innovation. The Connected Company « Dachis Group Collaboratory. Many thanks to Thomas Vanderwal for the many conversations that inspired this post.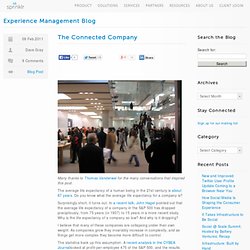 The average life expectancy of a human being in the 21st century is about 67 years. Do you know what the average life expectancy for a company is? Surprisingly short, it turns out.
---