Temps réel
Posted on December 30th, 2013 by Tendresse Bouenissa We are proud to announce that we will present Minko, our technology to create 3D applications on desktops, tablets/smartphones and the web, at the CES 2014 in Las Vegas from the 7th to the 11th of January 2014. Come to see us at the Aerys booth (Venetian, Lvl 1 – 75208). For CAD designers or R&D managers, Minko "Enterprise" is a unique Dropbox-like 3D collaboration and file sharing platform accessible from the Web, tablets and mobile phones. Sharing massive 3D content in a company or publicly has never been easier.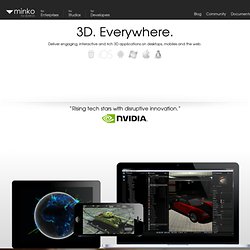 Minko | Open source 3D engine for the web, iPhone, iPad and Android
BioLayout Express3D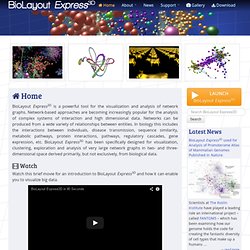 BioLayout Express3D is a powerful tool for the visualization and analysis of network graphs. Network-based approaches are becoming increasingly popular for the analysis of complex systems of interaction and high dimensional data. Networks can be produced from a wide variety of relationships between entities. In biology this includes the interactions between individuals, disease transmission, sequence similarity, metabolic pathways, protein interactions, pathways, regulatory cascades, gene expression, etc.
CyberCity 3D
Globes virtuels, images satellites
Consortium | Open Standards for Real-Time 3D Communication
The German 3D software developer Bitmanagement Software GmbH who are in the board of directors of the Web3D Consortium in Mountain View, California, USA has released the new authoring tool "BS Content Studio", which enables a wide audience to create interactive and Internet ready 3D content. This tool will sustainable accelerate and simplify the work-flow and time necessary to compose, animate and optimize 3D models and interactive content for the web and standalone applications. Even "non 3D specialists" can be now in the position to generate 3D real-time applications easily. The "BS Content Studio" Tool addresses a horizontal market and has been developed around the Web3D ISO standard X3D with the goal to enable a broad range of application domains including CAD, GIS, games, process automation, 3D printing, virtual catalogs, 3D marketing banners, configurators, product visualization, automation, augmented reality, stereo TV content, social communication and many more.