Temps réel
Minko | Open source 3D engine for the web, iPhone, iPad and Android. BioLayout Express3D. Serious games. CyberCity 3D. Globes virtuels, images satellites.
A voir. Moteurs 3D. Consortium | Open Standards for Real-Time 3D Communication. The German 3D software developer Bitmanagement Software GmbH who are in the board of directors of the Web3D Consortium in Mountain View, California, USA has released the new authoring tool "BS Content Studio", which enables a wide audience to create interactive and Internet ready 3D content.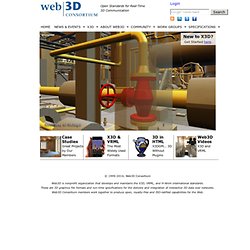 This tool will sustainable accelerate and simplify the work-flow and time necessary to compose, animate and optimize 3D models and interactive content for the web and standalone applications. Even "non 3D specialists" can be now in the position to generate 3D real-time applications easily. The "BS Content Studio" Tool addresses a horizontal market and has been developed around the Web3D ISO standard X3D with the goal to enable a broad range of application domains including CAD, GIS, games, process automation, 3D printing, virtual catalogs, 3D marketing banners, configurators, product visualization, automation, augmented reality, stereo TV content, social communication and many more.
---