Nest
Clown Slava Polunin's Nest by 24H Architecture. Crecy la Chapelle, near Paris, France, in the black garden created by the famous Russian clown Slava Polunin , 24H-architecture design of a reception as Slava hermitage, from afar like a long legged animal greatly colored eyes overlooking the river.
This strange guy was built by the local black bamboo. Although the appearance is strange, however, within the "monster" is warm and comfortable, the walls cover a lot of skins, played a warm, while lying in bed can see the stars in the sky. Understand 24H-architecture one would think this house is not surprising that, in line with the 24H-architecture consistent architectural style. Senior center turned treehouse by benjamin verdonck. Jun 18, 2012 senior center turned treehouse by benjamin verdonck 'vogelenzangpark 17bis' by benjamin verdonck, 2012 all images courtesy TRACK.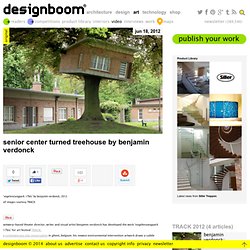 Treerooms. The Rooms A total of 8-10 rooms have been planned for the forest area around Harads.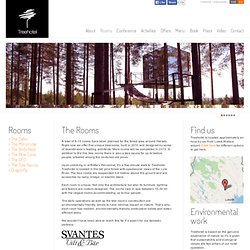 Right now we offer five unique treerooms, built in 2010 and designed by some of Scandinavia's leading architects. More rooms will be completed in 2013. Quicksilver All Aluminum Ultra Light Campers, Ultralight Campers, Lightweight Campers, Ultra-Lightweight Campers. Great for hunters, weekend warriors and racers alike, this QUICKSILVER model is the next generation of Livin' Lite design - offering the industry's first truly affordable truck camper!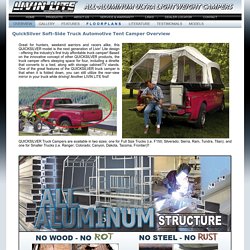 Based on the innovative concept of other QUICKSILVER products, the truck camper offers sleeping space for four, including a dinette that converts to a bed, along with storage cabinet/TV stands. One of the great features of the QUICKSILVER truck camper is that when it is folded down, you can still utilize the rear-view mirror in your truck while driving! Another LIVIN LITE first! QUICKSILVER Truck Campers are available in two sizes: one for Full Size Trucks (i.e.
The Snail | Feedgeeks. In the fast-paced modern China, the humble bicycle is for many, not a mere vehicle but a way of life.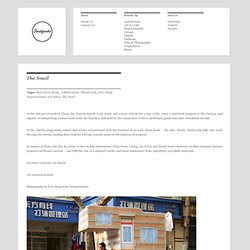 Once a symbol of progress to the Chinese, and capable of transporting monumental loads, the bicycle is still used by the commoners to ferry cardboard, goods and other recyclables for sale. In the rapidly progressing nation that seems unconcerned with the burdens of its past, these locals – the slow, steady, lumbering folks who crawl through the streets, hauling their bulk for a living, remain snails on the highway of progress. The Pass Museum by Werner Tscholl. Paulina and the Truffle | Architecture, Urbanisme. Truffle | www.ensamble.info.
The LEAP (Living Ecological Alpine Pod), a Prefab Modular Hut for High Altitudes & Mountain Living. ShareThis A new modern bivuoac for mountain living.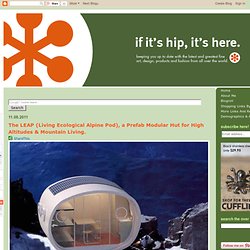 Designed in Italy by Luca Gentilcore and Stefano Testa, the Alpine huts are modular, highly sustainable and complete with a comfortable interior. The LEAP (an acronym for Living Ecological Alpine Pod) is a technologically sophisticated shelter, prefabricated and assembled offsite, that does not alter the environment in which it is placed. This type of installation represents an interesting form of support to trekking and mountaineering activities with a much lower environmental impact than the traditional mountain shelters. Natural Architecture: Home-Grown Artistic Tree Houses. Patrick Dougherty is a builder and yet not an architect – he is perhaps best described as an artist and sculptor, a wood craftsman the likes of which most of us have never seen.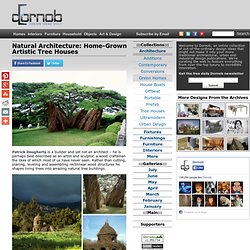 Rather than cutting, planing, leveling and assembling rectilinear wood structures he shapes living trees into amazing natural tree buildings. What started as simple arbosculptures quickly become inhabitable spaces and entire built environments. Some of the results seem like churches or gazebos, religious or resting places deep in the forest, as shown in the pictures above. Others are more abstract and open for interpretation or mixed-use occupation, changing with seasonal conditions as shown below.
Treehotel - Welcome to Treehotel. Pictures - Blob vB3. Nestrest - Standing lounger - chalk. An over-sized bird's nest offering you a secluded, suspended sanctuary and unusual meeting place: it's the perfect place for relaxation, meditation and open-air conversations - NESTREST.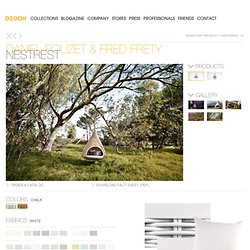 NESTREST is made of an especially strong DEDON fiber (4 cm wide, instead of 2 cm), guaranteeing a sturdy and solid weave with excellent properties: it shelters those within, allowing them to look out while preventing outsiders from seeing in – a perfect feeling of security! Creators of the NESTREST, an innovative new hanging pod woven from supersize strands of DEDON Fiiber, Daniel Pouzet and Fred Frety are two of Paris's most intriguing design talents. Close collaborators of Jean-Marie Massaud, with whom they have forged new ways of working and approaching design, Daniel and Fred bring a rich diversity of experience to each project they undertake, alone or in a team.
A Path In The Forest. For the Estonian festival Lift11 Tetsuo Kondo Architects builds a path across the trees which the Calvino's " The Baron in the trees" would feel envious of ..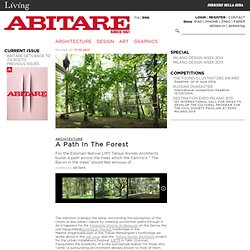 The intention is always the same: reinventing the perception of the (more or less urban) nature by creating uncommon paths through it. As it happens for the Passerella Simone de Beauvoir on the Senna, the just inauguratedDominique Perrault footbridge in the Madrid Arganzuela park or the Tobias Rehbergher's footbridge we spoke about in the last issue, also the Tetsuo Kondo Architects project for the Urban Installations Festival LIFT11 in Tallin (Estonia), inaugurates the possibility of a new perceptual relation for those who "climb" a surrounding environment already known to most of them.
The Kadriorg Forest exists since more than three hundred years, but the 95 metres long simple structure that Tetsuo Kondo Architects leant on the trees can offer really unusual perspectives. 'The Human Nest' at Big Sur by Jayson Fann. Browse Gallery 01/10 read Located along the Big Sur coast that faces the vast Pacific Ocean, the Human Nest is a treehouse constructed with a whirlpool of eucalyptus branches that have been bent, knotted, and twisted into its impressive and beautiful structure.
Artist, Jayson Fann for the Treebones Resort , bent upwards thousands of individual branches and assembled them to create this wondrous treehouse . Although it may appear quite delicate and fragile, each installation may weight up to two tons, and is secured to the ground by simple screws.
---