Bike
Www.bfold.com. Innovative Folding Bicycle Design. Les vélos pliants. Savoir quel usage vous comptez faire du vélo dans 80% des cas vous aidera à choisir un modèle adapté.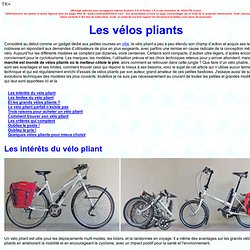 Quelqu'un qui emprunte les transports publics et cherche à raccourcir ses trajets au bureau passera peu de temps sur son vélo et devrait s'intéresser en priorité à sa facilité et rapidité de pliage. Quelqu'un qui veut voyager longtemps avec sa monture s'intéressera davantage à un modèle confortable et bien équipé. Les critères utiles pour choisir un vélo pliant sont listés ci-dessous, avec des petites observations qui vous permettront de mieux départager des modèles en apparence similaires. Bien entendu l'importance donnée à chacun de ses critères ne sera pas la même selon l'utilisation envisagée. • La facilité du pliage.
Global. Folding bikes, folding bicycles from Brompton Bicycle. Urban Arrow- an electric assist bakfiets by Wytze van Mansum | Bicycle Design. You may remember the Cannondale Dutchess concept bike, which was designed by Wytze van Mansum a few years ago.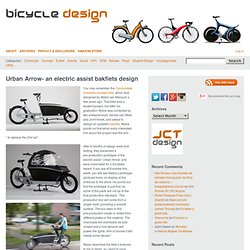 That bike was a student project, but after his graduation Wytze was contacted by two entrepreneurs, Gerald van Weel and Jorrit Kreek, and asked to design an updated bakfiets. Wytze points out that what really interested him about the project was the aim… " to replace the 2nd car". After 9 months of design work and testing, they presented a pre-production prototype of the electric assist 'Urban Arrow' and were nominated for a Eurobike award. If you are at Eurobike this week, you will see Wytze's prototype (pictured here) on display at the entrance to the show. The Coupe Collection by Johnny Loco. Charismatic wayfarer Johnny Loco inspired a design team to birth a company that was respectfully named after him with a mantra reflecting his nature within their products.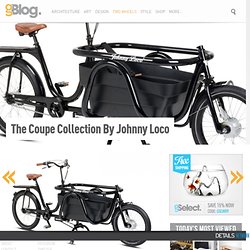 The light design of their coupe cargo bike collection embellishes the care free style of their essence. Each bike comes equipped with seven gears, front and rear hand brakes and a light aluminum frame. These cargo coupe bikes provide the freedom to break away from the demands of every day life. Just throw your loads up and haul them around with fun. Le SkateCycle : nouveau moyen de transport urbain et durable. Apres le Skateboard, le Longboard, le Snakeboard voici venu le temps du SkateCycle !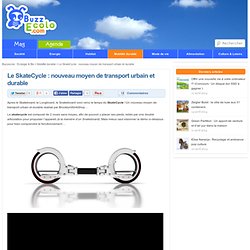 Un nouveau moyen de transport urbain et durable réalisé par BrooklynWorkShop … Le skatecycle est composé de 2 roues sans moyeu, afin de pouvoir y placer ses pieds, reliés par une double articulation pour propulser l'appareil (à la manière d'un Snakeboard). Mais mieux vaut visionner la démo ci-dessous pour bien comprendre le fonctionnement … Biomega. G2 Video.
---