NewhouseSM6
Google+ Isn't Going Anywhere. There sure are a lot of Google+ haters out there.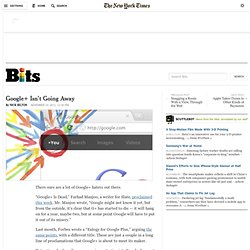 "Google+ Is Dead," Farhad Manjoo, a writer for Slate, proclaimed this week. Mr. Manjoo wrote, "Google might not know it yet, but from the outside, it's clear that G+ has started to die — it will hang on for a year, maybe two, but at some point Google will have to put it out of its misery." The New York Times - Breaking News, World News & Multimedia. The Business of Social Media. The astonishing growth of companies such as Facebook and Twitter has prompted many businesses to stake their claim on the social media landscape.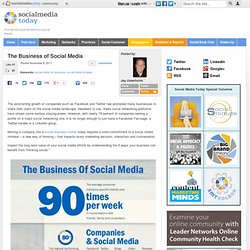 Needless to say, these social networking platforms have shown some serious staying-power. However, with nearly 79 percent of companies owning a profile on a major social networking site, it is no longer enough to just have a Facebook Fan page, a Twitter handle or a LinkedIn group. Moving a company into a social business model today requires a solid commitment to a social media mindset – a new way of thinking – that impacts every marketing decision, interaction and conversation.
Impact the long term value of your social media efforts by understanding the 5 ways your business can benefit from "thinking social. " Small Biz Success Summit 2012: Online Social Media Mega Conference. "Attend" Any or ALL of the Following Sessions At traditional conferences, groups of sessions are often held at the same time, so it's impossible to attend them all.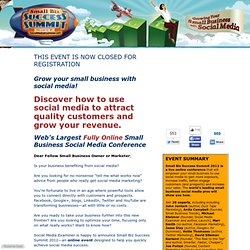 Not this summit. When you register, you'll be able to take advantage of EVERY business-building opportunity. Even better, if you miss a live session, we'll provide you a recording AND transcript for FREE. Social Media Theory and Practice #NewhouseSM6 "To Do" List - Things Due For Tues., Nov. 8. Social Media Theory and Practice #NewhouseSM6 "To Do" List - Things Due For Tues., Nov. 8 Review - Social Media Theory and Practice #NewhouseSM6 - What We've Accomplished So Far!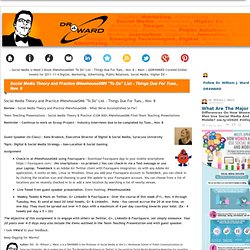 Team Teaching Presentations - Social Media Theory & Practice (COM 600) #NewhouseSM6 Final Team Teaching Presentations. Mobile Login. Dee Cater: @rotolo at #BBSMC Thanks f... 62 Percent Of Fortune 500s Have A Twitter Account [STUDY] Apple Retail Stores to Offer Self-Checkout. It looks like the self-checkout concept may be moving from the supermarket to your local Apple Store.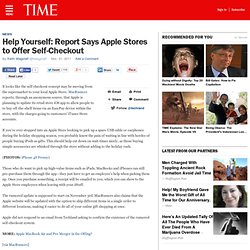 MacRumors reports, through an anonymous source, that Apple is planning to update its retail store iOS app to allow people to to buy off-the-shelf items via an EasyPay device within the store, with the charges going to customers' iTunes Store accounts. If you've ever stopped into an Apple Store looking to pick up a spare USB cable or earphones during the holiday shopping season, you probably know the pain of waiting in line with hordes of people buying iPods as gifts. This should help cut down on wait-times nicely, as those buying simple accessories are whisked through the store without adding to the holiday rush. Publications YouTube, Video Sites Become Branding Platform For Hearst, Mountain Dew 11/01. YouTube continues to push the site as a branding tool for companies from publishers to consumer product goods in the heat of budding competition from social sites, such as YouToo, which has already inked several deals with cable network operators to put viewer videos on the real tube.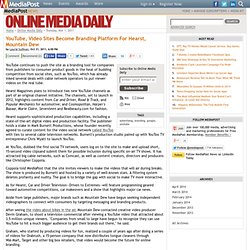 Hearst Magazines plans to introduce two new YouTube channels as part of an original channel initiative. The channels, set to launch in 2012, highlights content from Car and Driver, Road & Track, and Popular Mechanics for automotive; and Cosmopolitan, Harper's Bazaar, Marie Claire, Seventeen and Realbeauty.com for fashion. Hearst supports sophisticated production capabilities, including a state-of-the-art digital video and production facility. The publisher holds a stake in Mark Burnett Productions, whose founder recently agreed to curate content for the video social network called YouToo with ties to several cable television networks.
Offres d'emploi - Monster.fr - Trouver un emploi, un job, un travail. How Much is One Facebook Fan Worth? The equation for on-line stores in essence is quite simple – "more traffic equals more sales"!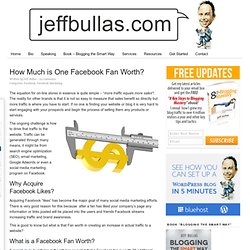 The reality for other brands is that it is not so easy to measure that sales benefit so directly but more traffic is where you have to start. If no one is finding your website or blog it is very hard to start engaging with your prospects and begin the process of selling them any products or services. The ongoing challenge is how to drive that traffic to the website. Are You Making These 2 Cardinal Sins as a Blogger? There are many very good writers and bloggers and they produce insightful articles and information that should be read.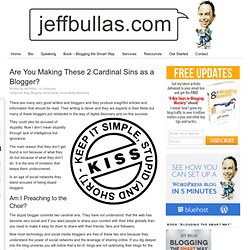 Their writing is clever and they are experts in their fields but many of these bloggers put obstacles in the way of digital discovery and on-line success. They could also be accused of stupidity. Now I don't mean stupidity through lack of intelligence but ignorance. The Average Facebook Post Lives 22 Hours And 51 Minutes. Your first goal with each post from your business Facebook page is to be seen by fans.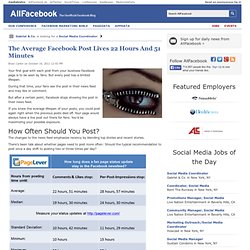 But every post has a limited lifespan. During that time, your fans see the post in their news feed and may like or comment. But after a certain point, Facebook stops showing the post in their news feed. If you knew the average lifespan of your posts, you could post again right when the previous posts died off. Your page would always have a live post out there for fans. Apple To Launch 'iPad Mini' In Early 2012? Marketing Nirvana. Pearltrees brings your interest graph' to the iPad. One of the more buzzword-y buzzwords in Silicon Valley right now is the "interest graph," which is supposed to connect people and the topics that they're interested in.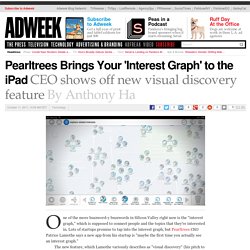 Lots of startups promise to tap into the interest graph, but Pearltrees CEO Patrice Lamothe says a new app from his startup is "maybe the first time you actually see an interest graph. " The new feature, which Lamothe variously describes as "visual discovery" (his pitch to the tech press) and "related interests" (what it's actually called in the app), is included in the just-launched iPad application from the previously Web-only company.
Related interests have also been added to the Pearltrees website, but Lamothe is clearly more excited by the iPad version—he warned that the Web experience probably isn't quite as good. How do You Use Twitter? [INFOGRAPHIC] Twitter was never meant to be a social network. In fact it was created as a message service at a private podcast company just over 5 years ago. Today with over 200 million users and serving up over 1.6 billion enquiries a day, Twitter has evolved into a real time social network that spreads news, messages, links and multimedia with energy saving 140 character bursts. Woodside Bible Church - Internet Campus. 9 Reasons to Switch from Facebook to Google+ When people ask "can Google+ beat Facebook?" They're misstating the question. It's not about one site versus another site. Twitter's Mobile Audience Up 75% Year-On-Year, Beats Facebook, LinkedIn. Jeffbullas. Evolution is about winners and losers and survival of the fittest. The origin of any species, digital or flesh and blood depends on the ability to adapt to rapidly changing environments.
If you want to see it happening in real time you only have to survey the digital world to view it happening before your eyes. MySpace dominated the social networking universe by providing a social and multimedia experience so addictive that teenagers didn't leave their rooms for years. Along came Facebook and made a better mouse trap that not only hooked teenagers and Generation Y but their parents as well and now MySpace is fighting for its very existence. Rupert Murdoch must be wondering why he got sold on spending over half a billion dollars investing in what is now a digital dinosaur. How Google+ Could One-Up Facebook's Brand Pages. Google today launched the first iteration of its brand Pages product for Google+. The company has some big choices to make about how it will flesh out this skeleton to challenge the Pages product Facebook has had years to work on.
Still, comparing the two visions of brand presences now can give us a sense of what might be next on the product roadmap for Google+ Pages, and the opportunities Google has to exploit weaknesses stemming from Facebook's need to promote its application platform and draw advertising dollars. Is Facebook About To Make Online Video More Social? 3 Innovative Ways Non-Profits Are Leveraging Blogs. The 7 deadly sins of Facebook page design. How Do We Use Social Media In a Disaster? How Did YouTube Kill TV. iPhone vs. Android: The Social App Activites That Set Users Apart. Twitter Embraces Its Social Role in TV. Follow tweets about recorded TV shows as if you were watching live, with Rewinder. Siri vs. Furby: When Two Worlds Collide [VIRAL VIDEO]
Disney and YouTube Sign Video Partnership. Twitter Has 100 Million Monthly Active Users, 50% Log In Every Day. In the Future, We Will All Talk to Computers. Why Startups Shouldn't Hire People With Graduate Degrees | BNET. 4 Simple Tools for Creating an Infographic Resume. Twitter, TV and You. Now I just have to figure out how to use these for teaching! Adidas Megalizer Sneakers make music as you dance.
Qlu_online. Qianxing Lu (qlu_online) Twitter. Josiefox. Josie Fox (@lastnamefox) sur Twitter. Josie Fox. Kmommers. Twitter. Chey Contiguglia Blog. Kierstenwing. Kiersten Marie Wing. Kiersten Wing (@KierstenWing) sur Twitter. Grace Johnson (gracie_mjohnson) Grace Johnson. Ashlyo. Ashly Oehrl - the new social. Ashly Oehrl (@ashlyo) sur Twitter. Lynessamarie. Lynessa Williams. Lynessa Williams (@lynessamarie) sur Twitter. Dr4ward. William J. Ward (@DR4WARD) sur Twitter.
NewhouseSM6. Bpmoritz. Brian Moritz (@bpmoritz) sur Twitter. Brian Moritz. Jaclyn Slovic. Lcmiley. Laura Miley (@LCMiley) sur Twitter. Laura Miley - Tumblr. Deecater. Dee Cater. Dee Cater (deecater) Chelsea Aures (@chelseaaures) sur Twitter. Chelsea Aures. Sherri Williams (@SherriWrites) sur Twitter. Malory. Malory Toscano (malorytoscano) Malory Toscano.
---