Crafts
How to make gift bags from newspaper | How About Orange - StumbleUpon. When I bought something at a store recently, the clerk handed me my purchase in a bag made from a newspaper.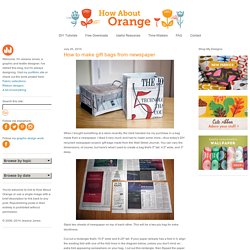 I liked it very much and had to make some more—thus today's DIY recycled newspaper project: gift bags made from the Wall Street Journal. You can vary the dimensions, of course, but here's what I used to create a bag that's 5" tall, 4.5" wide, and 3" deep. Stack two sheets of newspaper on top of each other. DIY projects - StumbleUpon. Our Favorite Craft Supplies: Glue These are the types of glue that I use most often for Oh Happy Day projects.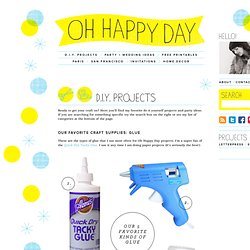 I'm a super fan of the Quick Dry Tacky Glue. I use it any time I am doing paper projects (It's seriously the best!) Click through for details… A Little Hut :: Patricia Zapata :: Paper Illustrations, Gift boxes, Calendars, Stationery, Printables, Handmade cards - StumbleUpon. DIY Wreaths - Easy Holiday Crafts at WomansDay.com - Womans Day. Presents don't just belong under the tree!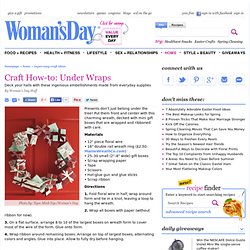 Put them front and center with this charming wreath, decked with mini gift boxes that are wrapped and ribboned with care. Materials • 12" piece floral wire • 16" double rail wreath ring ($2.50; MaineWreathCo.com) • 25–30 small (2"–8" wide) gift boxes • Scrap wrapping paper • Tape • Scissors • Hot-glue gun and glue sticks• Scrap ribbon Directions. Tutorial: Homemade Sidewalk Chalk | oh my! handmade goodness - StumbleUpon. By Michelle Vackar, Modern Handmade Child One of our favorite outside activities at our home is drawing with chalk on the driveway.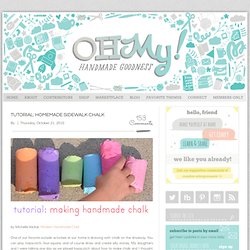 You can play hopscotch, four-square, and of course draw and create silly stories. My daughters and I were talking one day as we played hopscotch about how to make chalk and I thought to myself, let's try it! It ended up being quite a lot of fun. What you will need: • Toilet paper or paper towel tubes • Scissors • Duct tape • Wax paper • Small bucket or disposable container to make the recipe • ¾ cup of warm water • 1 ½ cups Plaster of Paris • 2-3 tablespoons of tempera paint • Paper bag or a "mess mat" & Crayon Heart Valentines with Lifestyle Crafts & Whipperberry. V and Co how to: jersey knit bracelet - StumbleUpon.
I don't know what it is about this time of year that makes me just want to have my bare feet in the sand, be watching the sun setting into the ocean, and breathing in the warm salty air of the beach...as i get older, more and more i find myself missing that place i used to go to almost every.single.day. as a teen.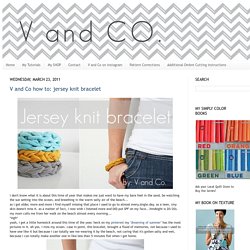 (my skin doesn't miss it. as a matter of fact, i now wish i listened more and DID put SPF on my face...hindsight is 20/20). my mom calls me from her walk on the beach almost every morning... *sigh*yeah, i get a little homesick around this time of the year. heck on my pinterest my "dreaming of summer" has the most pictures in it. ah yes. i miss my ocean. case in point. this bracelet, brought a flood of memories, not because i used to have one like it but because i can totally see me wearing it by the beach, not caring that it's gotten salty and wet, because i can totally make another one in like less than 5 minutes flat when i get home.
---